Features
Crowdfunding Friday: Being Frank, Dreck and Among The Sleep
In the first of a regular series, we share a few of the worthy, geek-friendly crowdfunding projects we've stumbled on this week...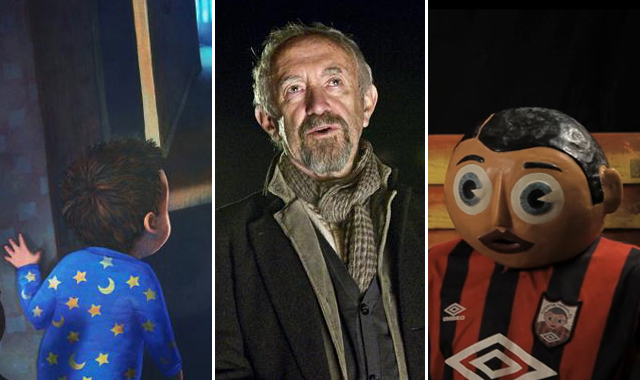 Getting any creative project off the ground is a difficult proposition in the current financial climate, particularly if that project happens to be something potentially expensive like movie making or game development.
Thankfully, Kickstarter – and the assorted other crowdfunding services – has created something of a revolution for all kinds of artists and filmmakers, with the funding of generous internet dwellers used to fund everything from whimsical bus shelters to movies to theatrical productions to card games. It's a remarkable platform for new talent; the only problem being that, with so many projects appearing on the Kickstarter site every week, it's sometimes difficult to keep track of them all.
So from this week onwards, we plan to bring you a regular selection of the crowdfunding projects that have captured our imaginations. Whether they're games, documentaries, movies or something different entirely, we'll share them with you here; our only stipulation is that they're in some way of geek interest (a broad remit, we'll admit), and that they've not reached their funding goal.
If there's anything you think we should cover in future editions of Kickstarter Friday, feel free to mention them in the comments, or drop us an email at the usual address. Until then, let's start with a low-budget science fiction movie with a truly cracking cast…
Dreck
It's a common complaint that original science fiction films don't get enough funding in Hollywood these days, and it's often the case that the most intriguing genre stuff comes from independent filmmakers like Mike Cahill and Gareth Edwards.
Director Justin Trefgarne is currently putting together his own ambitious sci-fi thriller, called Dreck. Set in a near-future city where drugs have been legalised, the film's about a cop named Frank Grieves whose investigation into the appearance of an unidentifiable corpse brings him into contact with a ruthless pharmaceutical corporation. 
Much of the film's already in the can, and boasts an impressive cast: Elliot Cowan (who you may recognise from DaVinci's Demons) is in the lead role, while Jonathan Pryce, James Callis (Battlestar Galactica) and Game Of Thrones' Harry Lloyd are also a among the familiar names.
In putting Dreck together, Trefgarne's made the film in chunks; the modest £20,000 he aims to raise on Kickstarter will therefore go to pushing the film past the post-production stage, with the money going on visual effects and editing. It's an intriguing-looking film, and its cast alone make backing it worthy of consideration.
Being Frank: The Chris Sievey Story
Throughout the 80s and 90s, the bizarre comic character Frank Sidebottom was a familiar sight on UK television. With his papier-mache (later fibre glass) head, nasal voice and 50s suit, he became a cult celebrity on the back of his stand-up comedy, music, comic strip (as seen in the much-loved Oink!) and computer games.
The once anonymous man beneath the mask, Chris Sievey, sadly died in 2010, and there's since been a concerted effort to pay respects to the talented comedian and musician. A fictionalised version of his character, played by Michael Fassbender, will appear in the forthcoming movie Frank, due out later this year, while filmmaker Steve Sullivan is currently working on the documentary, Being Frank: The Chris Sievey Story.
Sullivan had worked with Sievey in the past, on the 2008 short film, Magical Timperley Tour, so he's perfectly placed to create a detailed chronology of Frank Sidebottom's life and times. Although Sullivan's already shot some interview footage for the film, including some entertaining memories from DJ Mark Radcliffe, but with the modest goal of £20,000, he hopes to feature more interviews with those who knew and worked with him, while further stretch goals of £40,000 and £60,000 will add expensive archive footage and the completion of Sievey's animated film project, respectively.
A true one-off in 80s and 90s pop culture, both Chris Sievey and his alter-ego deserve wider recognition, and Being Frank could provide the perfect tribute.
Among The Sleep
Of all the many, many games we've clicked through on Kickstarter, Among The Sleep is arguably the most compelling of the current crop. Created by a small Norwegian team of developers called Krillbite, it's a first-person horror adventure that casts the player in the role of a two-year-old child.
As if the premise didn't sound creepy enough, the world you have to explore is creepier still: from your low perspective as you crawl along the ground, you roam around a low-lit house where monsters and horrible noises await in the shadows.
With effective sound design and some beautifully-coloured visuals, Among The Sleep looks like a truly unique idea, with novel environmental puzzles (using a chest of drawers to create a ladder, for example) and a genuinely unsettling atmosphere – the video above shows the player hiding under the bed at one point, which is one place we'd be happy to remain until the police showed up to rescue us.
Krillbite are looking for $200,000 to get their project off the ground; with that funding, they can quit their part-time jobs and concentrate on finishing the weird and wonderful game they've already begun. With just over two weeks to go, Krillbite are more than half way to achieving the cash they're after, and with some attractive rewards for backers (we're very tempted by those art books), Among The Sleep surely deserves a final push.