News
Civilization 6: Gathering Storm Expansion Focuses on Climate Change
Civilization 6's Gathering Storm expansion will force you to consider the implications of your environmental decisions.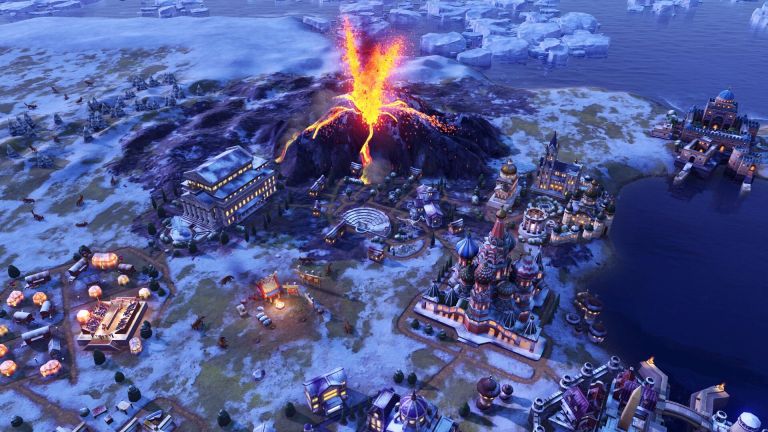 The next Civilization VI expansion, Gathering Storm, will mix things up a bit by focusing on climate change. 
In Gathering Storm, global warming will be a persistent threat that players must account for when making certain actions. For instance, you might be forced to rely on oil and coal for a time as you advance your civilization, but continuing to do so when better options are available (or failing to achieve better options in a timely manner) may result in global warming levels rising. 
As the global warming level threat rises, you may have to deal with a series of consequences. For instance, you may see water levels rise (which, over time, can consume seaside tiles and anything you may have built on them) and the melting of polar ice caps can cause trouble for anything you may have built near affected areas. Furthermore, you will eventually have to deal with a World Council who may diplomatically punish countries that are putting other nations at risk through pollution. The World Council also must be considered when making non-environmental decisions. 
According to Civilization producer Dennis Shirk, the decision to add these features isn't based on current events but rather the team's desire to expand the series' gameplay in a way that accounts for global scientific concerns. 
"No, I don't think that's about making a political statement," said Shirk in an interview with Eurogamer. "We just like to have our gameplay reflect current science." Lead designer Ed Beach added to that by stating that "we can take the common wisdom of the vast majority of the science community and embed that in the game and that becomes something really interesting for players to be able to engage with."
On top of all this, players will now have to account for natural disasters like volcano eruptions, blizzards, floods, and other extreme conditions that are based on timing and location. We're getting a Sim City vibe from this feature and the way it sounds like such events can ruin your grand plans.  Fortunately, players will be able to control how frequent these otherwise mostly random occurrences are.
All of this sounds pretty fascinating (and will certainly help expand the intrigue of Civilization's diplomatic path to victories). All the same, there's still quite a bit we'd like to hear about Gathering Storm's other features ahead of its currently scheduled February 14, 2019 release date. 
Matthew Byrd is a staff writer for Den of Geek. He spends most of his days trying to pitch deep-dive analytical pieces about Killer Klowns From Outer Space to an increasingly perturbed series of editors. You can read more of his work here or find him on Twitter at @SilverTuna014.