Features
Christmas gift guide: the best board games to play this festive season
Leave Cluedo on the shelf and pick up a brilliant new board game for your family this Christmas...
Whether you spend Christmas with your friends, family or fellow hostages at Nakatomi Plaza, the turkey-stuffed, booze-soaked celebrations can almost always be improved with a good bit of competitive organised fun. And without a Doctor Who Christmas special to entertain us in the afternoon, this year, a cure to the afternoon lull is more essential than ever. 
Rather than dusting off your knackered old copy of Cluedo or hoping that your Scrabble still has all its letter tiles, why not invest in a cool new board game this year? Just imagine the joy you'll bring by inserting a new type of fun into the festive monotony! To help you pick the perfect game for your yuletide gathering, we've collected some of our favourites below…
Our pick of the best board games (and card games) for Christmas 2018
Billed winningly as "a card game for people who are into kittens and explosions and laser beams and sometimes goats", Exploding Kittens is a 2-5 player game (or 2-9 if you have two decks) that first rose to popularity as a Kickstarter campaign. It's a highly strategic, family-friendly fun fest featuring illustrations by The Oatmeal, where the last thing you want is for a kitten to blow up on your turn and knock you out of the game. Sounds fun, right?
Pandemic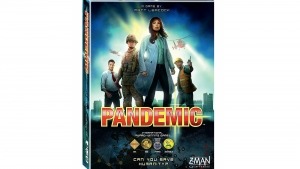 "Can you save humanity?" asks the box for Pandemic. In your ordinary life, let's be honest, you probably couldn't, which makes this award-winning board game a weird kind of fantasy escapism. In a group of 2-4 players, you'll attempt to quell the spread of deadly outbreaks and epidemics across the globe. There are lots of ways to lose, thanks to 96 disease cubes and 48 infection cards, but only one way to win: cure the diseases and save the planet! 
Catan: Game Of Thrones edition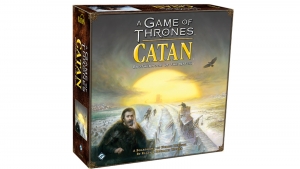 The Settlers Of Catan has become one of the most beloved board games on Earth in recent years, and this nerdy variant – which is subheaded Brotherhood Of The Watch – relocates the action to the morally murky world of Westeros. Three to four players can battle it out, against a backdrop where winter is definitely coming, competing for resources and watching out for familiar threats. Keep your eyes peeled for fan favourite characters from the TV show and the books!
Dobble: Star Wars edition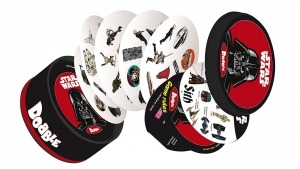 Dobble is a game of speed, observation and reflexes for 2-to-6 players, aged 6 and up. The aim of the game is spot matching symbols across various round cards (which is harder than it sounds at times!) and there are numerous geeky variants of the game: the Star Wars version is our favourite of course, and it's littered with iconic imagery from that galaxy far, far away.
Scythe
Set in an alt-history version of the 1920s, Scythe encourages players to activate giant robots and attack their enemies. For 1-to-5 players, aged 14 and up, this game provides a fun challenge: restore your character's honour and conquer territories in a steampunky world, where battles between bots are just as important as garnering resources and recruits. 
Codenames: Marvel edition
The hit secret-agent-based game, Codenames, also has Marvel edition! In the game, two teams compete to untangle clues and identify covert agents on the board: each team as a spymaster, who will give one-word hints to help their teammates uncover the identities of the iconic Marvel characters in play. Put your Marvel knowledge to the test and find out who's the truest believer in your household.
Secret Hitler: Upgraded edition
It may not have a name that everybody will like, but Secret Hitler is a terrific game (with a lovely design). It's a fast-paced experience for 5-10 players, with betrayal and deception at its heart. Each player is randomly assigned a role: you're either a liberal, a fascist, or the Secret Hitler. Using their skills of deduction, the other players must try to root out Secret Hitler, whilst also vying for political dominance against their opposing faction. 
Slam It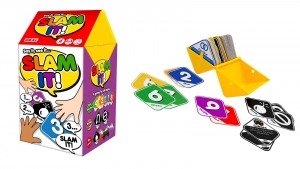 Slam It is a bit like Snap, but on steroids. Players take it in turns to play a card, while counting in sequence from zero to nine. When the card in play matches the number spoken, you've got to slam your hand on the pile. The last person to 'slam it' has to pick up the pile, taking this unlucky player further away from the target: that classic goal of offloading all their cards. You can increase the difficulty by adding extra cards (such as skip or reverse) into the deck. It's easy to pick up but difficult to master, and a really fun quick-fire game for two or more people.
Or, if you prefer your games to be digital, check out our rundown of the best video game gifts to give this Chrimbo!