News
Celebrating 25 years of Zelda TV commercials
A well as classic videogames, culminating in Skyward Sword, the Zelda series has also given us some fantastic TV ads. We take a look back at a few of the finest…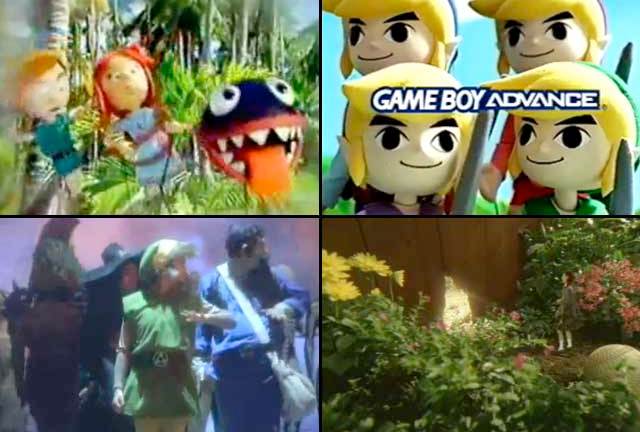 One of the reasons why the Legend Of Zelda series has endured for so long is, of course, because it's managed to keep offering new ways of keeping its fans entranced. Across several generations of consoles and handhelds, the games have continued to hook us back in with something fresh and magical. But it's not just the games that have moved with the times; the way they've advertised has also evolved.
As this little feature aims to point out, Zelda ads have gradually changed from odd little promos featuring rapping youths and unhinged comedians, to miniature movies that more successfully capture the atmosphere of the games themselves. To celebrate the arrival of Skyward Sword, then, here are a few of our Zelda ad highlights from the last 25 years.
The Legend Of Zelda
"Whoah! Nice graphics. I'd like to get my hands on that game!" says an earnest young lad in this 1986 advert for the original Legend Of Zelda. If any proof were needed that early console games were pitched squarely at kids, this is it – "Your parents can even hook it up", an announcer suggests, in an age when mums and dads often asked their offspring to program video recorder for them.
Then, just when you've got over the rather enthusiastic acting, the Zelda rap kicks in: "It's the Legend Of Zelda and it's really rad/Those creatures from Ganon are pretty bad…"
If the tone of that first ad was a little too chipper for you, this next promo for The Legend Of Zelda offers something far darker and more unhinged. I suppose that, back in the 80s, the concept of a lengthy fantasy adventure with lots of exploration and sword fighting was quite difficult to get across in just a few seconds, so having a guy clawing around in the dark and screaming was as good a promotion as any. "Zeldaaagghh!"
A Link To The Past
What better way to celebrate the arrival of one of the greatest Zelda games of all time than with a big song and dance routine along the lines of Michael Jackson's Thriller? If Strictly Come Dancing looked like this, we'd tune in every week…
Link's Awakening
Now this one's pure class. To promote the Japanese release of the first handheld Zelda adventure, Link's Awakening, Nintendo put together this frankly glorious ad featuring what are about as close as we'll ever get to a Zelda and Muppets cross-over.
Offering a brief summary of Awakening's opening sequence (complete with a cameo of Super Mario's Chain Chomp, who's made occasional appearances in other handheld Zelda games, too), the ad's the perfect fit for what is one of the most surreal Zelda entry so far – its story does all hinge around a giant slumbering Wind Fish, after all. We just Nintendo had commissioned an entire series of full-length Zelda puppet adventures.
The Minish Cap
This is one of our all-time favourite Zelda entries, partially because the story's a great one, but mostly because it sees Link shrunk down to miniscule size. This brief yet nicely shot Japanese advert introduces the concept perfectly, mixing live-action and some shots of Minish Cap's adorable graphics.
Interestingly, the US advert recasts the game as a far more boisterous and funky affair, highlighting the hugely different approaches Eastern and Western marketing types take to promoting videogames.
A Link To The Past & Four Swords
In 2002, A Link To The Past was ported to the Game Boy Advance, bundled with an all-new multiplayer adventure called Four Swords. To promote a game that relied on team-work, what could be better than a quartet of Link marionettes throwing a boulder and finding treasure?
The puppets look more like the designs established in The Wind Waker than the Muppet-like characters in the Link's Awakening ad, but nevertheless, we'll say it again: the world needs a Zelda puppet TV series…
The Legend Of Zelda: Skyward Sword is out now on Nintendo Wii – you can read our review here. Lots more exclusive Zelda content can be found here.