News
Call of Duty: WWII DLC – The War Machine Release Date and Details
Call of Duty: WWII's next DLC release, The War Machine, is its biggest yet. Here are all the details you need to know...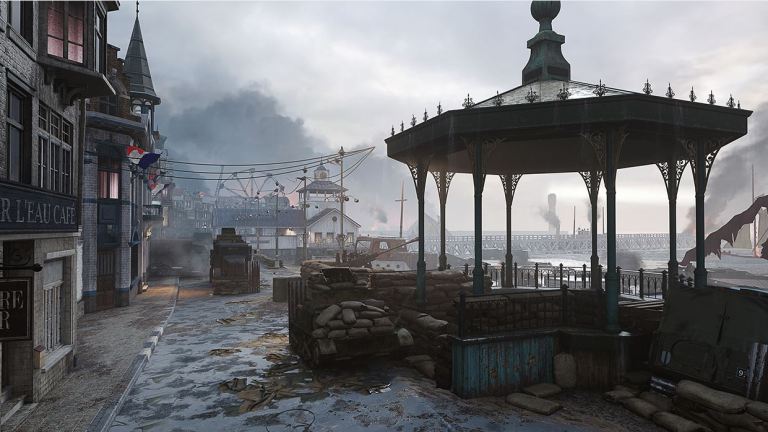 Call of Duty WWII's next content release comes in the form of a major update called The War Machine. 
The War Machine will introduce several news maps to WWII's multiplayer mode. The headliner map – at least from the outset – is most certainly Dunkirk. Yes, This new map will take players to the same beach area featured in Christopher Nolan's acclaimed film about the real-life World War II conflict. The Dunkirk map is described as an "open and dangerous beach area flanked by tight interiors through the buildings lining the beach-front." It's referred to as a great map for snipers, but will also reward aggressive players who pursue the right angles. 
Additional multiplayer maps featured in The War Machine include Egypt (which will be the first time in WWII that players will be visiting the battlefields of Northern Africa and the Egyptian pyramids) and V2; a rocket development site located deep within Germany. The Egypt map features a temple area that seems to have been designed with Domination matches in mind while V2 includes a launch tower in the center that allows for snipers to gain a wider sightline. 
The War Machine will also feature a new War mode called "Operation Husky." This multiplayer mission will require players to gather intel, transfer it to a friendly HQ, and engage in a sky battle by clearing the skies for bombers to come through. Interestingly, that new mission was co-developed by the acclaimed studio, Raven Software.Finally, this update will expand the existing Nazi Zombies mode by telling the story of the Shadow Throne. This new series of missions brings our heroes into the heart of Nazi Germany in order to stop Doktor Straub's army of beasts from "liberating" Berlin of allied forces. 
All told, this looks like Call of Duty WWII's most generous content offering yet. We're thrilled that Sledgehammer is continuing to expand the game, even if it's not too much of a surprise when you consider that the game is reportedly a massive sales success. 
At present, The War Machine is set to release first for PlayStation 4 on April 10. There is no word on when the DLC will be available for other platforms.