News
Cadence of Hyrule: Release Date, Trailer, Gameplay, and News
Cadence of Hyrule: Crypt of the NecroDancer combines Crypt of the NecroDancer and The Legend of Zelda.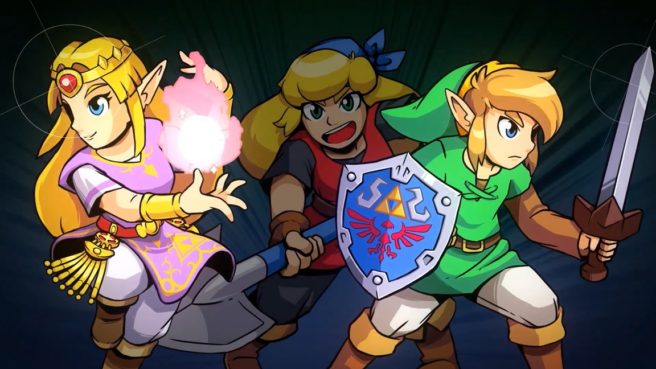 Well, here's a collaboration that nobody saw coming. The developers of Crypt of the NecroDancer and Nintendo are teaming up to bring us Cadence of Hyrule: Crypt of the NecroDancer.
We're still waiting to hear some of the finer details of this game, but at the moment, it sounds like it's most accurately described as a spinoff of the Crypt of the NecroDancer series that features enough content to justify an entirely new entry into the series. If you're unfamiliar with Crypt of the NecroDancer, picture a roguelike game with permadeath, randomization, and all of the other hallmark elements of the genre. Now, add a Lumines-style soundtrack that partially dictates the pace of the gameplay. 
Described by as a roguelike rhythm experience, Crypt of the NecroDancer sees you navigate a series of dungeons while attempting to move to the beat of the level's song. Finding a successful rhythm rewards you with damage multipliers and other incentives. Failing to match the beat can result in your swift and permanent death. It's a fascinating blend of genres that has become a particularly noteworthy hit amongst the speedrunning community.
Cadence of Hyrule will retain all of that but add Legend of Zelda characters, world, and enemies to the experience. That might not sound like a very even trade-off, but the game's first trailer shows just how well Zelda's art style works when run through Crypt's visual filter. We also can't wait to hear some remixed classic Zelda themes and work our way through dungeons to the beat of some re-imagined classics.
This project honestly seems like a natural fit for both properties, but even if it wasn't, we'd still have faith in Nintendo's decision making. Remember that Mario + Rabbids was one of the better games of a couple of years ago, and most people thought that game was a joke when it was first teased. Nintendo seems to have figured out how to farm out their properties in an effective way.
Here's everything else we know about the game:
Cadence of Hyrule Release Date
Cadence of Hyrule: Crypt of the NecroDancer is set to release for the Nintendo Switch on June 13. 
Cadence of Hyrule Trailer
Here's the announcement trailer:
Matthew Byrd is a staff writer for Den of Geek. He spends most of his days trying to pitch deep-dive analytical pieces about Killer Klowns From Outer Space to an increasingly perturbed series of editors. You can read more of his work here or find him on Twitter at @SilverTuna014.