News
Burnout Spiritual Successors Revealed by Criterion Founders
Do you miss the Burnout series? Danger Zone 2 and Dangerous Driving might just fill the void.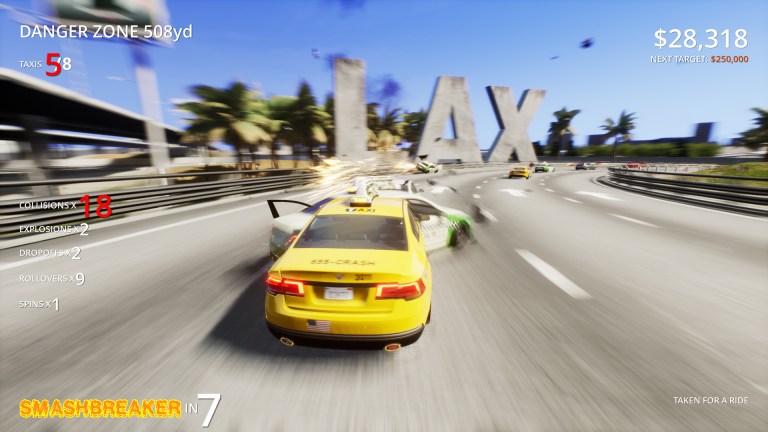 Three Fields Entertainment, a studio helmed by Fiona Sperry and Alex Ward (two of the founders of Criterion Games), has announced two new games that will likely please fans of the Burnout series. 
The first, Danger Zone 2, is a sequel to the 2017 game, Danger Zone. For those unfamiliar with the original game, Danger Zone is basically an expansion of the crash mode featured in classic Burnout titles. Much like the original versions of that mode, Danger Zone asks players to create the biggest crashes possible using a variety of power-ups and good old-fashioned vehicle-on-vehicle carnage. 
This upcoming sequel seeks to retain the core carnage of the original game, but it will expand upon the basic gameplay of the 2017 title with all the usual sequel niceties. That means more vehicles, more ways to maneuver your vehicle into devastating scenarios, and all kinds of new crash possibilities. One fascinating feature this sequel brings to the table is the addition of many locations based on real-life roads. Said roads include the highways, freeways, and autovias of the United States, the United Kingdom, and Spain. All told, there are 26 single-player levels that take place across 17 locations. 
Danger Zone 2 is expected to be released in July for PC, PlayStation 4, and Xbox One. 
The studio's other game, Dangerous Driving, is a bit different. It's more of a traditional course-based racing game that feels like a spiritual successor to the things that the Burnout series was trying to achieve. That means that races will be complemented by boosting, takedowns, and those famous Burnout-style crashes. Three Fields' Alex Ward describes it as a return to the kind of arcade racing games that he is "most passionate about."
Dangerous Driving is set to be released sometime during the winter for PlayStation 4, Xbox One, and PC, but there's no exact release date available for the game at this time. We should know more about it later this week.