News
Borderlands 2 Coming to PlayStation VR in December
Borderlands 2 enters the PlayStation virtual reality later this year.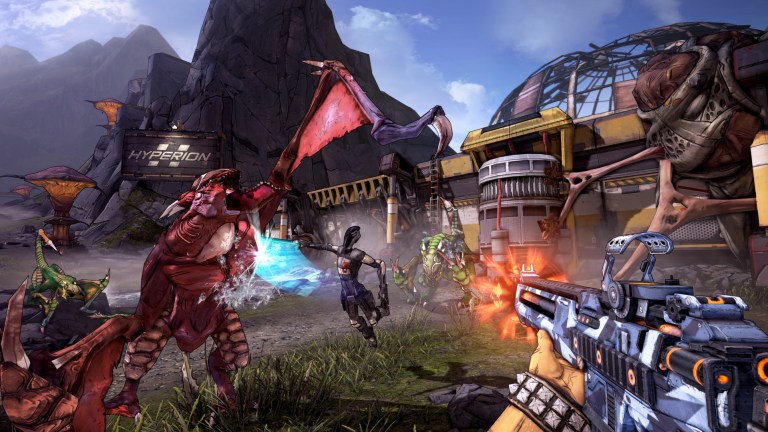 Beloved loot shooter Borderlands 2 is getting a very surprising PlayStation VR port. 
Let's get the (potentially) bad news out of the way first. According to the announcement from 2K, the VR version of Borderlands 2 is going to be a single-player only game. Considering how much fun it is to play Borderlands 2 with your friends, that's going to come as somewhat of a blow to some fans of the original experience. 
The good news is that this version of the game is being developed by Borderlands 2 developer Gearbox. That means you can expect the same level of polish that we saw in the original version of Borderlands 2 as well as much of the same content. So far as we can tell based on the information available so far, nothing significant has been cut from the VR version of this title. Of course, we doubt that this build will include all of the content featured in the game's numerous (and often excellent) DLC releases. 
What we can tell you is that the PSVR version of Borderlands 2 will take advantage of the capabilities of the VR medium in some interesting ways. For instance, all vehicle sections in the game will now play out in first-person (the game previously changed to third-person when you got in a vehicle). You'll also be able to take advantage of the "teleportation" system we see in many VR games, but will also be able to control your character's movements as normal via joysticks. 
Interestingly, this VR version of the game will also give all classes the ability to slow down time during combat. It's not clear if this ability is somehow related to limitations of the VR combat system, or if it is just something that Gearbox felt like adding to the game due to the way it will enhance combat. 
In any case, you can expect to play Borderlands 2 on PSVR when it launches on December 14th. Gearbox has not confirmed whether they have any plans to bring the VR version of Borderlands 2 to any other VR devices. 
Read and download the Den of Geek NYCC 2018 Special Edition Magazine right here!
Matthew Byrd is a staff writer for Den of Geek. He spends most of his days trying to pitch deep-dive analytical pieces about Killer Klowns From Outer Space to an increasingly perturbed series of editors. You can read more of his work here or find him on Twitter at @SilverTuna014.