News
BlizzCon 2018 Live Stream
BlizzCon 2018 continues with Overwatch, StarCraft, Hearthstone, and World of Warcraft tournament action! Watch it here...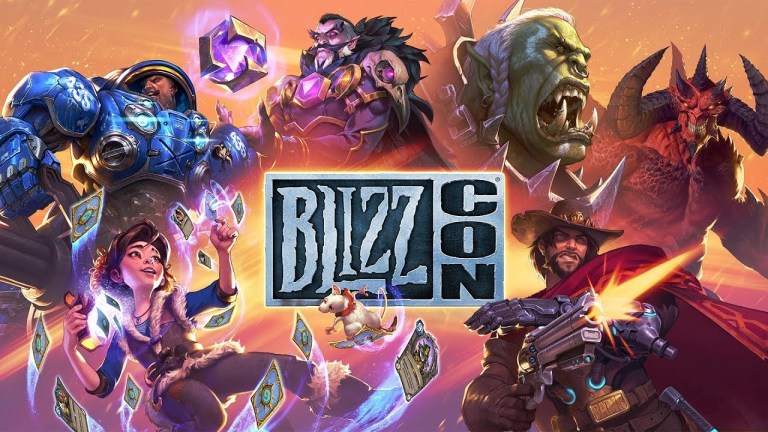 BlizzCon 2018, the biggest Blizzard celebration of the year, is finally here! And this is where you can keep up with all of the big announcements, watch new gameplay footage and trailers, and even catch the eSports action from your favorite Blizzard games. You can catch everything on Nov. 2-3. Check out the full schedule of events here.
The opening ceremony will be broadcast across all channels at that time before they break off into the individual tournaments. For your convenience, we're streaming the opening ceremony and all the tournaments at this year's BlizzCon. That means you'll get to see StarCraft II, World of Warcraft, Heroes of the Storm, Overwatch, and Hearthstone, all in one place.
Expect at least one big game announcement from Blizzard this year during the Opening Ceremony at 2 pm ET/11 am PT on Friday, Nov. 2. What that announcement might be is anyone's guess.
While some expected Diablo 4 to be the big reveal of this year's show, Blizzard recently told fans not to get their hopes up. That said, perhaps we'll hear a bit one of the other Diablo projects currently in development at the studio. For example, we might get an official confirmation regarding the Diablo Netflix series we first heard about a few weeks ago.
Blizzard might also announce Hero 29 for Overwatch, which is due for a new addition to its roster. Who that character may be is anyone's guess. Expect some news about the highly anticipated second season of Overwatch League. At the moment, all we know about Blizzard's newest eSports endeavor is that season 2 will have eight more teams than the first. We may learn more about those teams at the show as well as get an official start date.
For now, we'll just have to keep on guessing, but the good news is that we don't have to wait too much longer. We'll make sure too keep you updated on all the big BlizzCon news. Now, on with the show!
StarCraft II
World of Warcraft
Overwatch
Heroes of the Storm
Hearthstone
John Saavedra is Games Editor at Den of Geek. Read more of his work here. Follow him on Twitter @johnsjr9.