News
Bethesda Teases Reveal of Two New Games at E3
Even Bethesda's teasers are done with an impeccable sense of style.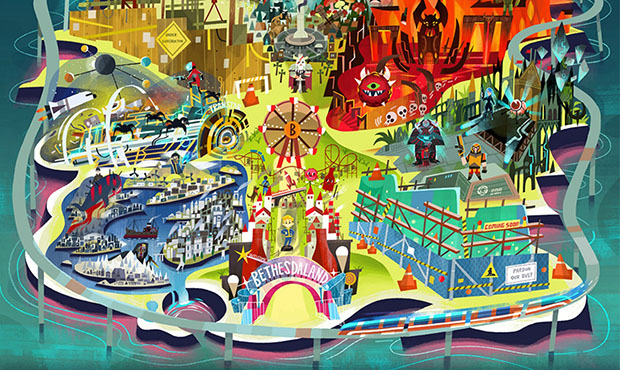 While Bethesda, as a publisher, continues to release a number of compelling games each year, fans of the studio are always going to have their eyes out for the next entrant into one of the company's famous franchises. Typically, you can be sure that Bethesda is going to resist actually revealing their next major project until their annual E3 presentation, but Bethesda Studios executive producer Todd Howard has hinted at what's coming next. 
"We've got a good number of projects on the go," said Howard in an interview with Glixel. "We're bigger now and we do want to be putting out more stuff. We have two larger projects that are more classically the scale of what we do, but even bigger. We overlap the projects so we're working on them at the same time, but they're staggered."
Howard went on to reiterate that he can't get into specifics, but he stated he "can say that they're bigger than anything we've ever done. They're a bit different, but definitely in the wheelhouse that people are used to from us" and that one of them is going to be a mobile game. 
Bethesda's wheelhouse is typically defined as open-world RPGs, so that's certainly the expectation that fans have when they hear that something is being referred to as typically Bethesda. However, Howard's clarification that these game are going to be a bit different may be a hint that we shouldn't expect the next entrant into the Elder Scrolls franchise. If it's any consolation, we know that Bethesda is working on The Elder Scrolls VI.
As for these other projects, it sounds like Bethesda may be working on entirely new franchises within the style of some of their previous efforts. It's hard to even overlook the mobile game at this point given how curiously addictive Fallout Shelter was. 
That possibility gained a little more credibility this week as Bethesda sent out their E3 invitations which playfully portrayed the fictional theme park "Bethesdaland." Interestingly, two of the park's sections are marked as "Under Construction." Could this mean that Bethesda is preparing to reveal two new games at E3?