News
Battletoads: Release Date, Trailer, and Everything We Know
Everything you need to know about Battletoads, including latest news, release date, trailer, and more!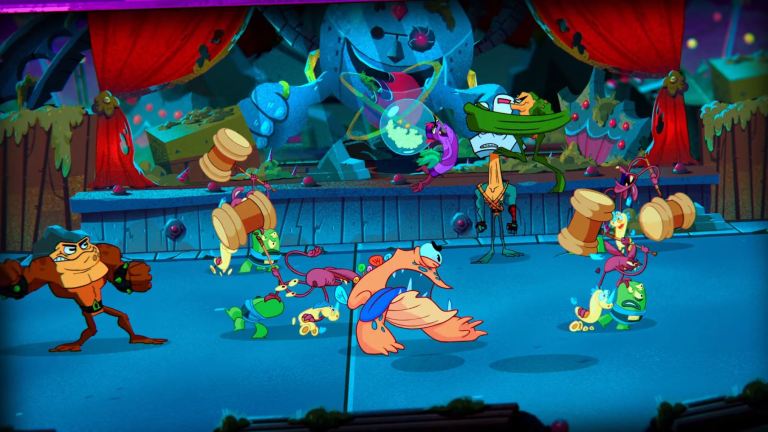 Get ready to call your local pawn shop and annoy them with an outdated meme, because there's a new Battletoads game in development. 
In the grand tradition of games quickly revealed during E3, we don't know much about the next Battletoads game at this time (it's all about those sizzle reels). In fact, we can't actually verify that Rare is working on this game, but we'd be shocked if that wasn't the case. 
However, the first trailer for this project does confirm that the next Battletoads game will support three-player couch co-op (which suggests that a new toad will not be added to the original game's trio), will feature hand-drawn graphics, and will likely be released in 2019. It will also, naturally, be an Xbox exclusive, but we're not sure if that exclusivity applies to a possible PC release. 
The trailer's snarky humor also suggests that this game won't be taking itself too seriously (which makes sense) and that it might feature the return of those damn impossible vehicle levels that made a generation of gamers turn to hard drugs and is believed to be the second most prolific source of PTSD outside of the Vietnam war. However, we're waiting on confirmation of both those features. 
It's been a long time since we've received a proper new Battletoads game. The last Battletoads title was 1994's Battletoads Arcade; a pretty standard beat-'em-up that reportedly didn't do that well at arcades but is considered to be a pretty fun title by series fans. 
Here's everything we know about Battletoads for Xbox One. 
Battletoads Release Date
Battletoads doesn't have a confirmed release date, but it's still believed that the game will be released sometime in 2019. We'll confirm that release date as soon as it is available. 
Read More: 40 Best Video Games to Play in 2019
Battletoads Trailer
The E3 2019 trailer for Battletoads offers a much more substantial look at what is to come. It showcases some lovely hand-drawn graphics as well as confirms the game's three-player couch-op mode. Be sure to check this out: 
The very first Battletoads trailer just offers a hint of what's to come. However, it's an effective teaser. 
Read More: 25 Best PC Games to Play in 2019
Matthew Byrd is a staff writer for Den of Geek. He spends most of his days trying to pitch deep-dive analytical pieces about Killer Klowns From Outer Space to an increasingly perturbed series of editors. You can read more of his work here or find him on Twitter at @SilverTuna014.