News
Battlestar Galactica Deadlock – Announcement Trailer
The world needs more Battlestar Galactica games that are worth playing...so say we all.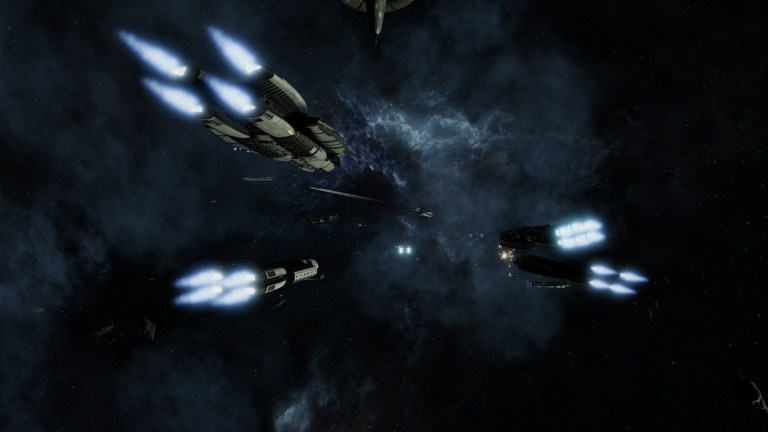 Given how popular the Battlestar Galactica revival was in the gaming community, it's always been a little strange that we never got many Battlestar Galactica games of note. The series has always felt ripe for a proper video game adaptation. 
That adaptation may soon be upon us as Slitherine and Black Lab Games have announced a new Battlestar Galactica strategy game called Battlestar Galactica Deadlock. 
That debut trailer isn't exactly brimming with details, but Slitherine and Black Lab have provided a separate press release which goes a bit more in-depth into what Deadlock is all about. 
Put simply, Deadlock is a fully-3D strategy game set in the Battlestar Galactica universe. At present, it seems that the game is leaning more towards the real-time strategy side of the strategy genre spectrum as opposed to being a 4X or grand strategy title. 
However, that is somewhat speculative. Black Lab notes that the game "tells new stories, but with familiar places, events and characters. And all of it will be captured in the depth that our strategy game will offer," but it isn't entirely clear how Deadlock gameplay will be handled. There is a brief mention of being able to pause real-time combat sequences on the game's Steam page, so it's possible that the game will borrow from the Homeworld formula. That same page also alludes to elements of politics which could help provide some narrative backbone to the game's ship-to-ship battles.
Also of note is the mention of advanced Cylon attacks which will require your on-ship marines to fend off raiding parties and an online multiplayer system which allows for 1-vs-1 matches.
Battlestar Galactica Deadlock is expected to release for PlayStation 4, Xbox One, and PC sometime in the Summer of 2017.