News
Battlefield V Will Reportedly Feature a Co-op Mode
Co-op mode, a Battlefield 1-style campaign, and more could be coming to Battlefield V.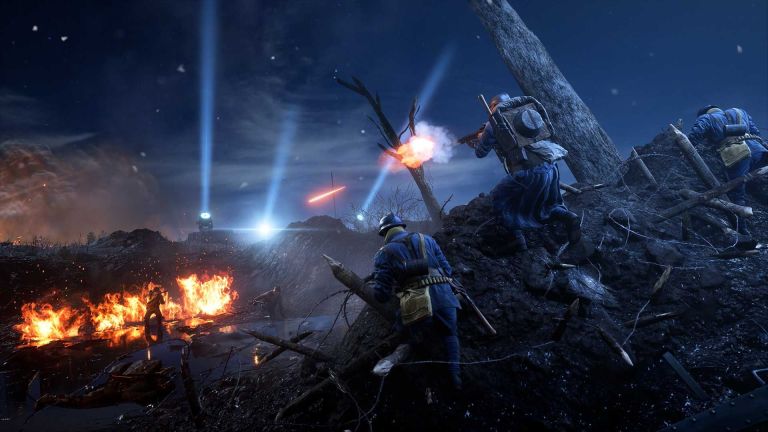 More rumors regarding the next Battlefield game are slowly leaking. 
The latest report from Gamesbeat indicates that Battlefield V will feature a co-op mode that allows squads to compete in randomly created Conquest missions. Furthermore, it seems that the game will include a campaign very similar to the one seen in Battlefield 1. That is to say that it will likely feature several mini-stories that span the scope of the war.  
Interestingly, there's even a rumor that suggests Battlefield will borrow Rainbow Six Siege's prone mode while lets players fire from their backs. Of course, these are all just rumors at this point, but they spawned from an initial Gamesbeat report which suggested that the next Battlefield game is called Battlefield V and that it takes place during World War II.
Citing sources familiar with the project, the report claims that the next Battlefield game has previously internally been referred to as Battlefield 2 due to it being a direct follow-up to the World War I era title, Battlefield 1. However, a supposed leaked screenshot from the game's title menu – which has made its way to Reddit – along with the information from these unnamed sources seems to indicate that the current developer build of the game is being referred to as Battlefield V. 
If the next Battlefield game does take place during World War II, it will be the first time since 2009 that a main Battlefield entry has ventured to that particular time period (Battlefield 1943). Of course, long-time fans of the franchise will remember that Battlefield began as Battlefield 1942; a critically-acclaimed military shooter that famously allowed for up to 64 players to wage war. 
We have reached out to Electronic Arts for comment and will update this article if we receive an official statement regarding these reports. 
As for the possibility that Battlefield could return to World War II…well, it does seem like a likely move. All reports indicate that Battlefield 1 was a tremendous success. The latest figures even suggest that the game has surpassed 25 million players. Furthermore, Battlefield 1 was met with largely positive critical acclaim as both critics and fans remarked how the series' move to a more familiar style of Battlefield combat helped the franchise feel fresh once again following attempts to convert the series into a sci-fi shooter and a cops and robbers affair. 
So while this news is currently speculative, we wouldn't be surprised if the official confirmation reveals that the Battlefield series has returned to its World War II roots. Of course, we still wouldn't mind if all this turns out to be a ruse to cover up the impending reveal of Battlefield: Bad Company 3.