News
Battle Princess Madelyn Revives the Spirit of Ghouls 'N Ghosts
Now on Kickstarter, retro platformer Battle Princess Madelyn is a must-see for fans of Capcom's Ghouls 'N Ghosts...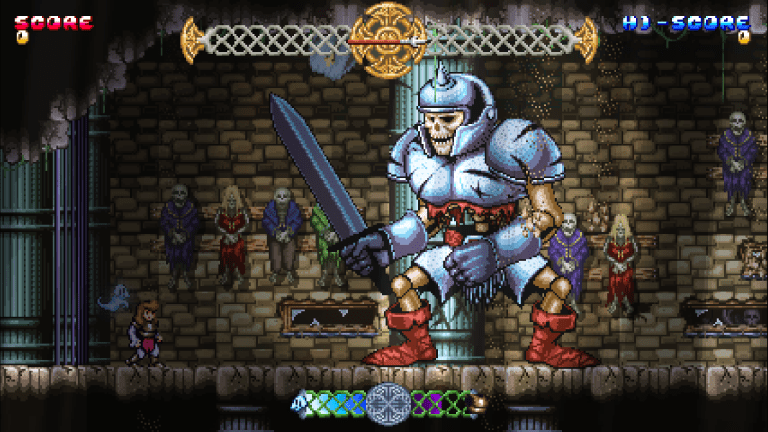 If you were playing games in the '80s, you'll probably remember Ghosts 'N Goblins and its sequel, Ghouls 'N Ghosts. Created by Capcom, they were a pair of run-and-gun platformers with a horror theme and incredibly tough difficulty levels. 
Battle Princess Madelyn, the latest project from the designer behind Insanity's Blade, revives the spirit of those old Capcom classics. In fact, the game had its genesis in a playthrough of Ghouls 'N Ghosts. Designer Christopher Obritsch's daughter, Madelyn, liked watching her dad play the game so much that she wanted to climb inside its world and fight the first level boss, Green Head, herself. The result is Battle Princess Madelyn – a game very much in the vein of Ghouls 'N Ghosts, but with more than a few new ideas of its own.
Like the wonderful Shovel Knight, the game mixes the pixel visuals and action of retro platformers with the creature comforts of more modern titles. You can back-track through levels to find hidden collectibles; there are lighting effects that wouldn't have been possible on hardware from the '80s. Plus, the title heroine is joined by a companion: Fritzy, a canine ghost who helps fight enemies and solve puzzles. 
A polished-looking game with superbly designed graphics, Battle Princess Madelyn has succeeded in powering through its minimum Kickstarter goal in just five days. If you want a copy of the game (plus a copy of Insanity's Blade, if you don't have it yet), then there are still a few 'early bird' pledge levels left at the time of writing. The finished game is due out at the end of 2017 for just about every major system you can think of: Xbox One, PlayStation 4, PC, Wii U, and Nintendo Switch. At the rate it's going, Battle Princess Madelyn will probably also make its final stretch goal, which means PlayStation Vita owners will be able to buy the game, too.
You can see the game in action via the teaser trailer below, but if you want to check it out first-hand, there's a demo of Battle Princess Madelyn's pre-alpha build available its Kickstarter page.