News
Banjo-Kazooie Sequel Rumors Shot Down by Yooka-Laylee Studio
We might get a Banjo-Kazooie sequel one day, but it doesn't sound like one is being worked on right now.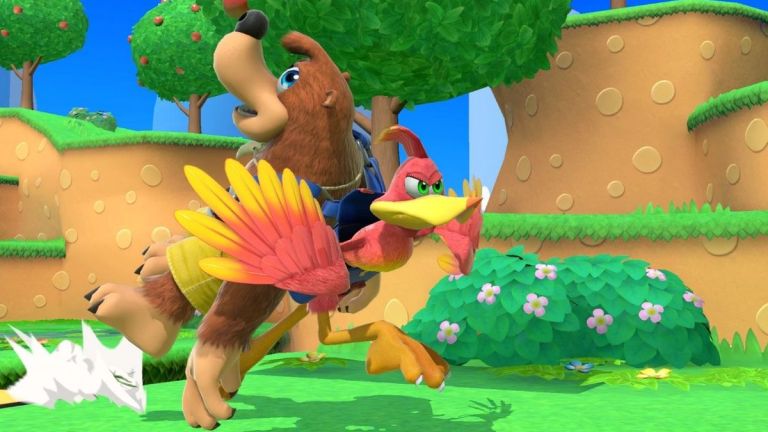 Yooka-Laylee developer Playtonic Games has denied rumors that they are working on a Banjo-Kazooie sequel. 
"We hate to be the bearers of news that isn't what you want to hear, but we thought it best to come out and say we aren't working on a new Banjo-Kazooie game and we remain an independent studio," says Playtonic via their Twitter account. "While we would love to work with the bear and bird again, that ball isn't in our court. With that said, we are keen to continue progressing as a studio, carrying the experience of games we worked on, old and new, to create new characters and adventures for you to (hopefully) love."
Oddly enough, the rumor that Playtonic was working on a new Banjo-Kazooie title gained steam recently when ex-Rare artist (and current Playtonic employee) Ed Bryan tweeted a picture of a Microsoft bag alongside the words "Well, I never had any plans to use this again." This kicked off a bit of dual speculation that suggested Playtonic had been acquired by Microsoft and tasked with working on a Banjo-Kazooie sequel. 
This recent tweet makes it pretty clear that neither of those things are true, but there certainly does seem to be a lot of talk regarding Banjo-Kazooie as of late. Not only did the duo join the Super Smash Bros. roster, but Steve Mayles (creator of the Banjo and Kazooie characters) stated that he'd love to see the duo return and star in a modern title. 
Is that ever going to happen? Well, Microsoft certainly seems to have the final say regarding that matter. If they are interested in greenlighting a new Banjo-Kazooie title, we'd imagine that they would task Rare with developing it rather than allowing another studio to utilize the license. Then again, Microsoft's willingness to work with former competitors means that you never really know what to expect from them. 
While Yooka-Laylee's shortcomings and somewhat dated nature of the 3D platformer genre leaves some room for doubt regarding whether or not a strict modern-day reimagining of the series would go over well, there's no denying that fans seem eager for another Banjo-Kazooie game in some form. 
Matthew Byrd is a staff writer for Den of Geek. He spends most of his days trying to pitch deep-dive analytical pieces about Killer Klowns From Outer Space to an increasingly perturbed series of editors. You can read more of his work here or find him on Twitter at @SilverTuna014.