News
Marvel's Avengers Game: Main Villains Revealed
Get ready to go up against A.I.M.'s hi-tech robots in a world that isn't big on The Avengers anymore...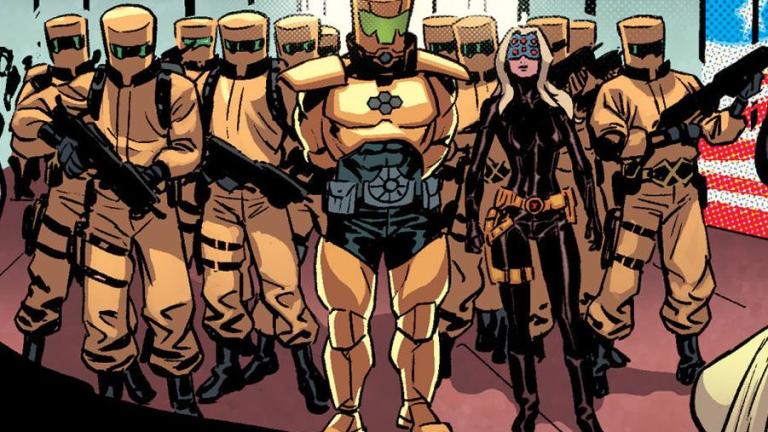 Square Enix, Crystal Dynamics, and Eidos Montreal have lifted the lid on their upcoming Marvel's Avengers, with the first open-to-the-public demos taking place at Gamescom in Cologne this week. Den of Geek went along to the event, tried out the demo, and went behind the scenes to watch a presentation from the developers. From this, we learned that the main villains in the game will be Advanced Idea Mechanics, better known as A.I.M.
A familiar foe to fans of the comics and anyone that saw Iron Man 3, A.I.M. is an organization comprised of brilliant scientists with evil intentions. Villains like MODOK, Baron Strucker, and Taskmaster have all been affiliated with A.I.M. in the comics. In fact, Taskmaster is confirmed to appear in the game.
In the world of this new game, A.I.M. will rise to global prominence after an incident in San Francisco sees the Avengers taking the blame for thousands of innocent lives being lost. It's worth mentioning that, within the 18 minutes of introductory gameplay that have been shared online, it's revealed that Taskmaster is responsible for the attack. We wouldn't be surprised to learn at a later date that A.I.M. pulling the strings from behind the scenes all along.
In the wake of this devastation, the Avengers decide to disband, and the game then jumps forward a number of years. With Earth's Mightiest Heroes off the scene, A.I.M. has offered up a scientific way to keep the people of Earth safe: an army of AI-infused robots is deployed onto the streets to keep the peace, and everyone seems to be going along with it.
A desire to investigate A.I.M. and uncover their true intentions will bring the Avengers back together, and many of the game's missions – which will be split across solo and multiplayer modes – will focus on pitting the team against these shifty scientists. For example, we saw a mission briefing for a level that sees the Avengers heading out to get a closer look at one of A.I.M.'s robot heavies.
The official Twitter account for the game has released this picture to announce the news…
Marvel's Avengers will release on PS4, Xbox One, PC, and Stadia on May 15, 2020. We'll keep you updated as we hear more, and we'll bring you our hands-on first impressions of the Gamescom demo as soon as we have time to write them up. Watch this space…
Read and download the Den of Geek SDCC 2019 Special Edition Magazine right here!