News
Atari Pong Cabinet Combines Physical and Digital Designs
This real life version of Pong is complimented by some digital tricks.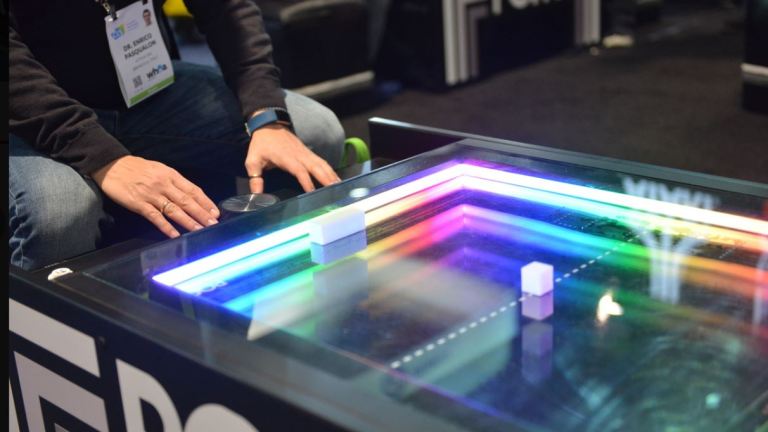 Pong is one of the most historically significant games ever made, but modern gaming fans might find it hard to play the game for more than 10 minutes without realizing there is a world of better entertainment options available. It would take quite the feat to bring Pong into the modern age in a way that genuinely excites people. 
However, Atari may have managed to do just that. 
At CES 2018, Atari revealed a table version of Pong that utilizes physical and digital elements to recreate the classic game. Players sit at opposite ends of the table and use sensitivity dials to control their respective paddles. So far, that probably sounds like classic Pong.
Well, the catch here is that Pong table players are actually controlling physical paddles to bounce around a physical square. The physical pieces are made of foam and are controlled by magnets placed just below the table's glass. The player's inputs manipulate the strength of the magnets and allow you to play what feels like a digital game of Pong.
That isn't to say that this table completely abandons its digital roots. The onboard screen produces a variety of LED effects while the built-in speakers bellow some familiar sounds (you can also plug in your own devices for custom music). Impressively, the table even allows you to play against a built-in AI designed around three different difficulty settings. 
"When everything seems to flow towards the digital world and individual playing, this project appears as a rebellious retro-futuristic version of the Atari PONG game," reads a statement from Atari regarding the design of this concept. "It brings the process backwards from digital to physical, and all into a multi-functional coffee table."
We highly doubt that this table will ever enjoy a retail release, but it is a neat way to bring Pong into the modern age that feels true to the game's roots.