News
Astral Chain: Trailer and Release Date
Astral Chain is a Nintendo Switch exclusive action title from PlatinumGames.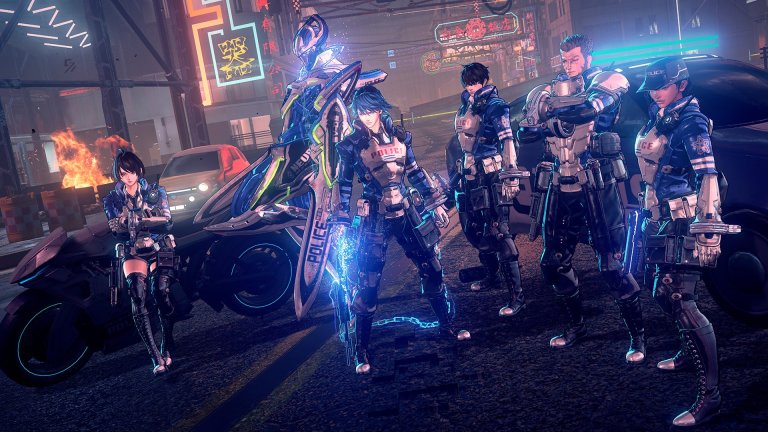 PlatinumGames (the studio responsible for NieR: Automata, Bayonetta, and Metal Gear Rising: Revengeance) is working on a new incredibly bizarre action title called Astral Chain. It's set to release exclusively for the Nintendo Switch on August 30.
Astral Chain's basic premise (if such a thing as a basic premise even exists with PlatinumGames titles), involves some kind of futuristic police force keeping the world safe from anime threats. It seems these monsters have come from another dimension (ain't it always the case?) and you're one of the only things that stand in their way. Assisting you is a living weapon called Legion that serves multiple purposes and your younger twin who will either be your brother or sister based on which character you choose to play in the beginning of the game. 
As is the case with many (but certainly not all) PlatinumGames titles, Astral Chain's basic story isn't really as important as the chaos of what is happening on-screen. In this instance, it appears that the Legion weapon and its many abilities will be at least partially responsible for the sheer chaos that we've come to associate with many of this studio's best games. Astral Chain also boasts and beautiful and colorful cel-shaded title that only enhances the absurd action of the experience. 
While the game's looks, over-the-top action, and slightly bizarre premise are all appealing enough, Astral Chain's true draw might be the talent working on this game. NieR: Automata game designer Takahisa Taura will make his directorial debut with Astral Chain and will be assisted by Bayonetta creator, Hideki Kamiya (who is listed as being "in charge of supervision"). Joining the pair is character designer Masakazu Katsura who created the ZETMAN and Video Girl Ai manga series. 
PlatinumGames' track record is solid enough to recommend keeping an eye on anything they announce, but Astral Chain certainly seems to stand tall on its own based on the footage that's been revealed so far and the few details that the studio has shared. There's certainly quite a bit of talent attached to this project. 
Interestingly, PlatinumGames noted that the release of this game won't affect the release of Bayonetta 3 which is still in development.
Matthew Byrd is a staff writer for Den of Geek. He spends most of his days trying to pitch deep-dive analytical pieces about Killer Klowns From Outer Space to an increasingly perturbed series of editors. You can read more of his work here or find him on Twitter at @SilverTuna014.