News
Assassin's Creed: Ubisoft Donates to Notre-Dame Cathedral Restoration
The infamous Assassin's Creed Unity has just become historically notable for a different reason.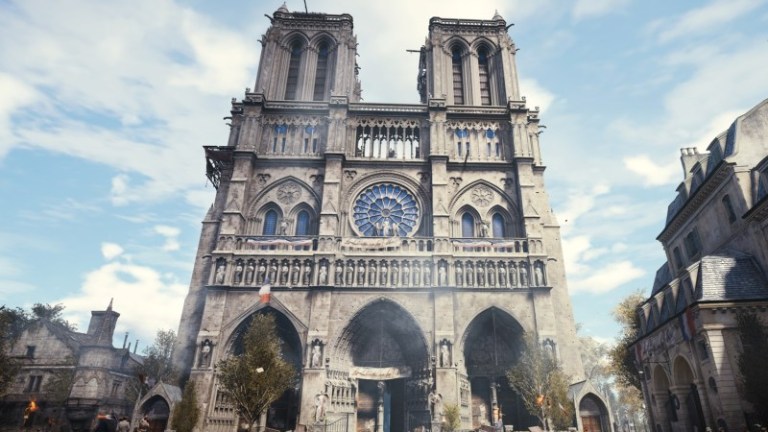 Ubisoft has announced that it is not only donating over $500,000 to help restore the Notre-Dame Cathedral but that it's making Assassin's Creed Unity free to all PC gamers. 
"In light of Monday's events, we will be donating €500,000 to help with the restoration and reconstruction of the Cathedral. We encourage all of you who are interested to donate as well," reads a post on the Ubisoft blog. "In addition, we want to give everyone the chance to experience the majesty and beauty of Notre-Dame the best way we know how. For one week, we will be giving Assassin's Creed Unity away free on PC, for anyone who wants to enjoy it. You can download it now for Uplay PC here."
The blog post goes on to say that Ubisoft "stand in solidarité with our fellow Parisians" and that developing Assassin's Creed Unity gave the developers an "even closer connection with this incredible city and its landmarks." Those landmarks, of course, include the recently burnt Notre-Dame Cathedral.
Indeed, the most interesting thing about Assassin's Creed Unity at the moment is that the game featured an almost perfect recreation of the Notre-Dame Cathedral as it existed at the time of Unity's development. In other words, the game has just become one of the best ways to explore the Notre-Dame Cathedral as it stood for many years before the upcoming restoration will almost certainly alter it in some way. 
Of course, the game's admittedly stunning recreation of Notre-Dame Cathedral wasn't exactly the most notable aspect of Unity upon its release. At that time, Unity was widely criticized for its lackluster gameplay, strange stance on player character gender, and a series of (admittedly hilarious) technical bugs. Some French politicians even criticized the game for its dubious historical accuracy. Others say that the failures of Unity are a big part of the reason why Ubisoft eventually changed the Assassin's Creed formula with the release of Origins and Odyssey. 
Having said all of that, this is an admirable gesture from Ubisoft, and Unity's not-quite-perfect recreation of Notre-Dame Cathedral is certainly suddenly an interesting footnote in history.
Matthew Byrd is a staff writer for Den of Geek. He spends most of his days trying to pitch deep-dive analytical pieces about Killer Klowns From Outer Space to an increasingly perturbed series of editors. You can read more of his work here or find him on Twitter at @SilverTuna014.