News
Assassin's Creed: No New Game in 2019
Ubisoft is giving the Assassin's Creed franchise a break next year, but they will continue to support Odyssey.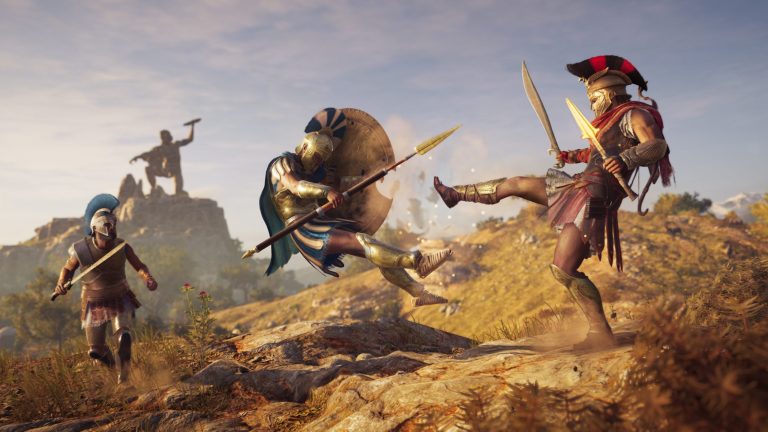 The Assassin's Creed franchise is taking 2019 off. 
"We had a game [in 2018] and we have one this year, but we are not going to have a full-fledged Assassin's next year," said Ubisoft's Yves Guillmot at Gamescom 2018. "It's just because the team was working separately, so we have two games now, one year after the other. But next year you're not going to have a fully-fledged one."
This isn't exactly unheard of for the Assassin's Creed series. While yearly installments in the franchise used to be a given, Ubisoft decided to dial back on annual releases for all of their franchises a few years back. The general consensus has been that this move helps the franchises stay fresh over a long period of time and ensures that the developers have enough time to make sure each new game feels special. 
In lieu of a new Assassin's Creed game, you can expect to see a lot of post-release content for Assassin's Creed Odyssey. 
"What you'll have is lots of content coming on [Odyssey]," said Guillemot. "The team really want to give, on a regular basis, some new possibilities for play, so when you get [Odyssey] this year, you're going to get in for a couple of years, actually."
While we'd usually be a little wary of a company trying to get us excited about years of DLC, it must be said that Ubisoft is usually pretty consistent when it comes to delivering imaginative DLC. It's also worth noting that Origins and the upcoming Odyssey are changing the Assassin's Creed franchise in pretty significant ways. As such, it might be nice to see how Ubisoft is able to continue to grow the franchise when they have a little more time on their hands to explore what's possible. 
Matthew Byrd is a staff writer for Den of Geek. He spends most of his days trying to pitch deep-dive analytical pieces about Killer Klowns From Outer Space to an increasingly perturbed series of editors. You can read more of his work here or find him on Twitter at @SilverTuna014. 
Read the latest Den of Geek Special Edition Magazine Here!