News
Artist Reveals Rejected Pitch for Halo Wars 3
Space battles, base management, and more would have been included in this proposed sequel.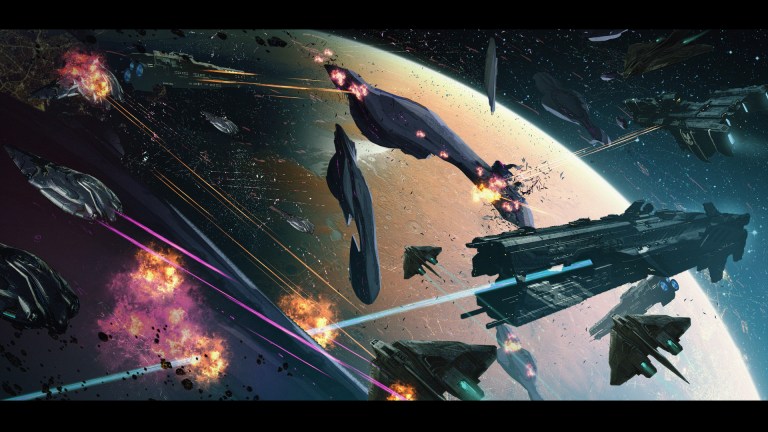 We don't know if we're ever going to get a third Halo Wars title, but it seems that we're never going to get concept artist Brad Wright's idea for Halo Wars 3.
Recently, Creative Assembly's Brad Wright got permission from Microsoft to share a pitch he compiled for Halo Wars 3. In a post on ArtStatation, Wright admitted that he was quite surprised that Microsoft agreed to let him show off the artwork from his rejected pitch. 
We're certainly glad they did, though, as Wright's idea for Halo Wars 3 is nothing if not fascinating. 
Wright's various concept art pieces showcase gameplay ideas never before seen in the Halo Wars series. The most notable of these additions is a detailed base management system comparable to the one that we saw in the recent X-Com games. The base itself would have been a giant "mothership" floating around in space that could be upgraded in ways that would have allowed for increased troop performance and new unit production. 
What's especially interesting is the base's double-duty role as the lead ship in your controllable space fleet. Yes, Wright also wished was to add ship-to-ship fights to Halo Wars and to have your base of operations serve as the centerpiece for both space and ground battles. It's not entirely clear how ship-to-ship combat would have worked in this version of the game, but nothing suggests it would have represented a radical departure from the current Halo Wars' combat system.
The artwork itself is incredibly well-done and many of the gameplay ideas Wright suggested sound like they would have been welcome additions to the franchise, but many questions abound regarding the story behind the pitch itself. Does this mean that Microsoft is already accepting pitches for Halo Wars 3? Does their willingness to share this information suggest that they may not have any plans to produce a third Halo Wars title in the near future? 
For what's it worth, we found Halo Wars 2 to be a welcome addition to the sparse genre of modern real-time strategy games. However, it fell short of greatness in several respects. 

Read the latest Den of Geek Special Edition Magazine right here!