News
Arkham Knight: PC patch is finally online
Update: After several weeks, the patch for Batman: Arkham Knight PC is finally available to download...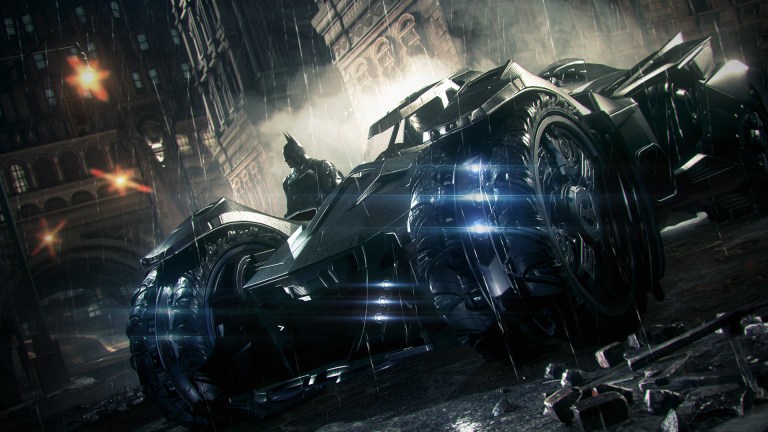 Update: Well, the sorry saga of Batman: Arkham Knight's PC port still isn't over, but this is, at the very least, the end of the beginning. Nearly three months on from its initial release in June, Rocksteady has finally released an interim patch for a game deemed so broken that it was abruptly pulled from sale. 
As its name suggests, the patch doesn't magically fix all of Arkham Knight's problems, but it does reportedly improve its in-game performance, fix some low-res textures and remedy some of its more glaring bugs. Here's the list of fixes, taken from the game's Steam page:
Reduced frame rate hitchesOptimizations for system memory and VRAM usageImproved performance on all GPUs (requires the latest drivers)More Comprehensive In-Game SettingsFixed low resolution texture bugsFixed hitches when running on mechanical hard drives (HDD)

In addition to the above, we're continuing to work on the following for future updates:Adding support for SLI and CrossfireAdding support for the latest DLC & Season Pass contentAdding support for additional updates such as Photo ModeContinued improvements and bug fixing for a Windows 7 specific memory issue that occurs on configurations with 8GB of system RAM and some NVIDIA GPUs during extended game playContinued improvements for Windows 10 specific issues on systems with some AMD GPUs
A further patch with more improvements is currently being readied, though when it will be out isn't yet known. A date for Arkham Knight's re-launch hasn't been announced yet, either; "Batman: Arkham Knight will be available on SteamOS, Linux and Mac in Fall 2015," its Steam page currently reads.
More on this as we get it.
Older story, 16.07.15: As you'll no doubt recall, the PC version of Arkham Knight had a few problems. So many problems, in fact, that Warner Bros Interactive took the drastic step of pulling it from sale. Since then, Rocksteady has stated that it'll have some form of patch ready for those who've already purchased the game fairly soon – the last we heard, the studio expected to have the fix ready for August.
It now looks as though the update won't meet that deadline – as predicted by an internal email from an Australian game store, which predicted that a fix wouldn't be out until September.
In an update on Arkham Knight's Steam page, Warner have stated, "If all goes well, we expect to issue the patch in the next few weeks. We'll be sure to report back in the next two weeks on how the testing is coming along."
"The next few weeks" is a vague term, and given that we'll only be given a progress update in two weeks' time (September the 4th by our reckoning) means that an August release is surely out of the question.
When we hear more on this, we'll be sure to pass it along.
Original story 16.07.15: If you're a PC-owning fan of Rocksteady's Arkham series, you'll already know that Batman: Arkham Knight was pulled from sale back in June after reports of numerous, game-breaking bugs. According to an internal email acquired by Kotaku, we may be waiting for some time before we see the game completely fixed on that platform.
In fact, if the email – circulated between staff at Australian videogame retailer EB Games – is correct, it could take until September to get Arkham Knight fixed.
"As previously advised," the email reportedly reads, "we have stopped sales of Batman: Arkham Knight PC while Warner and Rocksteady work on addressing performance issues with the game. The latest information from Warner is that the updates won't be available until Spring. Due to this we have made the difficult decision to recall all PC stock from stores to return to the vendor until an acceptable solution is released."
In Australia, spring's currently two months away, which puts a fix on the game in September or maybe even later. Warner Bros Interactive hasn't put a date on the repairs yet, and at the time of writing, most of Arkham Knight PC's major glitches still haven't been patched.
More news on this as it comes in.
Original story 29.06.15: Last week, Warner Bros Interactive took the unusually drastic step of pulling the bug-ridden PC version of Batman: Arkham Knight from Steam. Those game-breaking bugs are a major blot on a game otherwise greeted with favourable reviews on PlayStation 4 and Xbox One (our own Aaron Birch gave it a deserved five stars).
In fact, a Steam Community update from Warner provides a flavour of just how much work there is to do before the PC version will finally be playable. Among the list of things that Rocksteady and its "team of developers and partners" have to sort out are:
Support for frame rates above 30FPS in the graphics settings menuFix for low resolution texture bugImprove overall performance and framerate hitchesAdd more options to the graphics settings menuImprovements to hard drive streaming and hitches
There is, however, a first patch available, which fixes a further batch of problems, including missing weather and lighting effects, and then this mysterious bug:
Corrected an issue that was causing Steam to re-download the game when verifying the integrity of the game cache through the Steam client.
Very odd. At any rate, Warner admits that it has "significant" work still to do, and its latest post doesn't give a timescale for when it might be completed – or when it plans to place Arkham Knight back on Steam.
"Rocksteady is leading our team of developers and partners as we work on the PC performance issues that players have been encountering," the post states. "The work is significant and while we are making good progress on improving performance, it will take some time to ensure that we get the right fixes in place." 
For PC users who actually managed to buy a copy of the game before it was pulled – and assuming they can get it to work acceptably – there's now a mod available that makes ten of Arkham Knight's characters playable. With it, you can play as Red Hood, Harley Quinn, Nightwing, Bruce Wayne, Catwoman, Azrael, Commissioner Gordon, Joker and Officer Owens in the game's free roam mode.