News
Arena of Valor: A Few Thoughts on the Game
Playable DC characters are part of new MOBA game Arena of Valor. We took a look...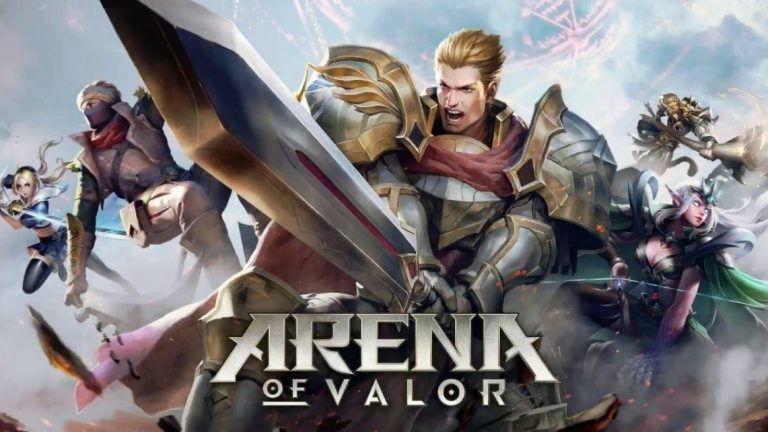 This article comes from Den of Geek UK.
Arena of Valor, which you might also have heard of under its Chinese name King of Glory, is a 5v5 MOBA game developed at Tencent, which also owns Riot Games, maker of the ultra-popular League of Legends. In many respects, Arena of Valor looks, feels and plays like its stablemate, though with one major difference: this one has playable DC characters in it. Is that enough to make you give it a shot? Well, it was for us.
The game's forthcoming western release means anyone engaging with it will soon be able to take advantage of an absolutely huge userbase. With a reported 80 million daily players worldwide, and 200 million unique players every month, you're unlikely to be stuck for teammates. At least, we never were.
And indeed, if you, like us, are more of a pick-up-and-play gamer, especially when it comes to mobile, you're in luck: 10 minute matches mean you're unlikely to find yourself in danger of becoming a prisoner to the game's timing. You get frequent opportunities to drop in and out, so it's possible to play on your schedule, as long as you're flexible enough to commit to 10 minutes.
The sign-up process is as simple as it gets – once you've installed the game it'll download the latest data packs and help you select the most appropriate server for your region. It's possible to sign up using your Facebook account, but if you want to test the game you can simply play as a guest. On iOS, you can also log in using your Game Center account. It'll even help you choose a username from a random selection so that what is often the most frustrating sign-up process is mitigated. 
When the process is complete, you select a difficulty and get thrown into a tutorial mode which also acts as a story primer. As with most tutorials this is a slow, often frustrating process, pitched at absolute no-experience novices, but luckily it's quite short and shouldn't hold you up too much.
Control-wise it's quite simple to learn – the on-screen interface is rich with information without being too overwhelming, and there are prompts in case you're missing the obvious thing to press or place to go. Like many mobile action games, Arena of Valor can come across as slightly too simple in a strategic sense, but it also gives you plenty of opportunities for fun, smiting your enemies and generally playing like you know what you're doing even though you're just mashing buttons – though as with all of these things, it's possible to actually master the game as well.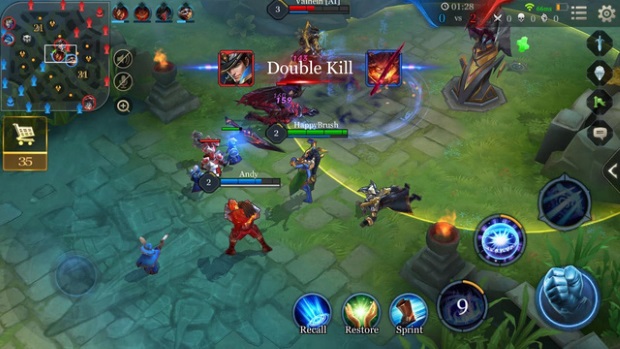 Graphically and sonically it provides a fun experience too, and on the test device – an iPhone 6 with iOS11 – there wasn't any slowdown or lag during play, even when the screen was at its busiest. The interface could've been a little easier to discern – it's possible the game plays better on a larger screen – but practically speaking, it didn't impede play.
Play modes are varied too, with both ranked and casual play accommodated depending on what mood you're in. Don't worry about connection dropouts either, as lost players can be replaced by competent AI without interrupting play. Cross-platform functionality is also pretty exciting, not least because the game is due for release on the Nintendo Switch (Android, iOS and PC play are already supported).
Perhaps the most disappointing thing about Arena of Valor is simply that if you're coming for the DC characters… they aren't there from the start. You'll have to put in the hours in order to unlock the extra characters. Similarly, as with all mobile games, the in-app purchases can make it feel as though paying extra is the only way to advance, even though that's not strictly true. Certainly, it's tempting to shortcut the grind of getting better equipment by paying, but you'll have to decide whether it's worth it.
If you can get past those gripes, which are common to most mobile games, Arena of Valor is a lot of fun. At the very least, it's enjoyable enough that we're looking forward to unlocking more superheroes and getting our hands on some more characters, whether they're DC or from the game's sizeable original stable. Not every game receives the honor of that much attention. 
Arena of Valor is out in Europe now and a Nintendo Switch version is also planned. No North American release date has been set.
Read the latest Den of Geek Special Edition Magazine right here!