News
Anthem: Trailer, Release Date, Review, and News
Everything you need to know about Anthem, including latest news, release date, trailers, and much more!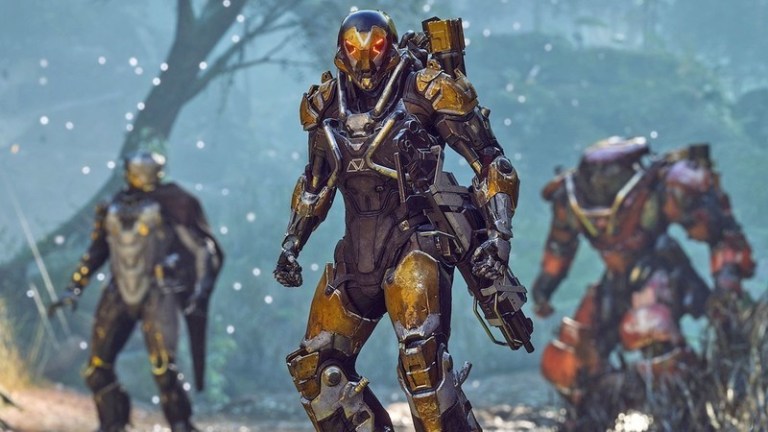 Anthem is the new game from BioWare, the studio behind Mass Effect and Dragon Age. The new IP is a departure from the developer's past work in the RPG genre. In fact, Anthem isn't an RPG at all. It's described as an action-adventure game running on a "live service," similar to Destiny.
In Anthem, you play as a freelancer in a city protected by a wall from the dangers of the wild. Freelancers use special exo-suits called Javelins. There are two types of suits: Ranger, a balanced suit, and Colossus, which is basically your tank version.
Here's everything we know so far:
Anthem Review
We've played Anthem and have lots of thoughts on the game. Check out all of our first impressions here. Here's an excerpt:
After playing Anthem at a preview event for several hours, I can say that BioWare fans will likely only get maximum value out of the game if they're able to manage expectations and take the game for what it is as opposed to what it's not … That's not to say that Anthem's lacking in the story department. From my time with the game, I got a sense of a deep, rich world with plenty of lore and colorful characters to discover and meet.
Our full review will arrive closer to launch!
Anthem Release Date
Anthem will be released on February 22, 2019, for XBO, PS4, and PC.
Anthem Trailer
The launch trailer is here!
The "This is Anthem" series continues with this detailed look at what Anthem's post-game has to offer. End game content includes stronghold missions, higher difficulties, and world exploration. Take a look:
The first video in the new "This is Anthem" series focuses on the game's story, progression system, and customization options. It's our clearest look yet at a game that sure looks a lot like Warframe.
BioWare is partnering once again with Nvidia and unleashed a beautiful new Anthem trailer at CES to showcase just how spectacular the game looks at the highest specs:
Another trailer debuted at The Game Awards. Check it out:
At Paris Games Week, the first mission of the game was revealed. Watch the footage below:
Further Reading: Dragon Age 4 – Everything We Know
Here's the E3 2018 cinematic trailer for Anthem:
And here's a bit of gameplay:
Here's the first gameplay trailer for Anthem:
Enemies showcased in the trailer include a mixture of wildlife and robots. The game will take place in an open-world environment and will feature cinematic dialogue sections, which isn't a surprise from BioWare.
Also be sure to check out the first teaser trailer for the studio's next game:
Further Reading: Mass Effect – The First Trilogy's Ending and the Futility of a Hero
John Saavedra is an associate editor at Den of Geek. Read more of his work here. Follow him on Twitter @johnsjr9.
Matthew Byrd is a staff writer for Den of Geek. He spends most of his days trying to pitch deep-dive analytical pieces about Killer Klowns From Outer Space to an increasingly perturbed series of editors. You can read more of his work here or find him on Twitter at @SilverTuna014.