News
Anthem: EA CEO Admits One of the Game's Issues
EA CEO Andrew Wilson admits that Anthem and BioWare need to change to survive.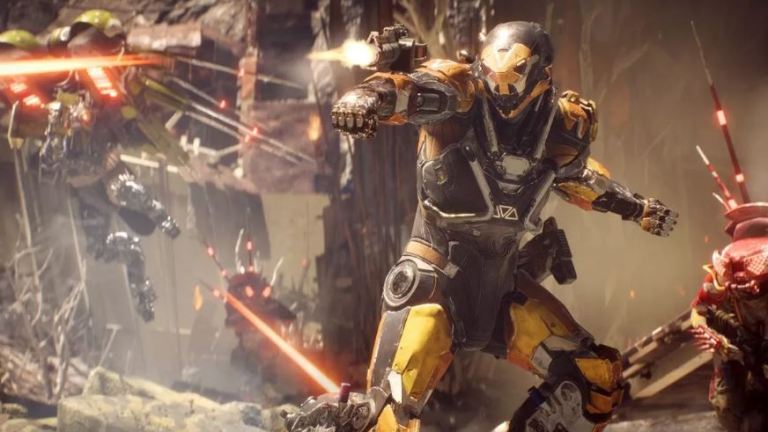 In a candid interview with GameDaily.biz, EA CEO Andrew Wilson opened up about the state of Anthem, which has faced several issues since its launch in February. According to Wilson, some of the game's problems come down to the expectations of different types of players — ones who came for BioWare's signature brand of story content and those who were attracted to the action gameplay.
"We brought together these two groups of players who were making this emotional value calculation on two different vectors," said Wilson. "One was traditional BioWare story-driven content, and the other was this action-adventure type content. About the 30 or 40 hour mark they really had to come together and start working in on the elder game. At that point everyone kind of went, 'Oh, hang a minute.' Now the calculation is off…The promise was we can play together, and that's not working very well."
Wilson didn't go into details about other problems with Anthem (that's been done elsewhere and in great detail), but he does take time to address one of the elephants in the room: BioWare's recent history of diminishing returns and what it means for the future of the studio. 
"There are kids today who are 12 years old who weren't around when BioWare started making games… and they have different expectations of what a BioWare game should be in the context of the world they've grown up in," Wilson said. "As a result of that, BioWare has to evolve and has to expand and has to test the elasticity of that brand. The teams at BioWare will continue to come to work every day and listen to their players old and new and seek to deliver on the promises they've made to those players. That's what you're seeing with Anthem today." 
While these comments are stunningly honest, Wilson stops short of suggesting that EA has any interest in abandoning BioWare or Anthem. He says that the publisher sees Anthem as a long-term investment that got off to a bad start, but that EA believes in the core of what Anthem offers. 
"If we believed that at the very core the world wasn't compelling people, if we believed at the very core that the characters weren't compelling for people, or the Javelin suits weren't compelling, or traversing the world and participating in the world wasn't compelling then provided we hadn't made promises to our players… we might not invest further," Wilson said. 
While it sounds like BioWare is going to get the chance to turn Anthem around and work on projects like Dragon Age 4, EA does have a history of shuttering its high-profile studio acquisitions. If BioWare doesn't get Anthem on-track they may end up like the gameplay in an EA mobile game: on a short timer. 
Note: This article has been updated with added context for Wilson's comments.
Matthew Byrd is a staff writer for Den of Geek. He spends most of his days trying to pitch deep-dive analytical pieces about Killer Klowns From Outer Space to an increasingly perturbed series of editors. You can read more of his work here or find him on Twitter at @SilverTuna014.