News
Angry Birds Space launches
The Jack Nicholsons of the avian world blast off for outer space this week. CJ runs a full sensor sweep of the game's new features...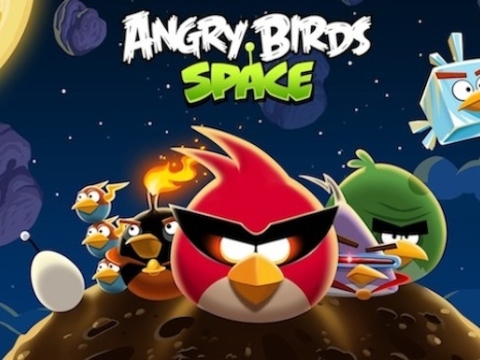 There are pigs off the starboard bow as Rovio strap their globally beloved franchise to a rocket and launch Angry Birds Space. The new game is due to impact on iOS, Android, PC and Mac today.
Rovio seem to be willing to take inspiration from anything that strikes them when designing Angry Birds games, the most popular mobile games to date. Already floating about on mobile devices, consoles, desktops and social networks are the holiday-themed Angry Birds Seasons and the movie tie-in Angry Birds Rio.
Since 2010, the game that started it all has sold 700 million copies. Now that the Finnish developers have forged a relationship with US astronautics agency NASA to the point of actually having an International Space Station crew member announce the new game, is space their final frontier?
Make it sow
Space marks the first major overhaul of Angry Birds' gameplay. As ever, the dastardly pigs have messed with the birds and need sorting out. This time though, Angry Birds Space is swapping the franchise's familiar, slingshot-firing core physics for gravity-defying flights of fury.
Players fire their raging raptors across the vast expanses on missions. The only thing that will err them from their trajectories is the gravitational effect of interstellar bodies, or ramming into a hovering cosmo-porcine or two.
Rovio consulted with NASA to achieve the new mechanic, and the developers have also tinkered with their protagonists. The next generation of birds have enhanced their unique pig-capping abilities for the perilous vacuum of space.
Red Bird, the surly leader of the flock, has been kitted out with an Uber Mask that shows him the optimal flight path. Yellow Bird dons a Geordi LaForge visor to become Lazer Bird and gain extreme speed. Probably the most fun to be had will come from Bomb, who explodes and sends debris flying in all directions.
Each bird has been redesigned in a sci-fi fashion but cosmornithologists will notice some unfamiliar beaks too. Newcomers with interesting powers include the cool Ice Bird. Even the pigs are getting back-up, with the enormous Fat Pig definitely making a porky impression.
Angry Birds Space looks like a true sequel, rather than the variation on a theme of Seasons and Rio, but fans of Rio's bosses will be pleased to hear they're returning. The new game has 60 initial levels with updates planned.
It's not just the physics and feathers that have been upgraded. Better trajectory guidance, extra challenging danger-zone levels, improved pig animations and unlockable retro-game-themed sequences are among the tweaks made by Rovio.
Boldly going where no bird has gone before
Expect more than just a game this time. Rovio are planning this as the attention-grabbing tip of a multimedia iceberg heading straight for the entertainment industry. Sweets, toys and a Nickolodeon cartoon are all debuting with the new game. A movie is due in 2014.
The first Angry Birds branded adventure park for children opens in Finland at the end of April, with parks planned for the UK not long after. Comics distributor Diamond signed a deal with Rovio in November to distribute a range of themed books. So far, two colouring books and an egg recipe book have been let loose, but four Angry Birds Space titles are due in July.
NASA and National Geographic have also partnered with Rovio to produce an edition about the birds exploring our solar system and the galaxy beyond. Another book, National Geographic Angry Birds Space: Fed Up, Feathered and Furious, will go on sale this September.
Online magazine The Daily published a specially dedicated app detailing the characters, rules and background information in advance of the game's release date. Anticipation for Angry Birds Space is astronomical and has eclipsed even recently released big-name mobile games like Mass Effect Infiltrator.
Once again people are going cuckoo for Angry Birds. Perhaps in space no-one can hear you caw, but they certainly will be able to on public transport for the foreseeable future.
Follow Den Of Geek on Twitter right here. And be our Facebook chum here.