News
Fan Turns Altoids Tin Into a Nintendo Wii
This fully functional Nintendo Wii in an Altoids tin is described as "the worst thing ever."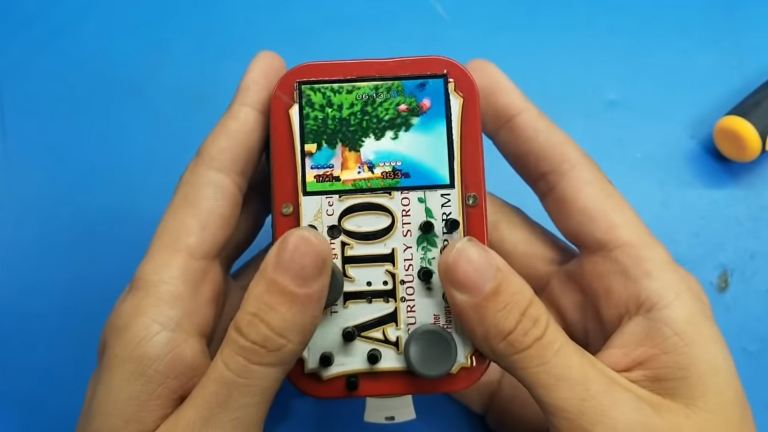 Join us for a study of the wonders of too much free time and serious technical skills as we look at a man who has turned an Altoids tin into a portable Nintendo Wii. 
Yes, you read that sentence correctly. A man known as Shank has turned an Altoids tin into a fully-functional Nintendo Wii. Why? Well, in a forum post, he says that the whole thing was done "for the memes." He also includes some of the items he used for the build on that post if you happen to be interested in creating your own Altoids tin Wii emulator. Just be warned that it sounds like this meme required a ton of work. 
It also sounds like the whole thing might not be worth it in the first place. Shank warns that this contraption is not "logical, comfortable, or practical." He then took to Twitter (where he posted some shots of the device in action) to say that it only has about 10 minutes worth of battery life, runs incredibly hot (we probably could have guessed that would be a problem), and features some truly awful controls. 
Shank also reiterates that this invention is, in fact, the "worst thing ever." He may be forgetting about the Nokia N-Gage. 
Initially, some doubted that this thing actually works. To counter those arguments, Shank posted a video of the device (which he hilariously calls the KillMii) in action. he actually managed to finish a round of Super Smash Bros. before it dies.  We agree that the whole thing is wildly impractical and potentially dangerous…but we're also quite impressed with how well the KillMii works when you take into account just what it is that we're dealing with here. Granted, Shank has to pry out the start button at some point because it gets stuck in the case, but that's hardly enough to leave us anything but impressed. 
Shank claims that it's something of a running joke in his build community regarding whether or not you can fit the Wii into an Altoids tin. He apparently spent a year working on the KillMe before he – and a friend – finally finished this glorious abomination. 
Read and download the Den of Geek NYCC 2018 Special Edition Magazine right here!
Matthew Byrd is a staff writer for Den of Geek. He spends most of his days trying to pitch deep-dive analytical pieces about Killer Klowns From Outer Space to an increasingly perturbed series of editors. You can read more of his work here or find him on Twitter at @SilverTuna014.