News
Agony Trailer, Release Date, & Everything Else We Know
Fancy another trip through Hell?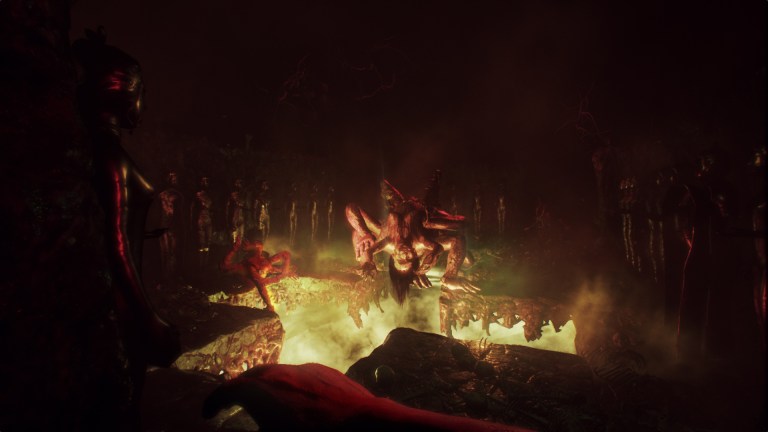 The psycho-sexual horror genre doesn't get too many new members these days, which is just part of the reason that Madmind Studio's Agony has been on our radar for the last couple of years. 
Agony follows a damned soul who has been sent to Hell for reasons that they've long forgotten. As it turns out, they'd very much like to be anywhere else. In order to escape their current predicament, they'll need to make their way through the perilous pits of eternity while hyper-sexualized demons and the souls of the damn try to impede them. 
Here's everything that we know about the decidedly not safe for work game known as Agony. 
Agony News
It's been a little while since we last received any updates about Agony, but developer Madmind Studio has finally completed the game's Steam page and has released a new trailer to celebrate the event. 
Based on the recently revealed information, it seems that Agony will ask players to traverse the realm of Hell in order to meet the Red Goddess. It's not entirely clear who the Red Goddess is, but if this new trailer is any indication, we're guessing she isn't a benevolent force who guides wayward souls to a better afterlife.
We also learned that Agony's gameplay will primarily consist of possessions. If you're going to survive your voyage through Hell, you'll need to learn to take control of some of the demons and beings you meet along the way. 
Agony has taken a long trip through development hell, but it looks like this creepy little project might finally see the light of day before the end of the year. 
Agony Release Date
Agony is currently expected to release for PC, PS4, and Xbox One on March 30, 2018. 
Agony Trailers
If 2016's Doom left you feeling like you could take on the armies of Hell with nothing more than a sawn-off shotgun and novelty miniature doll to your name, perhaps it's time to check your ego by watching the latest trailer for the seriously intimidating (and slightly NSFW) upcoming horror game known simply as Agony:
This insane trailer comes to us from the appropriately named Polish developer Madmind Studio who have not yet released a game, but certainly appear to have a knack for pumping nightmare fuel. 
Agony was initially announced back in May, but this is the first real look we've gotten at this title that will have players taking an all expenses paid tour of Hell as they play a damned soul who has no knowledge of why they have been sent to eternal damnation. Although this video is billed as a gameplay trailer, it's not entirely clear if the footage shown represents actual gameplay paths in Agony or rather a general preview of the nightmares that await. 
As the title is being billed as a first-person horror game, the smart money is on Agony taking a page from the Amnesia playbook by asking players to explore the world of Hell with relatively few defenses to call their own. The game's description does make mention of an ability to control people and demons that you encounter along the way, but the psychological nature of the trailer suggests that Agony will treat the game's combat as a secondary motivation. 
Regardless of the gameplay balance, Madmind Studio has certainly nailed the look of the game and may very well be on their way to unleashing the next great horror experience upon the world when Agony debuts later this year.