Features
31 Days of Horror Games: BioShock
Our 31 days of horror games ventures into an underwater, steampunk world with BioShock...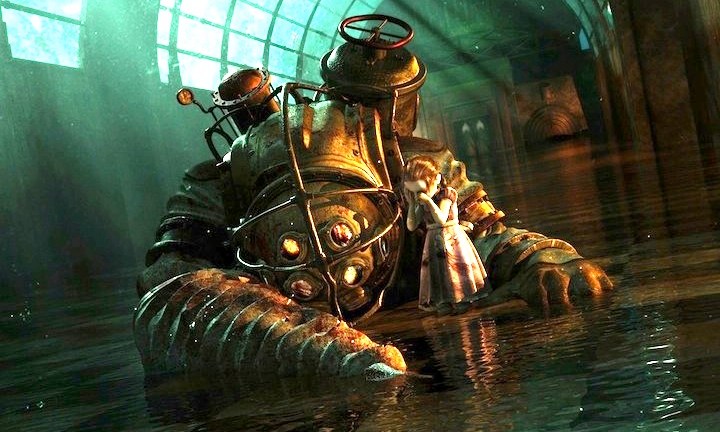 In celebration of Halloween, we're counting down the days with some of the greatest horror games ever made — 31 of our favorites! Every day, we'll take a look back at a horror game that gave us goosebumps, made our controllers tremble, and chased us out of our living rooms. Long live the horror game! And make sure to check out our full list of 31 Great Horror Games To Play In October!
No game has ever kept me hooked for its entirety as well as the original BioShock.The story, the setting, and the gameplay were all unique and interesting concepts, and it included just the right amount of horror.
The biopunk elements of BioShockwere cool and all, but it was really the underwater city (Rapture) that made the game so interesting…and eerie. I don't know what it is about the depths of the ocean, but for some reason it just doesn't sit right with me. It's terrifying. Have you seen the creatures that live at the bottom of the sea? I'm pretty sure they all resemble Big Daddies.
BioShock'sscares came mostly from its atmosphere and characters. Like in the very beginning of the game, when you're swimming to the Lighthouse in the dark. Creepy, man. And as far as the characters are concerned, the Little Sisters played the role of the creepy little girl (like Alma in F.E.A.R.), the Big Daddy played the role of the big, scary monster, and Atlas is the corrupt corporation. But honestly, everyone in Rapture is freaky deaky in their own way (especially Sander Cohen). 
Sander Cohen might be one of the greatest anti-hero/villains (depending on your actions) that I've ever seen. Not sure there are any other perfomance artists/magicians in the horror genre. He is truly an original creation from Irrational Games.
And the soundtrack…yikes! BioShock'suse of sound is second to none, with eerie strings, spooky voices over intercoms, chaotic alarms, and enemies that scream at you as they run towards you. If there's one game from 2K Games that you play, I'd have to say it would have to be the original BioShock.
Like us on Facebook and follow us on Twitter for all news updates related to the world of geek. And Google+, if that's your thing!