Features
2014 In Gaming: Predictions
We make our predictions for what will happen in the video games industry in 2014. We're probably wrong, though...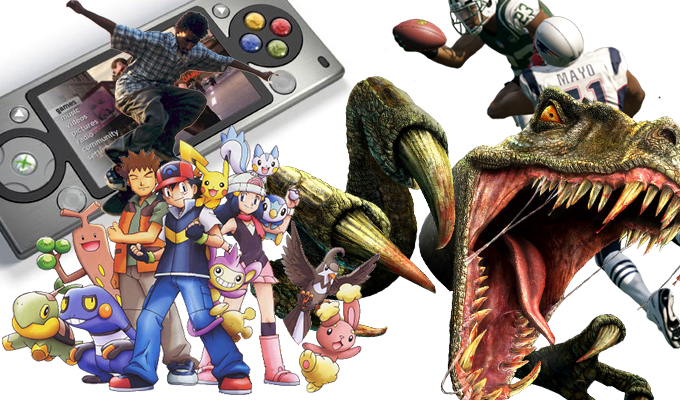 Ahhh 2013–a year filled with console wars, a Tomb Raider reboot, The Last of Us, and more botched launches for some online games than we can shake a stick at. The year has come to a close, and thus we'd like to take a peak into the future. And by the future, I mean next year (so put your Nike with power laces back down).  Here is what 2014 in gaming will look like.

Introducing the Microsoft Handheld Console
This year is the year—the widely discussed void in Microsoft's arsenal will make an appearance at E3 2014. Nintendo has been a long-time champion of the handheld market for quite some time, and Sony has begun taking a small bite out off it with the PS Vita, now that Tearaway is available and gamers can use the Vita with the PS4 for remote play. But, that doesn't mean there isn't room for big brother Microsoft to swoop in and steal some of the show. The Vita sold just 75k units in November, but saw a boost in December once people started seeing their new commercial focusing on remote play. Now that Microsoft sees Sony's Vita selling more since the PS4 debut, I think Microsoft will try to enter into the market by mixing what Nintendo and Sony have done by creating something that is closer to the Wii U controller, but has the functionality for standalone games as the PS Vita does.
And, it could be a huge success. If Microsoft includes a remote play function for their handheld device, it'll also help push the Xbox One out the door.
Xbox One Goes Kinect-Less
If Sony pulls way ahead in the next-gen console war by the end of the first quarter, Microsoft might look to slightly lower the console's retail price to put it closer in line with the PS4. Microsoft might even wait until Q3 to lower the price to coincide with the 2014 holiday season and generate some buzz.
Unfortunately, Microsoft isn't likely to simply drop the price of the current Xbox One's retail package. The Xbox One costs around $471 dollars to make, so there isn't much room for a discount without Microsoft losing money on the deal (although, they could lose money to sell units, as they pull in money from other markets—but that's another story). Instead, Microsoft will look to remove the new Kinect from the Xbox One retail package to bring the price down to $399, matching the PS4. Sure, Microsoft has gone on record to say that there won't be any Kinect-less Xbox Ones. But, they also originally said the Xbox One would require an internet connection and wouldn't be backwards compatible. In case you guys haven't noticed, Microsoft is a little more lenient with their policies than they would like their investors to believe.

Nintendo Will Give Us Some Fricken Wii U Games
You really can't appreciate the Wii U experience unless you actually have a Wii U in your living room. 2013 brought Nintendo a game of the year candidate with Super Mario 3D World, as well as some creative titles like The Wonderful 101 and Skylanders: Swap Force. But, now the dust is beginning to settle, and although Mario Kart 8 and Smash Bros is on the way,Nintendo will need to put out some great new exclusives if the company plans on having more gamers adopt their console.
So, I believe Nintendo will announce a new Metroid at E3 2014, and will announce a new Pokemon for Wii U for the holiday season. Those are the two franchises that gamers want most, and the possibilities of Pokemon with the Wii U's second screen experience are promising.

Someone Will Announce A New Jurassic Park Game for 2015
You know, we haven't seen a good dino-based game in a long time. And, with the next-gen consoles being released in 2013, there is plenty of opportunity for one on Xbox One and PS4. You know what else comes out in 2015, don't you? Jurassic World(previously known as Jurassic Park 4). With Jurassic World coming in June 2015, and the thirst for a new dinosaur-based video game being at an all-time high, it's the perfect storm for a Jurassic Park–based, next-gen game to be released alongside the movie. Open world dino-killing with survival elements? Count me in! Hopefully, whoever handles it, will do a better job with the license than SEGA did with Alien: Colonial Marine. We likely won't see the game release in 2014, but we'll probably see a teaser trailer at E3 2014.
The Return of Extreme Sports To Video Games
Excluding Tony Hawk's HD remake, it has been a long time since the last Tony Hawk's Pro Skater, which was dethroned by EA's Skate franchise. It has also been nearly four years since we've seen Skate 3. And, if you're like me, Skate 3 is still in your gaming rotation. We NEED a Skate 4 for Xbox One and PS4, and I think this is the year we're finally going to get it. EA just recently shut down their Skate 3 forums (I think it was in October?), and hopefully they're cleaning house to make room for a new iteration in the Skate franchise. I think we'll hear EA announce a new Skate game  during their 2014 E3 conference.
And, while we're on the subject of extreme sports, when the hell was the last time we saw a BMX game? Was it Dave Mirra Freestyle BMX 2? We saw NO BMX games for the Xbox 360 or PS3? Are you kidding me?! I wouldn't mind seeing a new BMX game for next-gen consoles, but that is less likely since the fan base probably isn't big enough to support it. But a realistic BMX game along the lines of the Skate franchise would be cool.

A New Entrant Into the NFL-Licensed Market?
Electronic Arts' current run of NFL-Licensed games will come to an end this year, and it's possible that a professional football game could be headed to another developer in 2014 in gaming. Although the NFL and NFLPA have said that they don't have any desire to use anyone other than EA, they did say that they ARE open to a new developer. But after the frustration with 2013's Madden NFL 25, and how EA has yet to release an update to fix many of its game-breaking issues (injuries, anyone?), maybe the NFL and NFLPA will have a change of heart.
Electronic Arts continues its reign as the worst gaming company (I'm still sighing about SimCity), and I wouldn't find it hard to believe that another company, like 2K Sports, will swoop in for the license. NFL 2K15 coming soon.
Are my predictions way off? Where's my friend who agrees with me? Sound off in the comments below and let us know what you think 2014 will bring!
Like us on Facebook and follow us on Twitter for all news updates related to the world of geek. And Google+, if that's your thing!