News
WWE Superstars Comics to Replace CM Punk in Reprints
WWE has made sure that not only will Papercutz not make any more CM Punk comics, they'll go back and replace him in previous ones.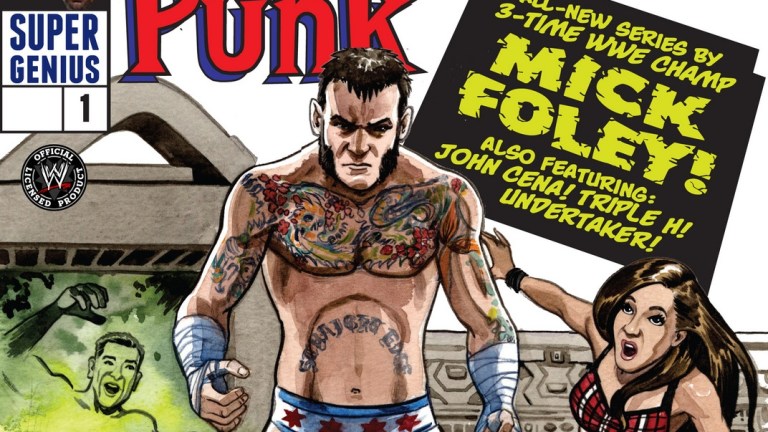 If you've been following wrestling in the past year, you know that one of the more intriguing things that happened in 2014 was the exodus of CM Punk from WWE. Happening about a year ago, CM Punk's nagging injuries and creative frustrations got the best of him and he walked out on the company. While he's made public appearances since then, as well as announcing that he'd start writing for Marvel Comics and training for a mixed-martial arts career, Punk has been extremely quiet about his WWE dealings until last November, when he recorded a couple podcasts on Art of Wrestling, hosted by his best buddy Colt Cabana.
I'm going to try not to get into who's right and who's wrong in this he-said-she-said conflict, but the legal relationship between WWE and CM Punk has been downright stone cold and rocky. Not only did the two parties have a dispute over Punk's owed royalties, but WWE's even gone so petty as to call him a quitter on TV and – more topical to this piece – try to go out of their way never to reference him in curious ways. When Undertaker fought Brock Lesnar at WrestleMania XXX and brought out caskets with labels of everyone he's defeated, they made sure not to show the one labeled, "CM PUNK." When they filmed a documentary on the Ultimate Warrior around that time, fans pointed out that a Royal Rumble poster in the background had a post-it put right over Punk's face.
Now news has been making the rounds about how WWE's made sure to get rid of CM Punk in their ridiculous WWE Superstars comic series released by Papercutz. It wasn't just that they wouldn't be using CM Punk anymore, which would be understandable on its own. Hell, the eighth issue of the series ends with Punk sort of being written off. No, the big deal is that Punk can't be in any reprinting of the first two storylines. He has to be redrawn and rewritten.
This is CM Punk's Punch Out! and he's about to be replaced with Mr. Dream.
If you haven't been keeping up with the madness that is WWE Superstars, it's a comic co-written by Mick Foley and Shane Riches. Rather than write a comic with any sense of continuity, every four issues are self-contained to their own arc and even reality. The first four issues, drawn mostly by Alitha Martinez, is about the WWE roster reimagined as characters in a crime noir story. John Cena is a cop convicted of a crime he didn't commit, Randy Orton is a crime boss, Daniel Bryan is an anarchist, etc. The second arc takes place in a regular wrestling world where a group of wrestlers wake up from being drugged only to discover that they're responsible for all kinds of wacky crimes against the locker room that none of them correctly recall. That one was mostly drawn by Puste.
The thing both of those stories have in common is that CM Punk is a MAJOR character in them. At first I wasn't sure to believe this news. I mean, wrestling news you read on the internet should always be taken with a grain of salt regardless, but this was too silly. Plus they were still releasing issues with Punk in them long after he was gone. Then people noticed that Papercutz had already let us know this was going to happen a few months ago without being specific. Here's their press release about the trade for their second arc "Haze of Glory":
In the just-released WWE SUPERSTARS #2 "Haze of Glory" trade paperback, co-created by Mick Foley and Shane Riches, and illustrated by Puste, a major character bids the WWE Universe a fond farewell, as he moves on to write comics for a major publisher. While this particular superstar appeared in the first eight issues of the WWE SUPERSTARS comic book series in a major role, he unfortunately will not be appearing again in the ongoing WWE SUPERSTARS series. In fact, once the first eight issues and first two trade paperbacks go out of print, they will never again go back into print with that superstar in it—the stories will be rewritten and redrawn to feature other WWE Superstars still with the WWE. Whether or not that makes the first printings of these comics collectors' items is something the fans will decide.
Huh.
This isn't too unheard of. Wrestling comics have had to change their art all the time, mainly those that try to do storylines that stretch over the series. Marvel's World Championship Wrestling comic in the early '90s shot itself in the foot when they did an issue where Lex Luger practically beat up the entire locker room himself and walked away, only to actually leave the company in real life. The next issue had an asterisk/editor reference to him in one panel that was blacked out. They had to simply pretend that he didn't exist and hope the readers didn't notice when the championship was suddenly vacant.
The more recent WWE Heroes by Titan Publishing had to change its art so much that you could still see Umaga hanging out in the background long after he passed away. Coincidentally, the comic stopped being released as Chris Jericho left the company and the next storyline was set to use him as a major villain.
Even Papercutz has been screwing with their art. Compare the cover to WWE Superstars #2 (at least the one on Comixology) and the one that's on their website.
The website one does actually make more sense. CM Punk and Randy Orton are never even in the same scene during this issue and while Punk doesn't actually do any fighting, there is a scene where Mysterio, Big Show, and Kane beat up Ryback in an alley while Punk hangs back. I don't know if the story got changed at some point or if they realized after the fact that Punk vs. Orton makes no sense, but they got Martinez to redraw part of it. Soon she'll have to redraw Punk as well.
Luckily, something tells me that Puste will probably be able to redo all of his art from "Haze of Glory" in about a half hour. His whole arc was filled with reused art, characters changing clothes from panel to panel, a lack of backgrounds, and a complete refusal to actually draw El Torito. He literally just kept him as a red-eyed silhouette for the whole thing. Those four issues were rough to get through.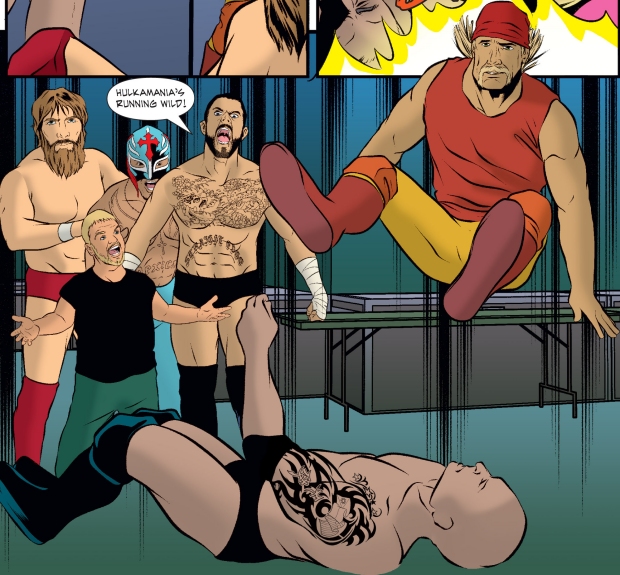 Daniel Bryan is looking at you. He sees you. He is judging you. Yes.
Since Punk is off the table, who will be in his spot? I could just say Hideo Itami if enough people got that joke, but realistically, who? Dean Ambrose would sort of work, but he's already involved in both storylines and the world isn't ready for two Ambroses fighting each other. Chris Jericho could maybe work, I suppose.
Looking at their website, I have a strong feeling that Papercutz is going to be replacing CM Punk with none other than Rob Van Dam. Here's the description for the graphic novel:
Monday Night Raw is chaos. The championship belt is missing. Announcer tables are destroyed. John Cena's handcuffed to Mark Henry. Wrestling ring ropes are snapped in half. Four Superstars are to blame – CM Punk, Rob Van Dam, Daniel Bryan, and Rey Mysterio.  Problem is, none of them can remember a thing.  Now they must retrace their steps over the past few hours to uncover how they could possibly be responsible for such wanton damage and save their jobs with Triple H and the McMahons. An all-new action/comedy/adventure WWE-style!
Here's the thing. RVD wasn't even in that comic. At all. Maybe the intern pasted his name over Hornswoggle's when he meant to do it over Punk's? Regardless, the front cover is a gigantic group shot of everyone involved in the story except Punk. Even the Bunny gets his due and he's only there for one page.
Rob Van Dam makes the most sense, since he hasn't been in either storyline and he's on good enough terms with the company to the point that he just comes and goes as he pleases, much like Chris Jericho. If anything, it'll be hilarious when they have to redo the fond farewell at the end of "Haze of Glory."
Yes. Rob Van Dam will have done it straight edge all the way. All the way to 4:20. Then he starts over.
While I rag on the series (my review for the first arc can be found here), the current few issues are so over-the-top, I love it. With art by Paris Cullens, we get a crazy take on Hunger Games and Secret Wars where wrestlers from past and present are abducted and forced to fight it out until there's only one left. If anything, it's worth it for this cover for issue #11 which was supposed to come out last November.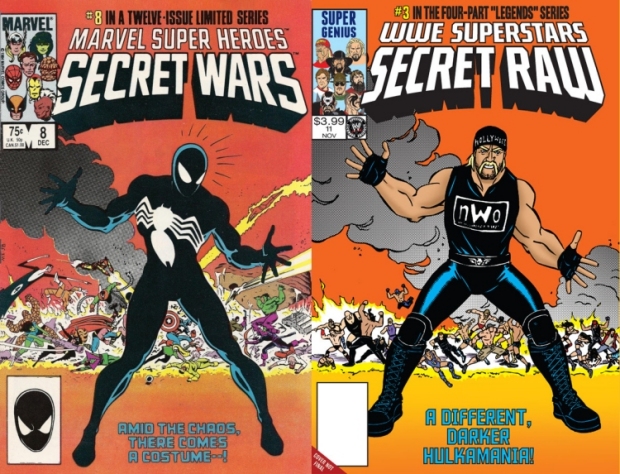 Coincidentally, that would be the one story concept where having CM Punk in it now would make sense.
Gavin Jasper knows your anger. He knows your dreams. He writes tweets of personality.