News
WWE SummerSlam 2017 Main Event Set
Raw GM Kurt Angle booked a Fatal Four Way match for the Universal Title at SummerSlam next month ...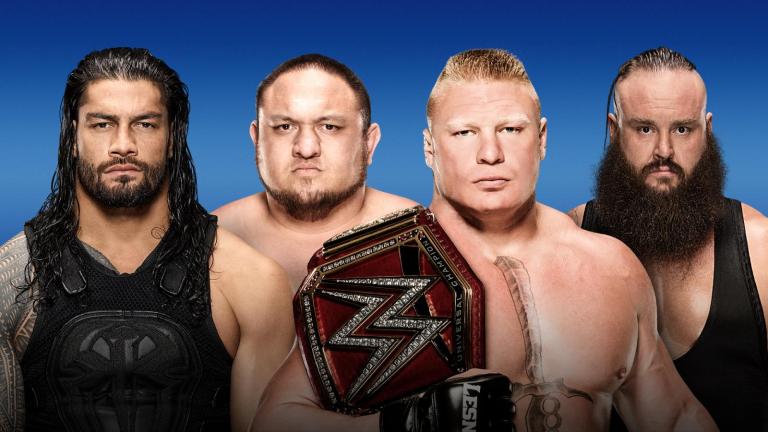 Kurt Angle booked the Raw main event for SummerSlam on this Monday's Raw, announcing that Brock Lesnar will defend the Universal Title against Roman Reigns, Samoa Joe and Braun Strowman in a Fatal Four Way match.
The booking behind the match is somewhat confusing, if we're going to be honest. First, Reigns just demanded the match a few weeks ago. Then he lose to Strowman at Great Balls of Fire. Yet still, the next night, Angle said the winner of Joe vs. Reigns would get a title shot. It was a little curious that Reigns earned this opportunity by losing, and then nearly murdering Strowman with an ambulance, but it's wrestling.
That match ended with Strowman interferred and beat up both of them.
So, everyone gets a title shot!
The logic behind that is seriously flawed, but again, it's wrestling.
After the announcement, WWE ran an angle where Strowman, Joe and Reigns all brawled in the ring and at ringside, immediately after Angle announced the match in the ring. It was a good segment, even with some of the campy elements.
As they brawled, the locker room — minus the top guys – tried to break up the fight but of course Reigns fought them all off like a Gladiator.
But the angle was really intense, and they told the story of these three guys wanting to rip each other apart. There was not a single ounce of compassion.
Quite frankly, I'm a little tired of the multi-man match gimmick, but I think WWE needs a way to keep the card from being eight hours, so combining two matches into the Universal Title match makes a lot of sense, and it leaves their options open.
Elias Samson beat Finn Balor in a No DQ match
Samson and Balor brawled for an extended period, with the match going almost 20 minutes. They told a nice story with Balor selling his injured shoulder and Samson constantly trying to attack it.
The match came to an end when Bray Wyatt interfered, hitting Balor with a Sister Abigail which lead to Samson getting the win. It will be interesting to see what Balor and Wyatt can do together, because it feels like their styles are so different.
Big Cass beat Enzo Amore
This was basically a squash match, with Cass just smushing Enzo in short order. After the match, Cass and Big Show went at it for a bit with Cass hitting some Empire Elbows. It was an interesting spot. Big Show and Cass will be a good match, I guess, but so far it's hard for me to get too excited about it.
Nia Jax beat Emma
Another squash win, but even more so than Cass vs. Enzo. Jax was all over Emma in this match and won easily, in just over one minute. Jax also debuted a new finisher, hitting a summersault splash on Emma for the pin.
That defines Emma back where she was as a built-up enhancement talent. Emma sold the finish really well though, staying in the ring for several minutes.
Bayley beat Sasha Banks to become No. 1 contender for the Raw Women's Title
I really liked this match, and thought it was the best match on this show. The live crowd wasn't into it all that much, but the action was good and the match made sense from a booking standpoint.
I was a little surprised to see Bayley get the win, but it could make a lot of sense depending on where they go at SummerSlam. It feels like we've been waiting for the Sasha heel turn for months, and I think it finally happens at SummerSlam, with the story being that she became jealous after Bayley beat her for the title shot.
Bayley feels like she's gaining some steam again, and because of the outside chance it could mean Sasha turns heel, I'm ok with what feels like another tired Bliss vs. Bayley match.
Jason Jordan beat Curt Hawkins
When Jordan came to the ring, I thought he was doomed. He was smiling way too much and he just looked like a very white-meat babyface, which isn't going to work in w017 (see John Cena). That said, when he got into the ring, Hawkins slapped him across the face, and all of a sudden Jordan took it up to another gear.
That's the Jason Jordan we need now that he's moved into a singles role. Jordan needs to show an element of kick-ass. He can't be the smiley babyface; it's not going to work.
The Revival beat Luke Gallows & Karl Anderson
Gallows and Anderson came out as babyfaces. It was weird, and totally unexplained, but I guess it worked because it's not like WWE was doing much else with them as a team.
The Revival looked good here and it feels like they're starting to catch some steam as a team on Raw. They're great, obviously, but it's going to be whether or not they can gain enough traction for Vince McMahon to really have faith in them. It's going to take more than usual, because we all know how Vince feels about tag teams.
Dean Ambrose & Seth Rollins beat The Miz, Bo Dallas and Curtis Axel
This was an entertaining match to close the show, with Ambrose getting the win and then walking out on Seth Rollins, who looked like he was going for a Shield reunion.
Curiously, they showed Sheamus and Cesaro watching the match backstage. That could mean that Ambrose and Rollins team up to face them for the tag titles at SummerSlam, and WWE could go with Revival vs. Hardys for the show as well.
I think there is something to a potential Shield reunion, too. The original Shield was Ambrose, Rollins and Chris Hero. Well, guess who is back in WWE and is currently in NXT? Chris Hero. Make it happen, WWE.
Read and download the full Den of Geek SDCC Special Edition magazine here!