News
WWE SummerSlam 2016: Matches, Rumors, and More
The Beast takes on the Viper, the WWE World Heavyweight Championship is defended, and the first Universal Champion is crowned!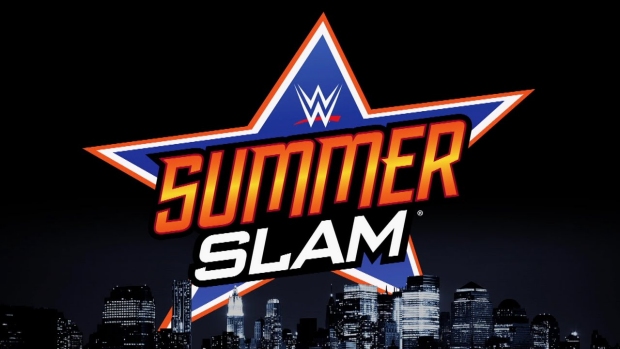 The Hottest Party of the Summer is coming up soon as we're nearing the 29th edition of WWE SummerSlam. Seen as the year's secondary WrestleMania, the annual event began back in 1988 when "The Mega Powers" Hulk Hogan and Randy Savage defeated "The Mega Bucks" Ted Dibiase and Andre the Giant. This year, it's pretty noteworthy for taking place after the WWE Draft has fully kicked in. Before we start getting brand-specific PPVs, we have one more show where both shows get to intermingle.
The show has a ton of potential, but be ready, because from Saturday to Wednesday, there's going to be an EXCESSIVE amount of WWE to watch. And it isn't until Wednesday that we get to the stuff that's taped!
WHEN IS WWE SUMMERSLAM 2016?
SummerSlam will take place Sunday August 21 at the Barclays Center in Brooklyn, New York. Brooklyn has become SummerSlam's go-to location recently.
NXT TAKEOVER: BACK TO BROOKLYN
Before we get SummerSlam, there's also NXT's big event, NXT TakeOver: Back to Brooklyn, also at the Barclays Center. Taking place on Saturday August 20, the show's card includes:
– Samoa Joe (c) vs. Shinsuke Nakamura for the NXT Championship- Asuka (c) vs. Bayley for the NXT Women's Championship- Andrade Almas vs. Bobby Roode- The Revival (c) vs. Johnny Gargano and Tommaso Ciampa for the NXT Tag Team Championship- No Way Jose vs. Austin Aries- Ember Moon vs. Billie Kay
CONFIRMED MATCHES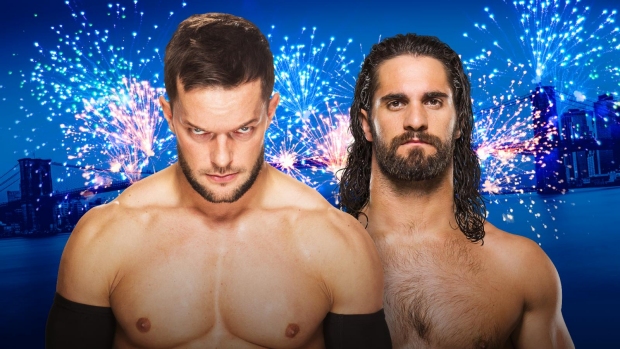 FINN BALOR VS. SETH ROLLINS
WWE Universal Championship
At Battleground, Dean Ambrose pinned Roman Reigns, allowing him to retain the WWE World Heavyweight Championship and keep it on SmackDown. That left Raw without a major title. Stephanie McMahon and Mick Foley decided to put together a new title, the WWE Universal Championship. To crown the new champion, they would have a match take place at SummerSlam.
On one side you have Seth Rollins, who didn't get pinned in the Battleground triple threat match and was also the first draft pick. The other contender would be decided through a one-night mini-tournament on Raw, featuring eight wrestlers taking part in two Fatal 4 Way matches and a singles finals. In the end, NXT call-up Finn Balor shocked the world by not only winning the whole thing, but by defeating Roman Reigns clean as a sheet! On Balor's first Raw!
Kids, say no to drugs.
Now the new championship will be decided by the very first NXT Champion and the NXT Champion who held onto the belt the longest. Rollins acts somewhat impressed with Balor's accomplishments, but plays it off in the sense that everything Balor's done, Rollins did first. Balor intends to beat Rollins to the punch as WWE Universal Champion and has revealed his Demon King form to give him an advantage.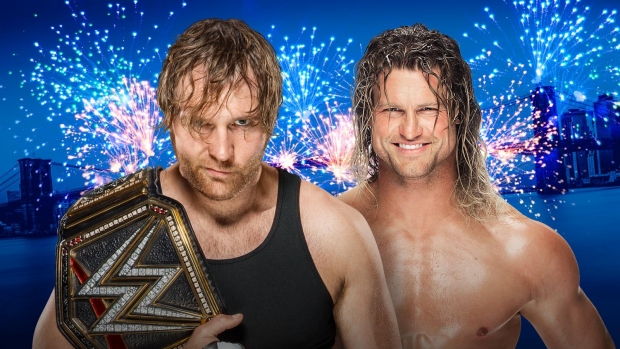 DEAN AMBROSE (c) VS. DOLPH ZIGGLER
WWE World Heavyweight Championship
Dean Ambrose proved himself to be the king of the Shield by besting Roman Reigns and Seth Rollins at Battleground. Shane McMahon and Daniel Bryan decided to go a bit outside of the box to figure out his next challenger. They put together a Six-Pack Challenge between John Cena, AJ Styles, Bray Wyatt, Dolph Ziggler, Baron Corbin, and a sixth man decided via battle royal. That man turned out to be Apollo Crews.
In the end, Dolph Ziggler came out on top and will get his first taste at the main event in a long, long time. Everyone's been second-guessing him, but it's only made Ziggler more intent on proving himself worthy. Recently, he put his title shot on the line against Bray Wyatt and retained.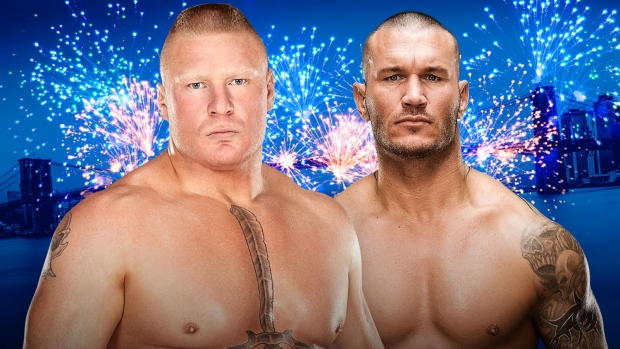 BROCK LESNAR VS. RANDY ORTON
In September of 2002, unstoppable rookie heel Brock Lesnar took on vanilla rookie face Randy Orton on an edition of SmackDown. In the end, Brock reversed a top-rope crossbody into the F5 and that was that. Lesnar's meteoric rise would continue while Orton would soon be sidelined by an injury, allowing him to create an entitled heel persona that would find success and eventually bring him to the main event.
In fact, the two are linked by the fact that each one won their first world titles at SummerSlam. In the main event of SummerSlam 2002, Brock Lesnar cleanly destroyed the Rock to gain the WWE Undisputed Championship. Two years later, at SummerSlam 2004, Randy Orton would step into the main event and cleanly defeat World Heavyweight Champion Chris Benoit. Of course, by that point, Lesnar was already gone from the company.
Brock Lesnar has been rather selective about his opponents since his return several years ago. Outside of some random WWE Network specials and house shows, he's only faced those he feels are worth his time. That list is beginning to run low, but there's still a Viper there in front of him.
In a rematch 14 years in the making, Randy Orton will finally get a chance to redeem himself in the biggest way.
Despite being on two separate shows, each competitor has made it past security to drop their future opponent with their respective finisher.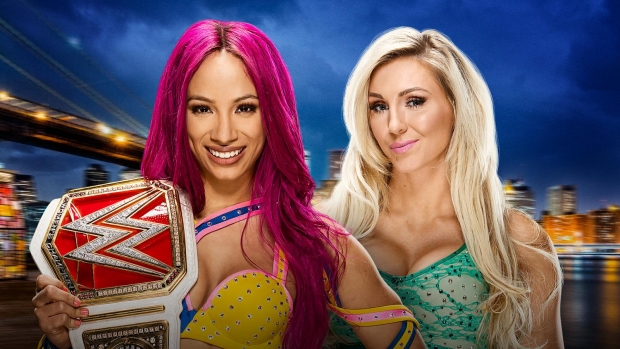 SASHA BANKS (C) VS. CHARLOTTE
WWE Women's Championship, Dana Brooke Banned from Ringside
After about a month of chasing Charlotte, Sasha Banks finally got her shot against the champ the Raw after Battleground. In a fantastic match, Sasha made Charlotte tap and stood tall as the new Women's Champion. The return match was signed soon after.
Sasha knew that Charlotte would have Dana Brooke lurking on the outside, ready to help her cheat at any moment, so she decided to nip it in the bud by making it legal. She offered to defend the title in a handicap match, but Comissioner Foley had his own ideas. Sasha took on Brooke where if she lost, she'd get that handicap match. If she won, Brooke would be banned from the SummerSlam bout. Sasha proceeded to defeat Brooke, meaning she has a definite one-on-one defense to look forward to.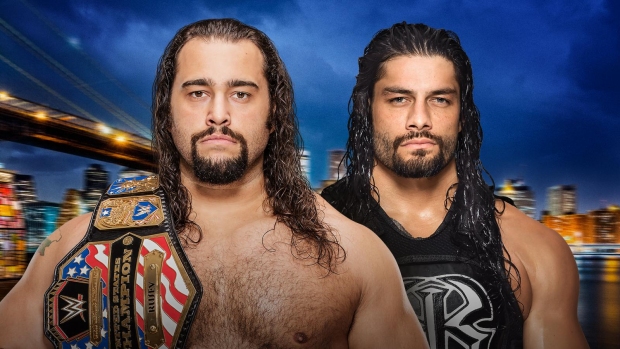 RUSEV (C) VS. ROMAN REIGNS
United States Championship
As it is right now, Rusev is the top title holder on Raw. The Bulgarian Brute has defeated all comers recently, from Titus O'Neil to Zack Ryder to Mark Henry. When making fun of Olympic athletes, Rusev was confronted by Roman Reigns, who seemed intent on shutting him up and taking his title.
Rusev tried to dodge Reigns a bit, but when celebrating his recent marriage to Lana, Rusev was once again accosted by Reigns. Reigns made fun of the duo, got Lana covered in cake, and made Rusev so angry that he demanded Commissioner Mick Foley do something about it. Foley agreed and signed the title match. Rusev then groaned, realizing he was tricked.
They already had a non-title match on Raw, to which Reigns won cleanly.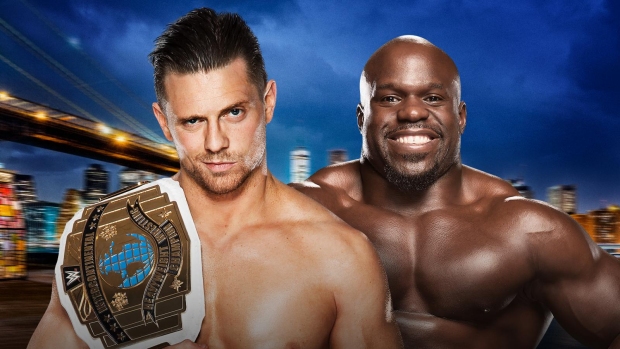 THE MIZ (C) VS. APOLLO CREWS
Intercontinental Championship
Apollo Crews came close to getting a shot at the WWE Heavyweight Championship, but fell short. The following week, he was placed in a triple threat against Baron Corbin and Kalisto where the winner would face the Miz, who is currently enjoying a very lengthy Intercontinental Championship title reign. Crews won the triple threat, although he was laid out afterwards by Corbin.
There's been little going on with the story to the point that their only major incident happened during a commercial break. Go figure.
NEW DAY (C) VS. THE CLUB
WWE Tag Team Championship
When celebrating their lengthy title reign, the New Day were attacked by Anderson and Gallows. A week later, the team of Big E and Kofi Kingston took on the challengers and beat them. Afterwards, the Club beat down the New Day and took Big E — the most powerful member — out of the equation by slamming him crotch-first into the corner post. This put him on the shelf.
The New Day demanded a match between Kofi and Gallows, which the Club agreed to in exchange for a title shot at SummerSlam. This ended badly for the New Day as Kofi lost quickly and soundly. The Club almost smashed up his junk the same way they did Big E's, but Xavier chased them off with a chair.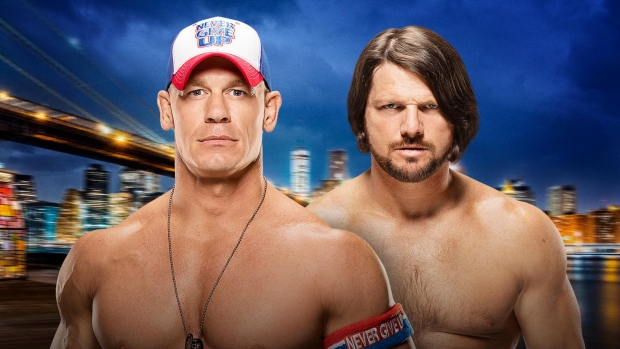 JOHN CENA VS. AJ STYLES
AJ beat Cena back at Money in the Bank, albeit with the help of the Club. Then at Battleground, Cena was able to defeat AJ in a six-man tag thanks to help from Enzo and Big Cass. Now the Club is off on another show and AJ no longer has his backup. The next round in their feud came from AJ calling out Cena which…basically led to every "John Cena vs. indie darling" promo you've ever seen.
Spoiler: Some people cheer Cena, some people boo Cena, and he's okay with that, Jack!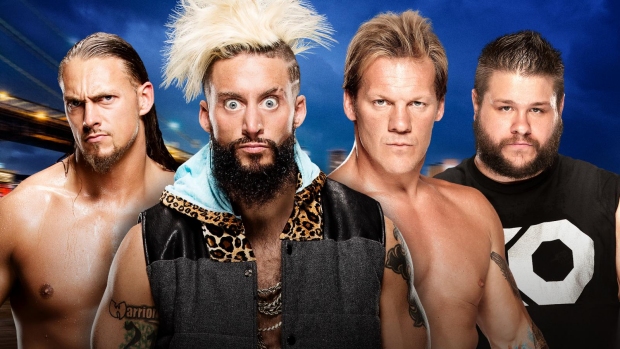 BIG CASS AND ENZO VS. CHRIS JERICHO AND KEVIN OWENS
During the Draft, Enzo and Kevin Owens had a brief altercation, which soured Owens quite a bit. Jericho and Enzo soon after clashed when they took sides in the Sasha/Charlotte feud. Jericho and Charlotte defeated Enzo and Sasha in a mixed tag match with Cass running out to help out his little buddy after the fact.
Jericho wants a piece of the two, but due to his antisocial nature, his only backup was an imaginary person he made up on the spot. Luckily, his on-again/off-again ally Owens stepped in to watch his back.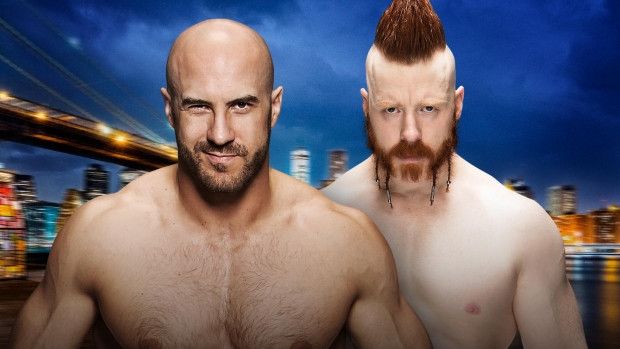 CESARO VS. SHEAMUS
Best of Seven Series, Match 1
Mick Foley decided to have these two brutes prove themselves through a couple matches. Cesaro won both of them, but then Sheamus interfered in one of Cesaro's matches, causing him to lose to Rusev. In return, Cesaro helped Sami Zayn beat Sheamus. Foley had enough of this and decided that the two of them would start a Best of Seven Series. The first to win four matches is the super winner, I guess.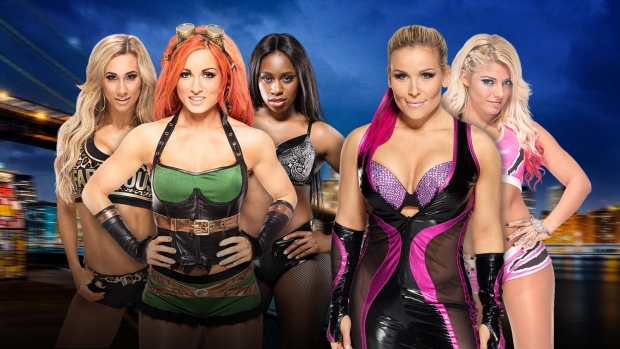 CARMELLA, BECKY LYNCH, AND NAOMI VS. NATALYA, ALEXA BLISS, and ???
So. This is awkward. Originally, this match was supposed to be a six-woman tag with Eva Marie rounding out the heel side. This was playing into her storyline where she'd have these extravagant entrances and back out of her matches for whatever reason. Then she got popped for a wellness violation and life immitates art. Does that mean there will be a handicap match? Or, perhaps, will Natalya and Alexa have a new partner? Nia Jax, perhaps? Hell, word is that Nikki Bella's been cleared to wrestle.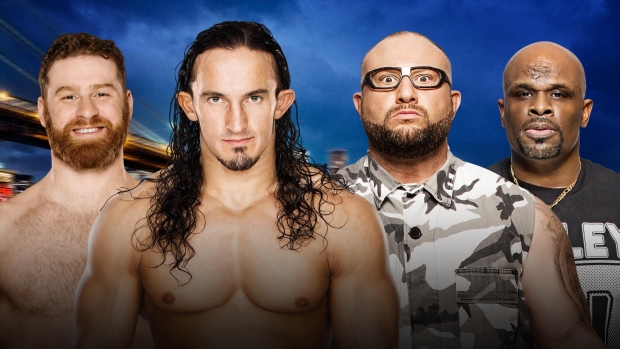 SAMI ZAYN AND NEVILLE VS. THE DUDLEY BOYZ
It's a Kickoff match, so don't expect much backstory. Really, it's more about how Zayn deserves a spot on the show considering he won his feud with Owens last month. It would kind of be dumb if he was completely ignored after that.
The only real story here is that the Dudleys have been losing a lot lately and it looks like Bubba Ray has been blaming D-Von. It's been causing a rift and SummerSlam will probably pull the trigger on their split.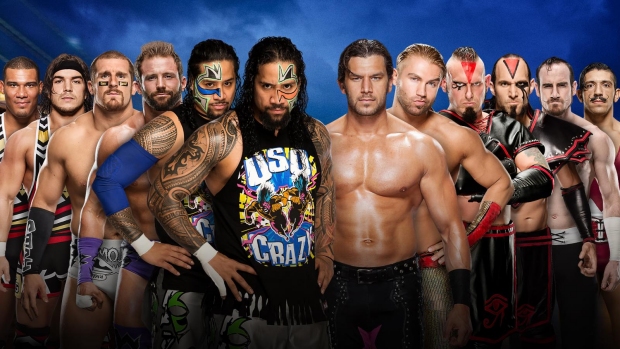 AMERICAN ALPHA, THE HYPE BROS, AND THE USOS VS. BREEZANGO, THE ASCENSION, AND THE VAUDEVILLAINS
Eh, the SmackDown tag division doesn't have a title belt or any actual stories going on. Might as well give them this match.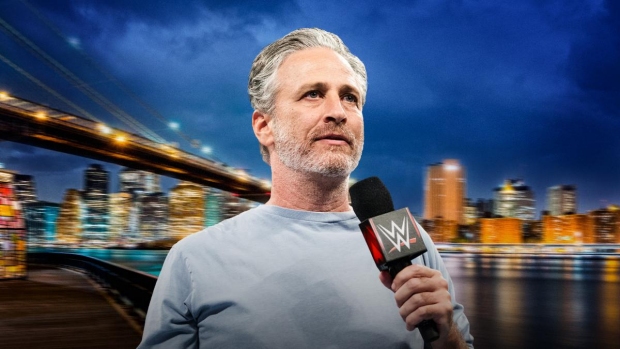 SPECIAL APPEARANCES BY JON STEWART
Jon Stewart is a huge wrestling fan and has a tendency to show up at Brooklyn WWE events. Last year, he hosted SummerSlam and even helped Seth Rollins retain his WWE Heavyweight Championship against John Cena. No idea what he's going to be up to this year, but dollars to donuts say Bray Wyatt will probably get involved. He's got nothing else to do.
Then again, neither do Golden Truth.
POSSIBLE MATCHES
Despite the massive amount of matches, there are two storylines going on where neither man involved is announced for the show. More specifically, it's Darren Young vs. Titus O'Neil on Raw and Baron Corbin vs. Kalisto on SmackDown. Will either pairing get a random match? Or are they just waiting for the next PPV or so? Guess we'll find out.
Check back regularly for more news on WWE SummerSlam!
Gavin Jasper looked over the list of SummerSlam main events and man…there's a lot of weirdness in there. Follow Gavin on Twitter!