News
WWE Smackdown: Jinder Mahal Is Ready To Be The Top Heel
Despite an out-of-nowhere push, Mahal is showing well as a feature on the blue brand ...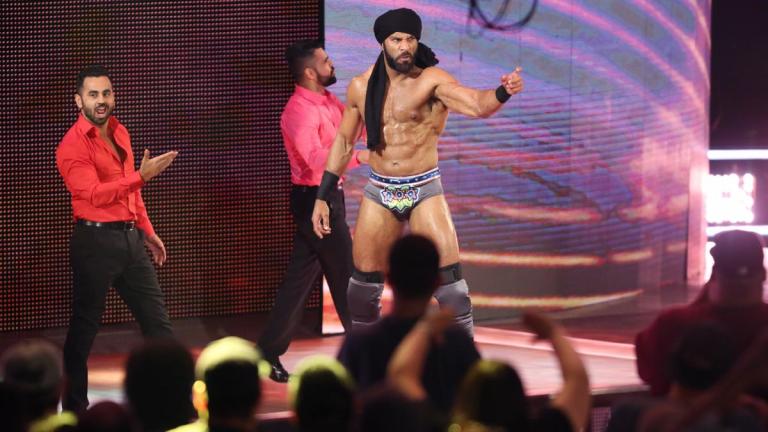 When Jinder Mahal was pushed to the top of the card on the SmackDown brand, some people sighed. Others groaned. Still others laughed at the notion that Mahal, a relative enhancement talent who was at one point cut from the company, would be able to legitimize himself atop the card.
It's early into this big push for Mahal, which seems like it might run throughout the summer. And so far, not only would he get a passing grade, he'd be getting one with honors. Last night on SmackDown, Mahal was again a featured player on the show. He beat Sami Zayn in a competitive, but showcase match, and was also featured backstage with Shane McMahon early in the show. 
Inside the ring and outside the ring, Mahal has carried himself like a superstar, and in Vince McMahon's world of pro wrestling, that's what is most important. Sunday night at Payback, when Mahal ran in during the finish of the Bray Wyatt-Randy Orton House of Horrors match, he looked legitimate.
Part of that has been Mahal's enhanced physique. Vince McMahon likes big, muscular guys. It's the reason Roman Reigns and Sheamus have been, at times, pushed near the top of the card and guys like Daniel Bryan and CM Punk have had to fight and claw their way through WWE's politics.
When Mahal left WWE during his first run, he was part of 3MB with Heath Slater. It wasn't a prime spot. They were a comedy act relegated to putting over other talents. Mahal didn't have a good look, he was just another generic wrestler.
But upon his return, he is noticeably larger. His muscles pop more and, while I'm not a body builder, I think the term is "vascularity" and Mahal has plenty of that.
Those are all features that are going to make Vince McMahon want to push you.
The important thing though, is that Mahal is doing more to deserve that role. He's looked like a star in his matches and in his backstage segments — and his involvement at Payback — he's carrying himself like a star outside of the ring.
I'm not sure what happened in his time away, but he's clearly ready for this spot. A month ago, I would have groaned along with plenty of other people at the notion of Jinder Mahal somehow fighting for a World Title on a pay-per-view. Now, I'm excited. This is what wrestling fans usually are screaming for. New talent! We don't want the same old. Embrace this push.
Jinder Mahal beat Sami Zayn
The Singh Brothers look really small. It's not their fault, it's just their size. I like how they're building Jinder up though, and giving him some tag along guys, just like they did with Edge, is going to help him as a heel.
Tye Dillinger beat Aiden English
Another simple and effective win for Dillinger. They aren't putting him in a full-time feud yet, and that's a good move. Let him establish himself with some easy wins like this. It's going to make him more effective as a star down the road.
Carmella & Natalya beat Naomi & Charlotte
The women's division on the SmackDown side has a lot of moving parts right now. They are moving towards Charlotte as a babyface, which I'm not a fan of. She's such a great heel and an effective one at that. No one cheers her when she's a heel, unlike some others on the roster.
Dolph Ziggler beat Sin Cara
Ziggler's character has been assassinated so much, it's beyond repair, I think. He's a heel, then he's a face, then he's a heel again. He flips more than anyone in history, maybe.
It's really a shame, because he's tremendous in the ring. He's one of the best workers they have on the roster right now, across all brands. He can bump and sell better than anyone in the company.
His match with Nakamura is going to be great, and Ziggler is a good opponent for Nakamura's debut. I just wish they didn't bastardize his characater so much, and that they could do more with him rather than just make him the good mechanic they put the guy they want to get over with.
It's similar to what they did with Lance Storm. He was paired with Brock Lesnar first, I think, and for a reason. They liked Lance's work. Well, I remember thinking at the time, why not just push Lance Storm?
Ziggler is in a similar spot now. They like his work, but they never seem to be willing to pull the trigger.
That's not entirely WWE's fault, either. Ziggler has been great in the ring, but he has never found himself as a character. He's either trying to be Billy Gunn, or he's trying to be Shawn Michaels. He needs to just be himself.
Kevin Owens beat Chris Jericho to win the U.S. Title
As you would expect, this was a great match and the post-match angle was devastating. Owens beat Jericho with a chair, wrapped it around his neck and head and then threw him into the post.
Surely, this is the angle they'll use to keep Jericho off television for a few months while he tours with Fozzy. But, when he returns, he'll have a built-in feud with Owens ready to go.