News
WWE Royal Rumble 2019 Results
The most exciting match in WWE returns yet again. 30 men and 30 women each battle it out for supremacy at WWE Royal Rumble 2019.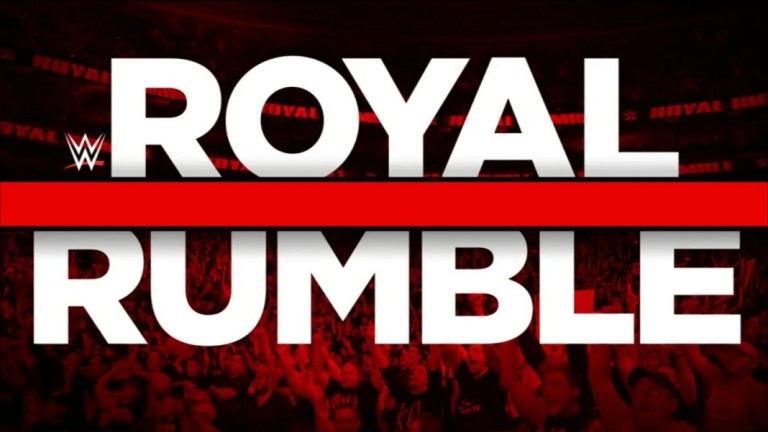 Ah, that wonderful moment when WWE's December PPV (in this case TLC) hits its copyright sendoff screen. That means it's Royal Rumble season! The most wonderful time of the year to be a WWE wrestling fan! Screw WrestleMania because it's time for WWE Royal Rumble 2019! It's time for that unpredictable 30-man match where the winner gets their high-profile title shot. It's been a January tradition ever since 1988 and 2018's edition changed it up a bit by debuting WWE's first every all-women's Royal Rumble match.
Then they did a separate, 50-man Royal Rumble a few months later as part of Saudi propaganda. That was…interesting. Hey, at least Titus O'Neil fell down in that one part.
As always, the Road to WrestleMania begins here.
WWE ROYAL RUMBLE 2019 RESULTS
CHAD GABLE AND BOBBY ROODE (C) VS. SCOTT DAWSON AND REZAR
WWE Raw Tag Team Championship
Results: The makeshift team of Dawson and Rezar imploded when Dawson accidentally hit his partner when jumping off the top rope, then Gable and Roode clotheslined Rezar out of the ring. The champs then finished Dawson off with a neckbreaker from Roode combined with a top-rope moonsault from Gable.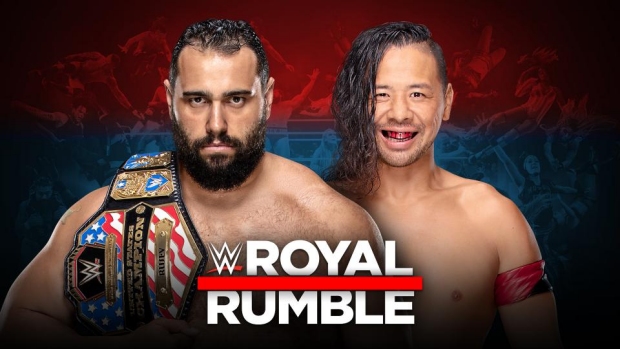 RUSEV (C) VS. SHINSUKE NAKAMURA
United States Championship
Results: Nakamura got in an argument with Lana on the apron, then moved out of the way when Rusev ran at him. With Rusev distraught at Lana falling to the floor, Nakamura hit the Kinshasa from behind.
BUDDY MURPHY (C) VS. KALISTO VS. AKIRA TOZAWA VS. HIDEO ITAMI
Fatal 4-Way for the Cruiserweight Championship
Results: With the ring cleared of everyone else, Buddy Murphy hit Murphy's Law on Hideo Itami and pinned him. Fantastic match!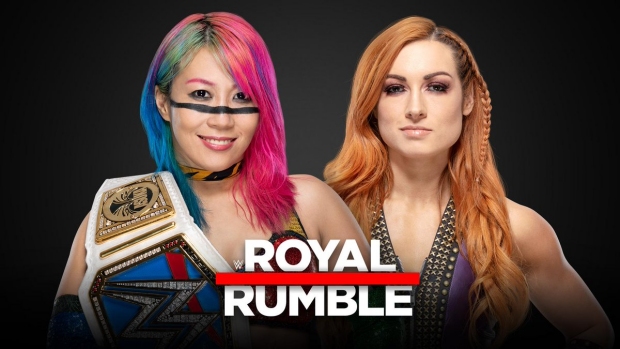 ASUKA (C) VS. BECKY LYNCH
SmackDown Women's Championship
Results: After a couple reversals, Asuka made Becky tap with a unique variation of the Cattle Mutilation.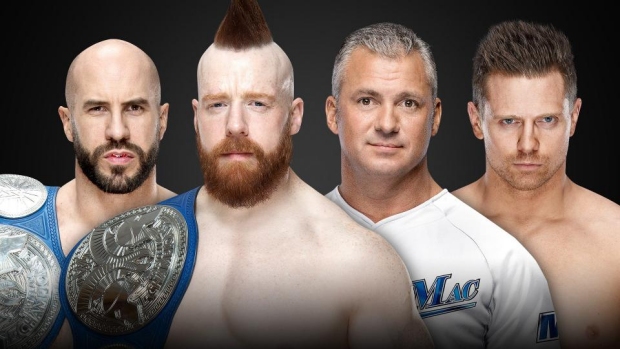 THE BAR (C) VS. SHANE MCMAHON AND THE MIZ
WWE SmackDown Tag Team Championship
Results: Cesaro held up Shane so Sheamus could do a Brogue Kick, but Miz snuck up and shoved Cesaro into the line of fire. Miz hit Sheamus with the Skull-Crushing Finale and they both rolled out of the ring. Shane finished off Cesaro with the Shooting Star Press and we have new tag team champions. After the match, the two hugged Miz's dad in the crowd.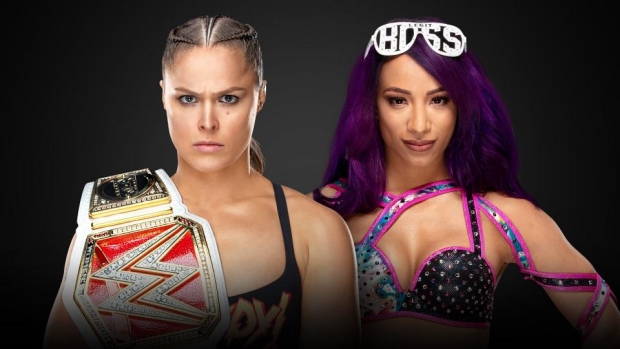 RONDA ROUSEY (C) VS. SASHA BANKS
WWE Raw Women's Championship
Results: Ronda escaped the Banks Statement and went into a rage, hitting various high-impact moves until crushing Sasha with the Piper's Pit. After the match, Ronda showed respect to Sasha and helped her to her feet. Sasha left for a second, then came back and shook her hand. Suddenly, Sasha did the Four Horsewomen gesture and stormed off, looking angry.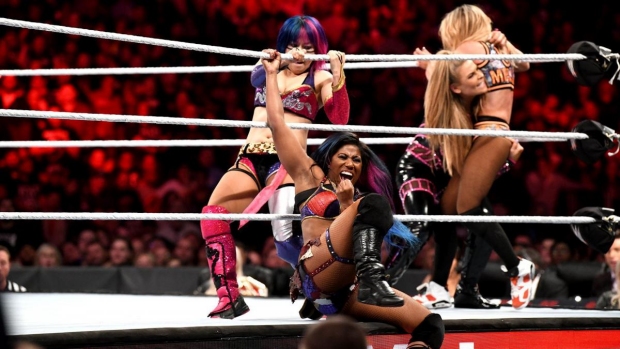 30-WOMAN ROYAL RUMBLE
Winner gets a WrestleMania title shot of the winner's choice
Results: Due to Lana being too hurt to enter at #28, Becky Lynch convinced officials to let her take her spot after everyone had already entered. The final two were Becky (hurt due to Nia Jax jumping her post-elimination) and Charlotte Flair. Despite Becky almost having to throw in the towel, she was still able to get Charlotte over the ropes and onto the apron, finally knocking her to the floor with a punch.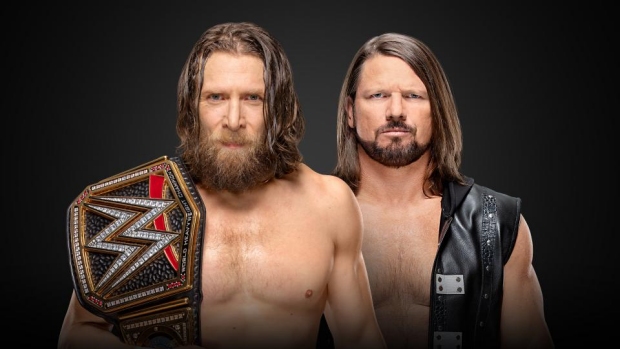 DANIEL BRYAN (C) VS. AJ STYLES
WWE Championship
Results: While the ref was knocked out, Erick Rowan appeared in street clothes and put AJ down with a claw chokeslam. Once the ref came to, Bryan made the pin. After the match, Rowan held up AJ and Bryan hit the flying knee.

BROCK LESNAR (C) VS. FINN BALOR
WWE Universal Championship
Results: Finn starting dominating Brock due to Brock's stomach being turned into a weak point. He nailed the Coup de Grace and not only did Brock kick out, but he immediately turned it into a Kimura Lock. With nowhere to go, Finn tapped. After the match, Brock started suplexing Finn out of anger. After an F5, Brock decided to leave.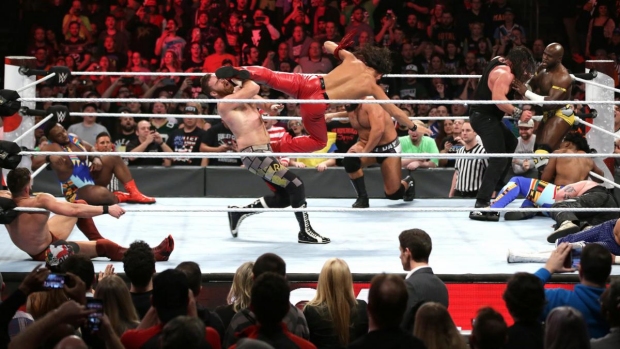 30-MAN ROYAL RUMBLE
Winner gets a WrestleMania world title shot of the winner's choice
Results: The final four were Braun Strowman, Andrade, Seth Rollins, and Dolph Ziggler. Everyone teamed up on Braun, but he was able to throw out Andrade and then Ziggler. Rollins was able to drag Braun to the apron, where he shoved Braun into the post, kicked him in the midsection, and knocked him to the floor with the Blackout.
Seth Rollins is going to WrestleMania!
Gavin Jasper writes for Den of Geek and updates his many Royal Rumble articles every year. Thanks to 2018's stuff, his research has become thrice as long! Check out his articles here and follow him on Twitter @Gavin4L