News
WWE Payback 2017 Results Prove Braun Strowman is a Legitimate Main-Event Wrestler
Braun Strowman again looked like a star as the feature attraction at WWE Payback 2017.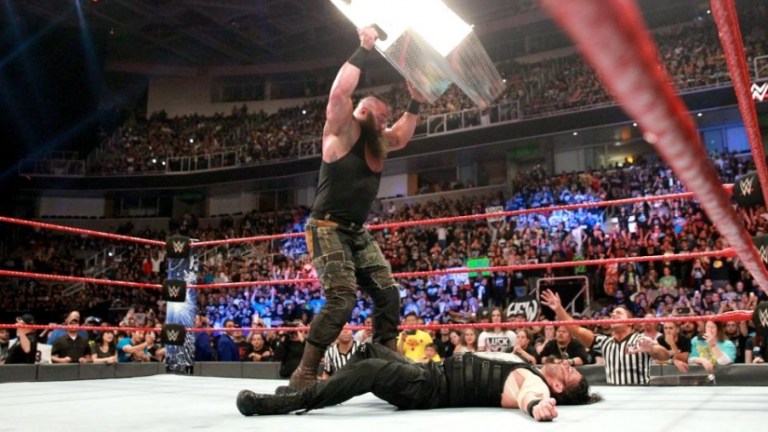 Braun Strowman is a legitimate main-event wrestler.
There, I said it.
Strowman main-evented WWE's Payback show last night against Roman Reigns, winning clean in the middle of the ring and then again delivering a brutal beating to Reigns after the match, leaving him spitting up blood in a hallway.
We'll get to that in a minute.
First, I want to focus on the actual match itself. This show had the potential to really suffer. Brock Lesnar, the WWE Champion, has been nowhere to be found for a month. He's been off the show and hibernating somewhere in Saskatchewan. Here, you had a PPV-level show, without a championship match and without a brand's champion (Randy Orton excluded).
WWE did a great job building up Strowman two weeks ago on Raw, where he nearly murdered Reigns. If it were legitimate, Strowman should have been jailed and put on trial.
The match itself was really good. It wasn't Bret Hart vs. Shawn Michaels, but the crowd was invested and bought into the near falls and the reaction was on point. Why? Well, I think part of the reason is that the crowd and the viewing audience legitimately wasn't sure who was going to win the match.
If you've watched wrestling long enough, you can start to follow the trends and have a pretty good idea of who is going over and who isn't.
Here, there was a lot of gray area. WWE built Strowman really strong, and Reigns is still the guy they want to be their next John Cena. I think most people believed Reigns would get a win here, considering the beating he took. Some people thought Strowman was just a monster for Reigns to slay.
Instead, WWE rightfully went in the other direction. Strowman is now set on a collision course with Brock Lesnar, in a match that should be held off until SummerSlam.
Then, Braun Strowman should win and hold the WWE Title until a babyface beats him at WrestleMania, and that babyface should not be Roman Reigns.
But we'll leave that argument for another day.
What's interesting here is that you could argue Strowman has been forced down the throats of the WWE audience, they just haven't realized it. Or, they don't care. They're rebelling against Reigns because he's been anointed by WWE brass. He was made to look like a super hero. Right now, Strowman is being made to look like a super anti-hero.
It's the same thing, more or less.
But the crowd is accepting Braun Strowman. They chanted "Thank you Strowman!" for his beating on Reigns.
The worst thing for Braun Strowman, the heel, is to be paired with Reigns right now. They almost have to get him away from Reigns and against someone the crowd will cheer. If not, you're going to turn him into a babyface, and I don't think that's what WWE is shooting for.
Or are they?
Chris Jericho beat Kevin Owens to win the U.S. Title
With Jericho's band, Fozzy, embarking on an upcoming tour, everyone was expecting Jericho to lose this match and take a break from WWE, ending his current run with the company. But, they went in the other direction here. Still, Jericho has a lot of dates upcoming with Fozzy, including several in Europe, so I'm expecting them to get the U.S. Title back on Owens this week, either on tonight's Raw or on SmackDown, and allow Owens to remain a top heel on the blue brand.
Austin Aries beat Neville by DQ in a Cruiserweight Title match
Obviously, the belt stays on Neville with the DQ finish. It was a really cool finish, though. Aries had the Last Chancery applied on Neville, and it looked like he was about to tap out. But, Neville ended up grabbing the referee and pulling him over them, to the mat, forcing the official to call for the disqualification. It was a cool way for the match to end, keeping the title on Neville, but at the same time making Aries look really strong.
Matt & Jeff Hardy beat Sheamus and Cesaro to retain the Raw Tag Titles
This ended up being a really brutal match, in terms of physicality. You could make the argument that it made the match, however. Jeff Hardy lost a tooth during the match and Matt Hardy suffered a nasty cut. The match ended with the Hardys getting the win and then Sheamus and Cesaro attacked them more.
The post-match angle really made the match and brought their storyline to a new level. Remember, they had been teasing the awkward handshakes on Raw the last several weeks. It had me expecting them to just end this angle with an actual genuine handshake, which wouldn't have gone over very well. This was a lot better, and especially fit given the physicality earlier in the match.
Alexa Bliss beat Bayley to win the Raw Women's Title
Bliss had been hitting homeruns on the mic coming into this match, and her promo last week was lights out perfect. Bliss is still trying to find her character within the context of the match, I think, but this was a good job of telling an effective story. Bayley hit her head on the ring post and kicked out after that, but Michael Cole did a good job of going back to that bump again after Bliss hit the DDT for the win.
Bray Wyatt beat Randy Orton in a House of Horror match
As was to be expected, this got a little weird. Randy Orton arrived in a limo to a dilapidated house and could see Wyatt roaming inside. He entered and they brawled for a bit. The first part of the segment ended when Wyatt dumped a fridge on top of Orton and then commandeered the limo, demanding to be taken to the arena.
I didn't like the concept that the match started inside the house, but had to end in the ring. It just didn't make a lot of sense. Obviously, I think the idea was to make sure these two ended up in front of the live crowd. But, I actually think this would have played better if they just had the entire match take place inside the house. At the same time, you could have had them tape the match whenever that opening segment was taped, and they wouldn't have had to be at the live show.
But, that wouldn't have allowed for Jinder Mahal's interference.
The match ended when Mahal, the No. 1 contender for Orton's WWE Title, attacked him in the ring.
You could have conceivable had Mahal and the Bollywood Boyz (er, the Sing Brothers) show up at the house, I guess. I mean, the thing was crazy enough, why not just have that be a part of it?
If you saw what the Final Deletion last summer, or anything that followed with the Broken Hardys in TNA, then you saw this match before. That's coming from me, who did see all of that stuff. It's fair to point out that 400,000 people saw those matches — maybe 500,000 if you include Youtube — and there are several millions of people who watch Raw and SmackDown every week. So I'm sure a large majority saw this concept play out for the first time (or at least the second … remember, New Day battled Wyatt at the Wyatt compound).
The finish was fine, and it gave more of a setup to Mahal-Orton for the SmackDown pay-per-view. They have a long way to go before Mahal is a main-event level talent, but I'm encouraged by what they're doing early on. His involvement with Gronkowski at WrestleMania did put him on the map, a little bit, and they've given him some heaters to work with as well. Essentially, they're trying to build Mahal the same way they built Edge about 10 years ago.
Seth Rollins beat Samoa Joe
I would have rather seen Joe go over in this match. He didn't lose decisively, and I think the finish still made him look strong (Rollins rolled Joe over, who was applying a sleeper, and stole a pin). The good thing here is that Joe didn't take what I would characterize as a clean pin loss. He wasn't laid out.
But, Joe is the type of character they could have kept unbeaten for 8 months to a year, before a big WrestleMania match against someone like Brock Lesnar. Now, it seems like that spot is being given to Braun Strowman right now.
Braun Strowman beat Roman Reigns
This match delivered. Considering everything this show was up against — no WWE Title, no WWE Champion, etc. — this main event felt like a big match, it felt like a big main event and it delivered, I'd say.
I had to laugh, though. WWE likes to put babyfaces over to end shows. They want to send the crowd home happy. Even though they were putting the heel (or what they would characterize as the heel) over in this match, the crowd made it feel like the babyface was going over clean.