News
WWE Night of Champions 2014 Predictions
The Den of Geek staff take a look at the Night of Champions card, and figure out who is walking out, and who will be carried...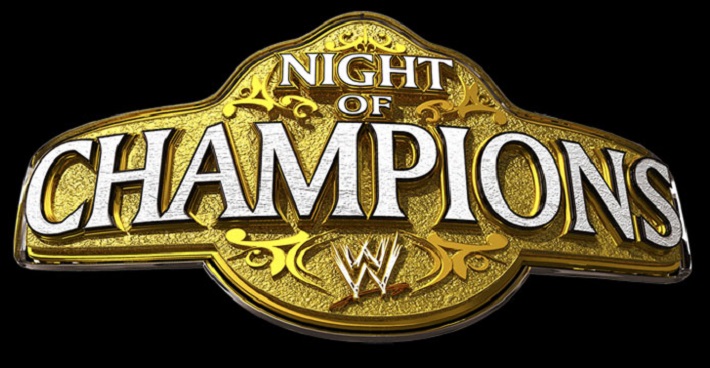 Aside from the obvious disappointment that we won't get to see Roman Reigns compete at WWE Night of Champions 2014 (get well soon, Roman!), it's still a pretty solid card. SummerSlam feels like it was ages ago, so it's about time for the WWE to step up and deliver a good show again. Let's see how it goes…
Sheamus vs. Cesaro
David Burszan: Sheamus as the US Champ is something that I have to remind myself is real every few weeks. There are so few title defenses; the last time he was in a title match on a ppv was four months ago… against Cesaro. Anyway, expect Cesaro to defeat Sheamus so Sheamus is free to go film his cameo in Episode VII. Expect lots of anxiety over Cesaro losing every non-title match and that we're about to live in a world where Star Wars movies might have multiple post-credit sequences.
Gavin Jasper: The company practically forgot that these two already feuded a few months ago because they've both been treated as afterthoughts. Sheamus especially. I keep forgetting that Sheamus even exists. He holds a championship that I also forget even exists. Cesaro's been on the losing end of many a match after WrestleMania should have been such a massive springboard. Still, I have to go with the law of averages on this. Cesaro's due. Perhaps Sheamus will be able to move on to something new and interesting after this.
Jesse Mateja: After winning the Andre the Giant Memorial Cup at WrestleMania, WWE has totally neglected Cesaro and how over he is with the fans, not to mention the guy is a machine in the ring. Cesaro takes the title and starts building his spot as a major force in the ring. Does anyone else find it funny two non-Americans are fighting for the US Title?
Mike McMahon: The forgotten championship. Having both the U.S. and Intercontinental Titles still active is doing nothing for the product, other than the titles are squashing each other. The casual fan is having a hard time following who is hold each. It's time to unify those titles, and that might be a road WWE is headed down. If they are, Cesaro winning the title here makes sense. He can go on to challenge Ziggler in some unification matches. A guy can wish, can't he?
Dolph Ziggler vs. The Miz
Mike: I hope this craptacular feud comes to an end on Sunday. The R-Truth stuff has been vomit-inducing. The entire storyline has been so poorly written it's gut-churning. Ziggler wins and I hope they bury this storyline away somewhere near wherever Katie Vick is laying nowadays.
Gavin: I hate seeing a title belt being used as a hot potato, but I'm thinking this has "Miz win" written all over it. There's no major reason to bury him because at the end of the day, WWE seems to want Miz to succeed. Ziggler's running with the ball and hasn't said anything stupid on Twitter in forever, but he's been making a fool out of Miz for far too long and his current success can't last.
David: Ziggler's a face because he's cocky, parodied the naked photo leak crime by committing a kayfabe felony and sharing illegally obtained nude photos…and then spent a week with the commentary team making racist jokes about R-Truth. The Miz is a heel because he's cocky, makes really enjoyable action movies, and hangs out with his stunt double, Damien Sandow, who is amazing and sells hits The Miz takes with the same exact graphics animation. Expect Ziggler to win because everything is terrible.
Jesse: Ziggler finally is getting some wins and some respect after mismanaged attempts to get him over despite the fans always sticking with him. There's no point for Miz to win it back yet. Let Ziggler run with this and show what he can do. The fans want it.
Paige vs. AJ vs. Nikki Bella
Gavin: Having separate Diva storylines going on is progress, even when one of them is the Bella Twins thing. NXT has been showing that good female wrestling storylines can work just as well as their male counterparts, though they can only go so far with Brie Bella's acting. This is the most transparent match of the night in that it's obviously based on sneaking the Divas Championship away from the Paige/AJ feud and throwing it into the more mainstream Bella/Bella feud.
David: The story for the past month hasn't been Paige/AJ/Nikki, but Nikki/Brie. So either Nikki wins and Brie complains a bunch while Nikki holds the title, or AJ/Paige win and we go back to the two having solid, but short, title matches on ppvs while being overshadowed by Brie complaining a bunch.
Mike: This should be a really good match. Paige and AJ have been tearing down the house and I actually thought they intertwined the Bella storyline pretty well this past week on Raw. Paige should retain here, and eventually work into a feud with Natalya. Their house show matches have been stellar, from what I've heard and seen.
Jesse: Paige needs to keep the belt. She needs to grow as a heel and the belt will help. It's now or nothing for Paige to really get over. Even though Nikki is the heel Bella, I somehow see Brie costing Nikki the belt to further their nonsense. AJ doesn't need the belt right now. Paige better win it.
Mark Henry vs. Rusev
Jesse: Rusev needs to go over more as a big deal, but after Mark Henry's segment the other night it's hard to say Henry will lose, especially since he's just recently returned and hasn't really made any impact. Rusev's feud with Swagger didn't really do much for Swagger's defending the US, to be honest. Henry and Rusev could have the emotional feud that Swagger and Rusev should have had. It's a tough one to predict. Mark Henry's promo on RAW could have been the first shot in their war, but if Henry wins, what will Rusev really have to fight for afterwards. Even though Henry promised to win, I'm going to give Rusev (and WWE Creative) the benefit of the doubt that Rusev is a monster and say Rusev will win this.
Mike: Rusev wins, and all of America will weep.
David: What will happen: Henry beats up Rusev because of Vince's nationalist ideology. What I want to happen: Henry loses, leading to Bo Dallas spending a month taunting him for not Bo-lieving enough until he's inducted in to the Hall of Pain.
Gavin: Kudos to WWE for doing a decent job with Rusev's push. First he was destroying jobbers. Then he was blazing through the lesser mid-carders who  came with minor fanfare. Then he had guys like Big E and Jack Swagger make him break a sweat. With Mark Henry overpowering him, he's finally at a spot where he's an underdog and will have to heel it up to get by. Rusev should win it unfairly and move on to bigger and better things, but who knows how that will turn out?
The Usos vs. The Dust Brothers
David: At least Cody and Dustin are getting paychecks. Usos win.
Jesse: The Rhodes brothers will take the titles from The Uso's. It has to happen now. If they're turning heel, this will further show they are a force in the tag division. The Usos are getting stale. I wouldn't be surprised to see a little chicanery go on to help the Dust's win.
Mike: My gut says the Usos retain. They ran the angle with the Dust brothers tearing about Jey Uso's knee on Raw, only to have him recover, fully and completely, seven days later. It's almost like their plans changed for some unbeknownst reason.
Gavin: WWE's booking has been hard to predict lately since SummerSlam due to their depressing tailspin of chaotic booking where nothing important ever seems to be happening. Goldust and Stardust just kind of became half-assed heels for no reason other than giving the Usos someone to feud with because there's nobody else left…unless we want even more Wyatt Family matches. I think that at least says who the winners will be. The Dust Brothers changed course because WWE doesn't seem to care about them while they care to some extent about the Usos. Usos keep holding onto those belts until the Ascension finally show up.
Chris Jericho vs. Randy Orton
Jesse: No offense, but YAAAAWN. We all know Jericho is bound to leave again soon. And frankly, Orton really needs a win because he hasn't done anything lately to show he is worthy of being a top guy. I wouldn't be surprised if Orton hurts Jericho badly so that is Y2J's out. Even so, I think Orton will lose or get disqualified. Orton loses, then injures Jericho, or Orton gets disqualified for using some object to hurt Jericho. Either way, it makes Orton look like a mean heel. I'll say Orton gets DQ'd.
Mike: Jericho put Wyatt over and will snag a win over Orton on his way out to keep his stock high before he goes on tour with Fozzy.
Gavin: When he isn't holding onto gold, Randy Orton needs to be fed importance or else he'll die. It's understandable. Chris Jericho is probably on his way out for another rock band tour and it makes perfect sense that Orton will be the one sending him out of the company once again. What, this is the third time? I'm really more interested in seeing how they keep Orton in the limelight after this because who can he really feud with? A returning Dean Ambrose? Sheamus?
David: Wikipedia says the feud started when Jericho insulted Randy Orton on Raw. I know for certain that I watched that episode and I barely remember that. My prediction is Orton wins while I spend my night alternating between talking about King of Trios and what if Night of Champions dropped the three non-title matches in favor of matches for the three NXT titles.
Brock Lesnar vs. John Cena
Mike: Easiest bet on the show. There's no chance Cena walks out of Night of Champions with the WWE Title. WWE has invested in Brock Lesnar as champion for the long-haul, and giving Cena his win back so soon will slaughter everything they have done over the last five months since Wrestlemania, building Lesnar as a strong and dominant monster, with a hint of mystery.
Jesse: I have no clue what's going on here. They're building Cena up as a tough fighter, but if he wins the belt back, then Lesnar could want a rematch. This could go on forever. Lesnar is part-time, so I don't think he's going to keep coming back for at least a Raw a month and a ppv. And if Cena loses, then what? He just forgets about the title and loses to a part-timer? And who does Lesnar have to fight next? Big Show? That won't even draw $9.99. Unless they have Lesnar get injured, then Cena can win and that writes Lesnar off of TV for a while. I like that idea the best, but don't see that happening. But how is Cena really going to pull out a win after being decimated by Lesnar a month ago? I want to say Cena is going to win, but I just can't for some reason. Somehow, someway, for some reason Brock keeps the belt.
David: If I think Brock wins and he loses it's going to hurt more than if I assume Cena wins. So Cena wins the match, but I win the night because I attended King of Trios and he was stuck at Night of Champions instead.  
Gavin: Will the company be building towards the future or are they getting cold feet on one of the best ideas they've had in years? Lesnar destroying Cena at SummerSlam was ballsy as hell and since then, Vince McMahon has been a little too into Cena getting his heat back, afraid that he can't look too week for too long. The idea of Cena regaining the belt is a scary possibility, but I'm going to go with Brock out of faith. Once he gets through Cena once more, things will get real fun on the playing field.
Like us on Facebook and follow us on Twitter for all news updates related to the world of geek. And Google+, if that's your thing!