News
WWE Money in the Bank 2018 Results and Matches
Raw and SmackDown superstars battle it out for a title shot at the time and place of their choosing. We have the results!
WWE's exhausting PPV cluster is finally over. WrestleMania led to Greatest Royal Rumble, which led to Backlash. Now we continue to the next joint PPV, WWE Money in the Bank 2018. The show is, naturally, based on the match of the same name. The Money in the Bank ladder match started out at WrestleMania 22 as the real-life brainchild of Chris Jericho, who just wanted an excuse to be on the show. The match became a WrestleMania tradition for several years until becoming its own PPV back in 2010.
Here's how it all went down…
WWE MONEY IN THE BANK 2018 RESULTS
THE BLUDGEON BROTHERS (C) VS. THE GOOD BROTHERS
WWE SmackDown Tag Team Championship
Results: The Good Brothers fought harder than anyone in recent memory against the tag champs, but their attempt to hit Harper with the Magic Killer was interrupted by Rowan, who removed Anderson and allowed them to hit their double-team finisher on Gallows for the pin.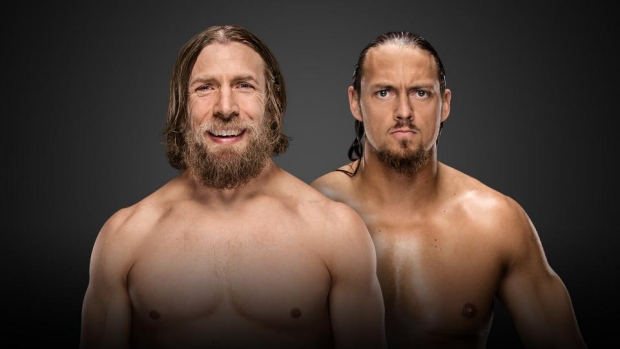 DANIEL BRYAN VS. BIG CASS
Results: Cass kept working on Bryan's ribs and attempted the Torture Rack a couple times. Bryan flipped off, landed on his feet, and took down Cass with the flying knee. Instead of going for the pin, he put Cass in a grapevined leglock and made him tap out.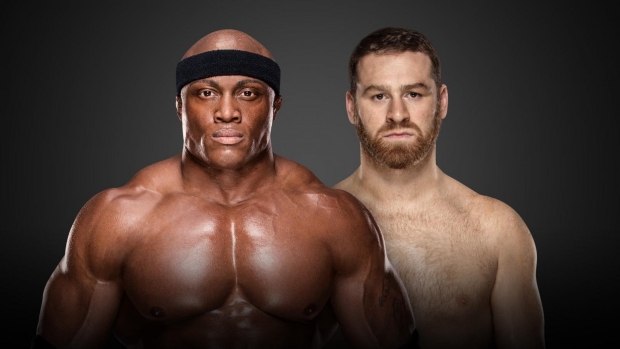 BOBBY LASHLEY VS. SAMI ZAYN
Results: Lashley dominated Sami and easily put him away with a very delayed vertical suplex. He pinned him with one hand on the chest.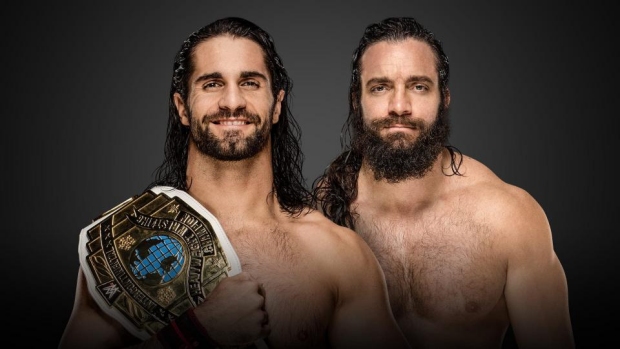 SETH ROLLINS (C) VS. ELIAS
Intercontinental Championship
Results: After some high-energy back-and-forth, Elias rolled up Rollins and grabbed the tights. Rollins reversed it into another roll-up and grabbed Elias' belt. Rollins retained.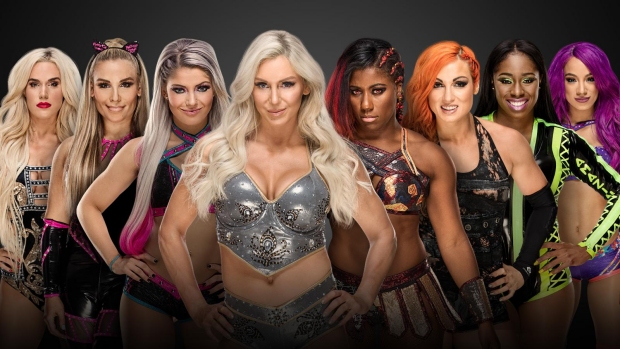 LANA VS. NATALYA VS. ALEXA BLISS VS. CHARLOTTE VS. EMBER MOON VS. BECKY LYNCH VS. NAOMI VS. SASHA BANKS
Money in the Bank ladder match for a women's title shot at the time of the winner's choosing
Results: For a while, each woman would take a moment to climb up alone, only to be interrupted. Repeat for five minutes. With Becky Lynch fiddling with the hook on top of the ladder, she stopped what she was doing as Alexa Bliss tipped the ladder over. Alexa climbed up unopposed and grabbed the briefcase.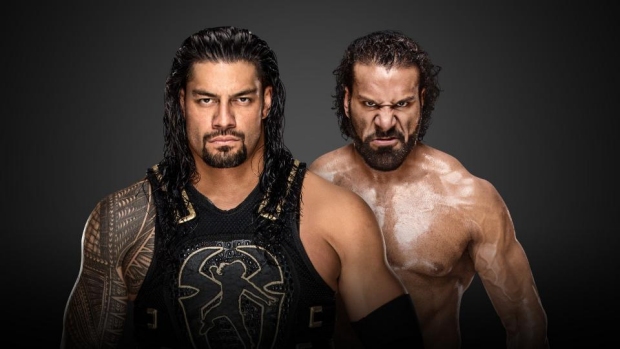 ROMAN REIGNS VS. JINDER MAHAL
Results: Samir Singh tried to interfere, only to get speared by Roman. Roman reentered the ring, almost lost to a roll-up, escaped, and put Jinder down with a spear. The crowd dumped on this match from bell to bell.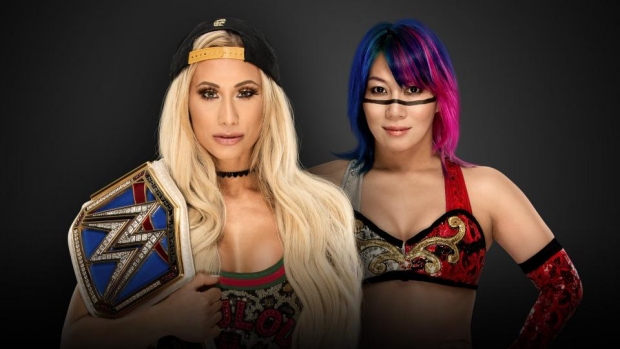 CARMELLA (C) VS. ASUKA
WWE SmackDown Women's Championship
Results: Asuka had things in hand, but then a mysterious figure appeared on the apron wearing Asuka's robes and one of her masks. Asuka was confused over this, but the figure unmasked to reveal a returning James Ellsworth. As he winked, Carmella kicked Asuka upside the head and pinned her to retain.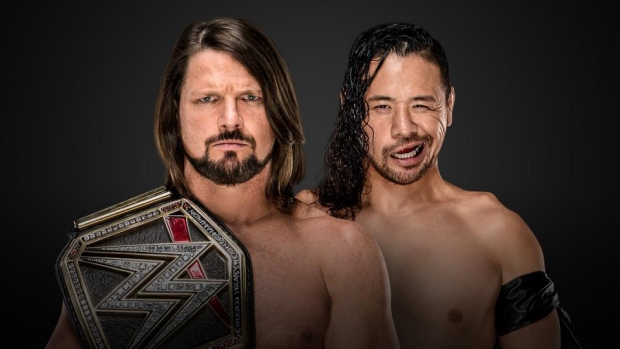 AJ STYLES (C) VS. SHINSUKE NAKAMURA
Last Man Standing match for the WWE Championship
Results: AJ Styles delivered a Styles Clash off the steps outside of the ring, but even then, Nakamura was able to stand up at the nine count. Nakamura taunted AJ to bring it on and AJ responded with a kick to the junk. He reentered the ring and springboarded to the outside, hitting a Phenomenal Forearm that exploded the table Nakamura was leaning on. AJ got up and Nakamura remained down for the ten count.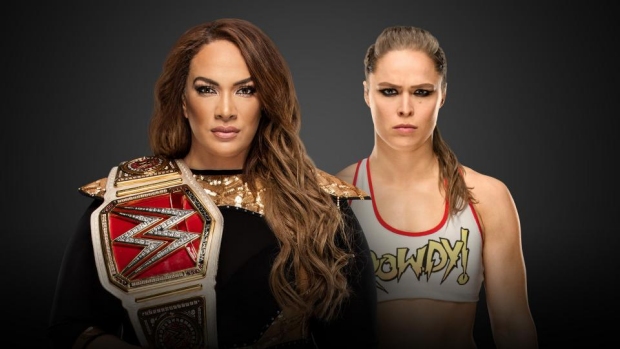 NIA JAX (C) VS. RONDA ROUSEY
WWE Raw Women's Championship
Results: Ronda Rousey was able to get Nia Jax prepared for an arm bar with Nia begging off. Before she could pull the move off, Alexa Bliss arrived and beat them both down with the Money in the Bank briefcase. Technically, Ronda won by DQ. Alexa continued to thrash Ronda and threw her over the announce table. Then she returned to the ring and wailed on Nia's hurt shoulder.
NIA JAX (C) VS. ALEXA BLISS
WWE Raw Women's Championship
Results: Nia ran into a DDT. Alexa stomped on her injured shoulder a couple times, then finished Nia off with Twisted Bliss. Alexa Bliss is once again Women's Champion.

SAMOA JOE VS. KEVIN OWENS VS. BOBBY ROODE VS. BRAUN STROWMAN VS. THE MIZ VS. RUSEV VS. FINN BALOR VS. A MEMBER OF NEW DAY
Money in the Bank ladder match for a world title shot at the time of the winner's choosing
Results: Finn Balor tried to make his way up the ladder, only to be stopped by Braun Strowman. On one side, Finn climbed to the top. On the other side, Braun climbed with Kofi Kingston hanging on. Braun was able to out-punch Finn and then threw Kofi to the mat. Although Finn weakly tried to get back up, Braun was able to unhook the briefcase to become Monster in the Bank.
Gavin Jasper wanted Braun to just stomp down with one foot and have the briefcase fall into his hands. Follow Gavin on Twitter!