News
WWE Monday Night Raw Results: 9/8/14
WWE's main storylines are going strong, but the rest of the show was filled with bad comedic attempts and unnecessary guest "stars."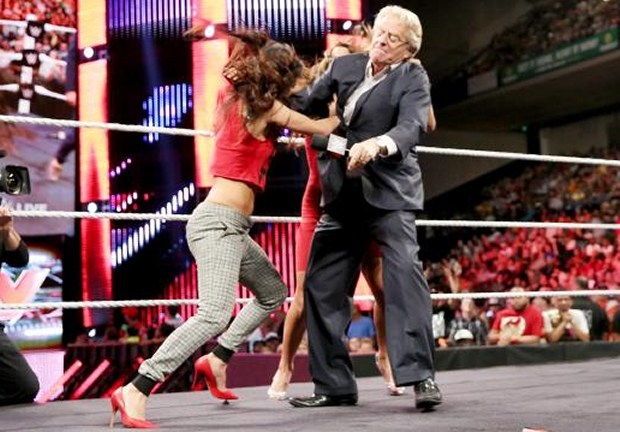 Is it possible to have a "season premiere" when you're producing new content 52 weeks per year?
WWE answered that question with a "yes" on Monday, constantly pushing that this was the "season premiere" of Raw, which sounded nice, and may have technically been true, but in reality made it no different than any other show.
Here's how it all went down from Baltimore:
Bray Wyatt def. Chris Jericho in a Steel Cage Match
Wyatt and Jericho wrapped up their feud with Jericho about to go back on the road to tour with his band, Fozzy, this month.
It was a memorable way to go out, as Wyatt picked up the win. Jericho attempted a dive off the top of the cage where he, in storyline, injured his knee and it looks like that is what WWE will use to explain his absence over the next few weeks, at least.
Jericho picked up the win to start the feud about two months ago to the surprise of many, but at the end of the feud, it was Wyatt who went over strong and gains some needed momentum. You can't deny that when Jericho returns, he does so with a purpose, and that purpose is often to put young guys over. He has done it now with Wyatt, Punk and even Fandango.
Later in the night, they showed Jericho in the trainers' room, getting his knee looked at when Randy Orton barged in and attacked.
Typical WWE
Nothing pop-culture related can happen without WWE making a cheesy, uncomfortable mockery of it on television. This week's target was the hacking of all those celebrity photos last week.
WWE's version was Dolph Ziggler cutting a promo in the ring, where he revealed he had photos of the Miz doing things like, shaving his chest! And admiring himself in a mirror!
Just vomit-inducing stuff.
There was some brawling at the end of the segment after Miz and Sandow appeared on the stage before it mercifully came to an end. Why does WWE insist on doing hokey stuff like this? Not only does it come off in poor taste, but it's usually unfunny and makes a guy like Ziggler look like a buffoon, rather than a big star.
Paige and AJ Lee def. Rosa Mendes and Natalya
Sing it with me! …"One of these Divas is not like the other…one of these Divas, just doesn't belong."
Total Divas is back, in case you weren't aware. There isn't much other reason to put Rosa Mendes in the same ring as AJ, Paige and Natalya.
Not much happened in the match, and I swear it was only included – probably at the behest of NBC Universal – so the announcers had an excuse to talk about Total Divas.
John Cena and Heyman Hit a Grand Slam
John Cena delivered the most passionate promo of his entire career, and Paul Heyman was once again brilliant.
This was really a fantastic 12-minute promo. Heyman began by telling Cena to go to a dark place. He egged Cena on, telling him to fight back at the fans who week after week chant, "Cena sucks!"
Cena did a great job selling that he was actually contemplating it. Everyone knew what Cena's response was going to be, but he was really good here planting some seeds of doubt for a few moments.
Heyman kept needling him, telling him to tell the fans to, "shut up."
Finally Cena snapped, telling Heyman to, "shut up," and then went down why he couldn't become a "Paul Heyman Guy."
Cena said things like "Make-A-Wish" meant far too much to him. He talked about visiting wounded soldiers in hospitals and being a role model for the kids in the audience.
Really, Cena wasn't just addressing Paul Heyman. Cena was addressing every single person who ever suggested that Cena turn heel. He doesn't want to, because he likes being a role model. He takes pride in that.
And you know what? Good for him. I'd much rather my son grow up admiring and following John Cena's values than Ray Rice, for example.
This promo had a lot of realism. There was a lot of genuine emotion, and that's what made it so great.
Seth Rollins def. Sheamus
Rollins had some help picking up the win from Cesaro, who was out at ringside to watch the match. Cesaro will challenge Sheamus for the U.S. Title at Night of Champions in two weeks.
After the match, Cesaro mocked Sheamus, shouting that he would be the new champion.
Not a bad match. Rollins has nothing to do with this feud, but it's a good spot for him to be involved and snag a win.
Adrian Neville & Sami Zayn def. Tyler Breeze & Tyson Kidd
Great idea giving the NXT talent a, "spotlight match," as the announcers were referring to it.
NXT is a WWE Network exclusive show, and what better way to promote that product, and their network, than putting three of the most exciting wrestlers down there on national television.
It's certainly better than the $9.99 gimmick they've pushed to nauseating levels the last month.
As you would expect, this was a fast-paced, really exciting match. After Neville, the NXT Champion, picked up the win, Lawler reminded fans that NXT has a special, airing this Thursday, on WWE Network.
Kudos to whoever thought this up, because it was great use of a Raw segment, especially in the three-hour era. It was FAR better than…
…the Worst Segment in Raw history? Perhaps.
Without exaggeration, the Jerry Springer segment on Raw was one of the worst segments in the 21-year history of the program, and by far the worst television segment of the past five years…at least.
It was exactly what you thought it was going to be. Jerry Springer brought out Nikki Bella, Brie Bella and even their younger brother, J.J. There was yelling and whatnot. It was trying to be a typical, white-trash episode of the Jerry Springer Show.
The segment ended with a brawl – surprise! – but not before some terrible scripting, terrible acting, and Jerry Springer selling an "ankle injury" more than Shawn Michaels sold for Hulk Hogan at SummerSlam 2005. He was stretchered out.
It was just bad, all around. The crowd has zero interest in what was going on in front of them. To that point, when WWE cut away to show a crowd shot, they inexcusably landed on a guy on his cell phone who wasn't even paying attention. I don't blame him.
The segment didn't advance any story, and had no redeeming quality. To quote that guy from Billy Madison, we're now all dumber for having witnessed it. Have mercy on WWE's soul…
Goldust & Stardust def. Los Matadores
Dominating win for the Rhodes brothers, as the live crowd was still snoozing from the last segment.
After the match, as the Rhodes brothers were celebrating on the ramp when the Usos attacked them from behind, chasing them off to the production area. The post-match stuff did a nice job helping continue their feud which will result in a match for the Tag Team Championship at Night of Champions. There's telling a good story here with the injured Jey Uso, and how it will affect that match.
Adam Rose def. Titus O'Neil
Along the lines of the last match, this has become typical 10 pm-hour filler until we get to the main event. WWE should just roll the show back to two hours. On most weeks, there's an hour of Raw that's a total waste.
WWE is now making a big deal out of whoever is inside Rose's bunny costume, as it was performing some wrestling moves – not very well – at ringside during the match and Michael Cole couldn't talk about it enough.
Roman Reigns defeated Kane via DQ
Rollins and Kane came to ringside along with a WWE production crew about 20 minutes into the main event, attacking Reigns and forcing the disqualification just as Reigns hit the Superman Punch was and was likely going to go for the cover.
The production crew was there to lower the cage, per orders of The Authority. But Reigns cleared Kane and Rollins from the ring, and as the cage lowered, had his chance alone with Orton, and a steel chair that Rollins had slid in the ring but couldn't use as he couldn't dive into the ring under the cage in time.
Kane tried to get in through the cage door, which distracted Reigns long enough for Rollins to climb to the top from the outside of the ring, and leap off the top of the cage onto a standing Reigns.
That, of course, gave Rollins, Kane and Orton the advantage again, and Orton grabbed the chair and smacked Reigns with a few shots before Rollins hit a curb stomp on the steel chair to end the show, as the heels stood tall in the ring.
Not a bad final segment, as it appears Reigns and Rollins are on a collision course here soon. With Ambrose out, and Reigns vs. Orton winding down, another Shield feud actually makes sense for everyone involved. They need to keep Reigns strong, and if they have a series of matches, Rollins will be able to carry Reigns to some great matches.
Overall, the big stuff on this episode of Raw was quite good with one exception: the Springer segment.
The Jericho-Wyatt opener was awesome, as was Cena and Heyman's promo and even the closing match and angle.
While those segments delivered, other parts of the program fell flat. The most negative feedback seems to almost always come when WWE itself fails to treat its product seriously. You would think that corporate bigwigs would recognize that trend.
Like us on Facebook and follow us on Twitter for all news updates related to the world of geek. And Google+, if that's your thing!