News
WWE Monday Night Raw Results: 9/22/14
What was old was new again on WWE Raw, as John Cena and Randy Orton battled in the main event and the WWE champion was barely mentioned.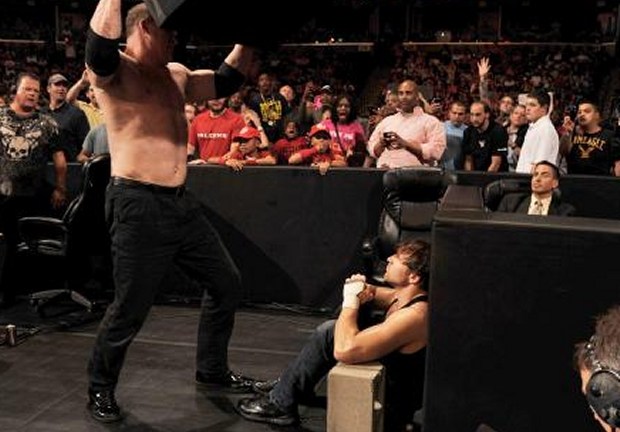 Brock Lesnar retained his WWE Championship at Night of Champions after losing to John Cena by disqualification. On Monday's Raw, Lesnar was barely mentioned. There were some still photos of their main event from the previous night, and a few lines in passing during the main event between Randy Orton and John Cena, but Lesnar was nowhere to be found on the program, and neither was Paul Heyman.
It goes to show that Lesnar as champion can work. It was only about 20 years ago that the World Champion was hardly ever on free television. I understand that times have changed drastically, but Lesnar doesn't have to be on the show every week to draw sufficient heat. If anything, I think his absence adds to his mystique.
Forget what didn't happen. Here's everything that DID happened on Monday's Raw:
Ambrose Returns, Cena Responds
The show opened with Dean Ambrose returning to Raw, after his return at Night of Champions on Sunday, when he brawled with Seth Rollins. Ambrose talked about how Rollins sent him loopy over the last month, and he was almost flattered at how far The Authority were willing to go, just to get rid of him. Ambrose grabbed a chair from ringside and brought it in the ring. He said he wasn't going to leave the ring until he got his hands on Rollins.
That brought out…John Cena?
Cena said that he and Ambrose had a similar agenda. Cena pointed out that he had Brock Lesnar beat until Rollins cost him the match at Night of Champions.
Side note: that booking of that main event totally undid a lot of what they had built up with Lesnar, and it was terrible. It's not Cena's fault – I think he's okay doing the right thing – but whoever made that decision, probably Vince McMahon, needs to get a reality check. Cena is super hero. Losing two matches isn't going to kill him. They were better off not booking the rematch to begin with if that was their plan.
OK, back to the programming.
Cena and Ambrose exchanged some shoves and dirty looks, which brought The Authority out to the stage. Triple H didn't get many words out before Ambrose charged the stage and the brawl was on. Rollins, Ambrose, Cena, Kane and Randy Orton were all involved. Rollins ran off to the parking garage, where he sped out of the building as Ambrose tried to jump in his trunk.
Overall, not a bad opening segment. WWE has to tie up some loose ends all while hitting the reset button, which isn't all that easy.
Dolph Ziggler def. The Miz to win the WWE Intercontinental Championship
So the IC Title is clearly nothing but a prop, now. Good job, good effort, WWE.
The IC Title cannot get any weaker in terms of stature and prestige. It's been buried for a while, but somehow WWE finds ways to shove it down even further. They badly need to merge the U.S. and Intercontinental Titles – so they can stop hurting each other – and then build up the value of the one belt again. It was good to see Ziggler win the match – the change last night little sense – but changing titles for the sake of changing titles does little to help anyone.
Jack Swagger def. Bo Dallas via submission
Decent television match. They go back and forth with Dallas, and how much he means to the program. After the match, Zeb Colter grabbed the mic and said he "Bo-Lieves" that Swagger made Dallas tap out. Nice touch, actually. The crowd ate that line up, too.
Natalya def. Summer Rae
The match was on the show to plug Total Divas, which was quite evident as the announcers wouldn't shut up about the show. Good to see Natalya get the clean win, as she's in the top-3 in terms of wrestlers in that divas division.
Dean Ambrose def. Kane via disqualification
The brawl was on pretty quickly at the onset of this match, when Ambrose flung himself across the ring and immediately jumped on Kane. As Ambrose was attacking Kane, hitting a lariat, and was about to score the pinfall win, Rollins returned from out of nowhere to attack Ambrose, setting up the DQ finish. Rollins and Kane began a double-team attack on Ambrose before walking up the ramp. Rollins decided he wasn't finished, and started back at the ring until he noticed Ambrose had a chair.
Another good segment between these two, especially the heel actions by Rollins. Rollins walking away with his tail between his legs after Ambrose grabbed the chair to equalize the situation drew some effective heat from the live crowd. The odds weren't in Rollins' favor, but they weren't in Ambrose's either. They were even. That's not good enough for the heel, and he backs off, leaving the crowd upset they didn't get the see the fight. Smart.
Ambrose Locked Down
In a backstage segment, Stephanie McMahon had Dean Ambrose locked in a closet because he was acting a little crazy. That's not illegal at all. Holding someone against their will is totally all right.
The Usos & Sheamus def. Cesaro & The Dust Brothers
No real surprise, with the heels that just won their tag-team titles taking the loss in a non-title multi-man tag the next night. It's fine. It will set up a title rematch for The Usos, and WWE thinks that this will make the new champions look vulnerable. But the problem is that the only time the Dust Brothers have looked credible in recent weeks is when they won the actual titles. Outside of attacking Jey's knee – and he made a miracle recovery – they've done very little on television to establish themselves as credible, top-of-the-card acts.
Rusev def. Mark Henry
Crushing Mark Henry's dreams once just wasn't enough. One thing I did notice – because I had flipped to check the Monday Night Football score – is that as soon as I flipped back to Raw, Michael Cole said, "if you're just joining us." Clearly, Monday Night Football is on WWE's mind.
Henry really sold being injured after enduring Rusev's offense for two straight nights, but he was once again beaten. Rusev continues to beat every American in his path. Somewhere, Hacksaw Jim Duggan, 1993 Lex Luger, Kurt Angle and The Patriot Del Wilkes are all weeping together.
Adam Rose & The Bunny def. Titus O'Neil & Heath Slater
I don't even know what to say. They had the guy in the bunny suit wrestle, and win. This is what they rolled out at halftime of Monday Night Football, while trying to capture an audience. Yeah …
Bellas argue over who gets to keep their name…for some reason
Up next, Nikki Bella called out Brie Bella, in order to call her an embarrassment some more. She said things like, "You don't deserve to be called a Bella," and, "You should be called Nikki's Trashy Sister." Nikki said she wanted the Bella name exclusively. She said she wanted to be called The Nikki Bella.
They argued about who was going to keep the Bella name, and not a single person in the audience or watching on TV cares. Nikki then called Daniel Bryan "an ugly, broken down troll" and Brie slapped her. AJ was then out to save the day, and she'd wrestle Nikki after a brief commercial.
The Bella feud started well at SummerSlam but has quickly nosedived in recent weeks. I mean, really? They're arguing who will use "Bella" exclusively, and the audience is supposed to emotionally invest in that? Not a soul cares. Really weak storytelling.
AJ Lee def. Nikki Bella via submission
No surprise, as AJ forces Nikki to tap. Paige was on commentary during the match and they continued their back-and-forth feud over the title. After the match, Paige just stared as AJ celebrated.
John Cena def. Randy Orton via disqualification
Kane and Seth Rollins were out at ringside along with Orton for his match against Cena. Ambrose, meanwhile, was still locked in a janitor's closet in the back of the building, which was being guarded by five or six security guards. Again, totally legal, and totally okay for a publicly-traded company to essentially falsely imprison someone like that. It's okay.
Meanwhile, at ringside, Seth Rollins apparently has a giant four-foot high pile of cinder blocks stacked under a black tarp. The match ended with a big DQ, when Rollins and Kane attacked Cena,  just as he was once again about to score a pinfall win.
After the match, Kane and Rollins continued the assault on Cena. Rollins called for the cinder blocks to be unveiled – because clearly, they needed to be covered with a curtain to begin with – and, what do you know? Dean Ambrose was under there all along. No rocks. Just Ambrose. He escaped a guarded room with no explanation and hid where the cinder blocks were supposed to go, and no one noticed. He's like David Blaine now.
Ambrose came to Cena's aid, which helped cement him as more of a star, and Rollins ran away through the crowd. Ambrose and Cena hit finishers on Kane to send the show off the air. Their intentions were good with that main event, making Ambrose look good, but the execution was just slightly unrealistic.
Like us on Facebook and follow us on Twitter for all news updates related to the world of geek. And Google+, if that's your thing!