News
WWE Makes Carmella Look Foolish After Re-Booking MITB Match
After winning the briefcase on Sunday, and not cashing in, she'll be forced to fight for it again next week ...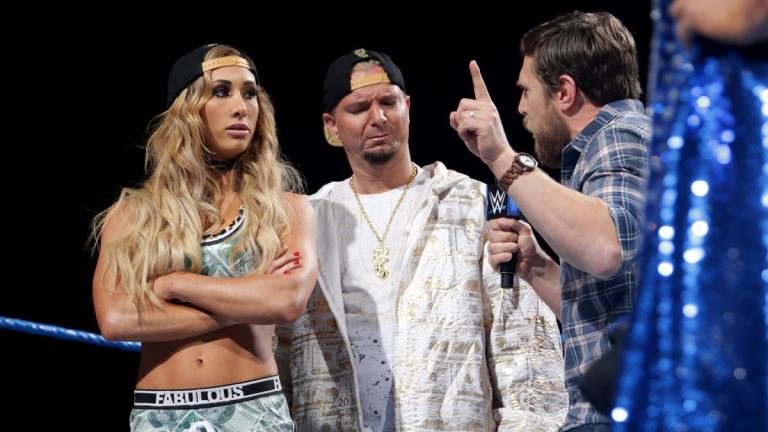 WWE made history Sunday night with its first-ever women's Money in the Bank match. Just two days later, they're already booking the second.
Daniel Bryan stripped Carmella of her Money in the Bank briefcase, due to James Ellsworth's interference last Sunday, and booked a rematch for a second briefcase that will take place on next week's episode of SmackDown Live.
SmackDown began with Carmella cutting a promo on why she should retain the MITB briefcase, despite James Ellsworth's interference in the match at the pay per view on Sunday night. Carmella, the obvious heel, made some good points as her character, and after the match, Bryan looked to be conflicted about what to do. Charlotte entered Bryan's office and demanded he do the right thing, and Bryan pointed out that the match technically was a no-disqualification match.
I hated the finish on Sunday. I thought it did more damage than good for the women's division, in all honesty. But given the hand they dealt themselves, they were doing a nice job with the follow up early in this episode. I'd rather they were talking about the history-making moment of someone winning the match, rather than play up some silly controversy, but so far they're doing an OK job with this.
But at the end of all this, Carmella is made out to look incredibly weak, and incredibly stupid. Not only did she need her man's help to win the briefcase to begin with, but then after the Women's Title match on Sunday, she never cashed in the briefcase. She knew that Bryan and Shane McMahon were contemplating what to do with the situation. Logically, we all knew that. Bryan and Shane both tweeted about the situation and they showed those teams on the broadcast on Sunday.
Still, Carmella did nothing. Now, she has no briefcase.
She looks like a fool. With heels, sometimes it's about how they come back from a situation like this one, but I don't have a lot of confidence that they're all of a sudden going to start booking her strong as a heel on that show.
Big E beat Jimmy Uso
The win for the New Day of course keeps them in the hunt for the SmackDown Tag Titles, and I'm sure they'll follow-up with a rematch at SummerSlam. But, it seems like a trend that WWE just has the tag champions (on either brand) losing singles matches. It feels like a lazy way to keep feuds alive.
Naomi accepted Lana's rematch
Lana never deserved a title match to begin with. Shane McMahon pretty much said as much. Why she was granted one in the first place had logic holes all over the place. Now, she loses clean and challenges for a rematch, and Naomi just accepts it? What in the world are they doing? Shane should have granted Naomi a match with Lana, because she deserved one, but Shane should have stipulated that it was non-title.
Shinsuke Nakamura beat Dolph Ziggler
Good match, but again, is booking Nakamura in 50-50 one-on-one matches with guys like Ziggler really a positive move for his development as a big star?
Nakamura showed some of his strong style in this match, and Ziggler bumps like a champion. So the matchup makes sense, but they seem lost when it comes to what they should do with Nakamura.
Kevin Owens beat Chad Gable to retain the U.S. Title
Owens instituted an open challenge for the title, and Gable was a fun and new match for Owens. Of course, he lost relatively quickly, but it was still a fun match to watch and the finish finally led to the return of American Alpha, which SmackDown could really use right now.
Mojo Rawley & Zack Ryder ask for a title shot
OK, so you saw my complaints about Lana in the women's division just receiving a title shot. Here's evidence for why it was a mistake. Why not just give Mojo and Ryder a shot at the Usos for the tag titles? They asked for it, right? No, Daniel Bryan said that he will give them a non-title match against the Usos, with a chance to EARN a title shot. What a concept!
Jinder Mahal beat Luke Harper in a non-title match
Not the best match in the world. I thought it was slow and it had a hard time keeping my attention. The match also followd the typical Mahal formula, with the Singh brothers making the interference and then Mahal lands his finisher.
Jinder Mahal is the WWE Champion, and he needs help beating Luke Harper? Ugh.
This was also the only time we saw MITB winner Baron Corbin, after he came out and taunted and teased Mahal a little bit. Randy Orton then attacked Mahal and hit RKOs on both Singh brothers to close the program.
I guess that means Mahal-Orton III is going to happen. Because we really needed this trilogy, I guess. If the rematch is going to happen at SummerSlam, it's going to pale (big time) in comparison to the Raw Title match between Lesnar and Samoa Joe.