News
WWE Greatest Royal Rumble Results
Saudi Arabia hosted a 50-man Royal Rumble. Who won? What records were broken? Who completely humiliated himself? We have the results!
WrestleMania is over and done with and usually that means WWE's in kind of a cool-down period offset by interesting new directions with the roster. Well, that may happen in time, but for now, we're getting one of the stranger PPV events since Tuesday in Texas. Just a couple months ago, we had a double-dose of WWE's most unpredictable battle royal with Royal Rumble 2018. Now we go bigger with WWE Greatest Royal Rumble.
As part of Saudi Vision 2030, Vince McMahon was presumably handed a giant bag of money and asked to come by and put on a massive wrestling show in Saudi Arabia…but leave all the women at home. The show will not only feature the biggest WWE-based Royal Rumble of all time (keep in mind, there was one in Japan with over 100 people in it, plus a blow-up doll), but every male title defended and a couple matches featuring big names.
WWE GREATEST ROYAL RUMBLE MATCHES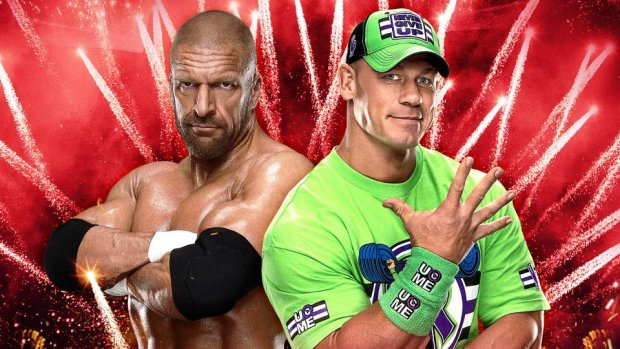 TRIPLE H VS. JOHN CENA
Results: John Cena placed Triple H into the STF, which was reversed into a crossface. Cena powered out by standing up and dropping Triple H with an Attitude Adjustment. Immediately after, he slingshotted Triple H into the corner and delivered one more Attitude Adjustment for the win.
Afterwards, he did a speech about how momentous this show is.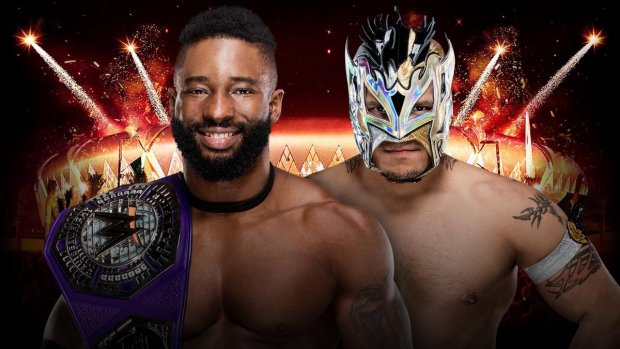 CEDRIC ALEXANDER (C) VS. KALISTO
Cruiserweight Championship
Results: Kalisto tried for a desperate Salida del Sol, but Cedric shoved him off in mid-air and turned it into one hell of a Lumbar Check. Kalisto was done after that.
THE BAR VS. BRAY WYATT AND MATT HARDY
WWE Raw Tag Team Championship
Results: Sheamus seemed to have Bray set up for a Brogue Kick, but while Sheamus pounded at his own chest, Bray sprung to life with his spider walk. Matt distracted Sheamus briefly, though Sheamus still tried to Brogue Kick Bray. He missed and got grabbed for Sister Abigail. Bray tagged in Matt and together they did an elevated Twist of Fate to Sheamus. Matt made the pin and now he and Bray are tag champs.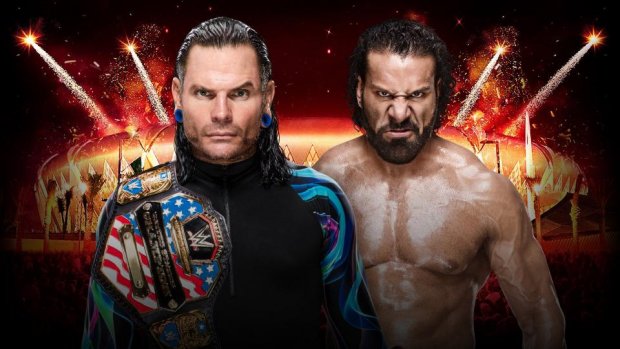 JEFF HARDY (C) VS. JINDER MAHAL
United States Championship
Results: After escaping a roll-up attempt, Jeff nailed a Twist of Fate out of nowhere, followed by a Swanton to finish Jinder off.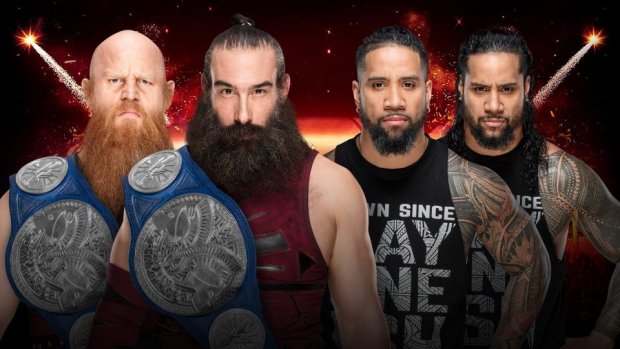 THE BLUDGEON BROTHERS (C) VS. THE USOS
SmackDown Tag Team Championship
Results: The Usos kept Rowan out of the ring while focusing on Harper, but the double-teaming just couldn't put him away. They tried a double splash from the top, but Rowan knocked Jey off the ropes and laid him out with a roundhouse kick. Harper and Rowan then took care of Jimmy with an assisted powerbomb to retain the belts.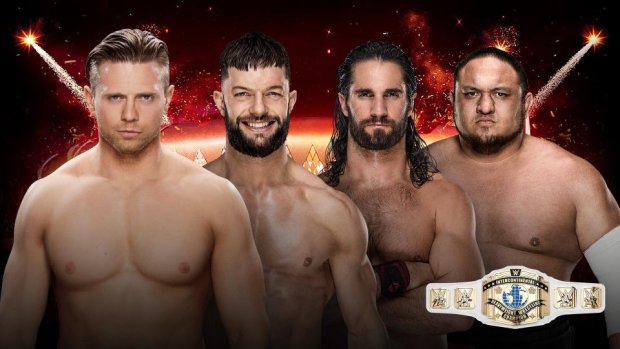 THE MIZ VS. FINN BALOR VS. SETH ROLLINS (C) VS. SAMOA JOE
Ladder Match for the Intercontinental Championship
Results: After a hard-fought stretch of minutes, Finn slowly started climbing the ladder, on his way to victory. All of the sudden, Rollins jumped off the ropes, onto the ladder, sprung up to the top, and quickly removed the belt before Finn had a chance. Finn looked flabbergasted afterwards.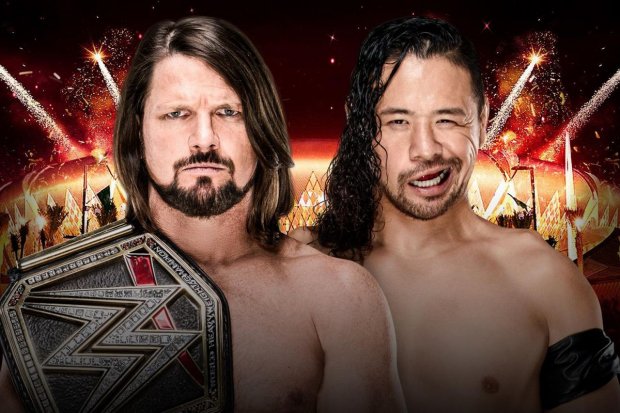 AJ STYLES (C) VS. SHINSUKE NAKAMURA
WWE Championship
Results: With the ref distracted, Nakamura hit AJ with yet another uppercut to the balls, then rolled him up. AJ grabbed the ropes, breaking the pin. Afterwards, they fought on the outside, where AJ thrashed Nakamura until they were both counted out. AJ left Nakamura laying as he walked up the ramp.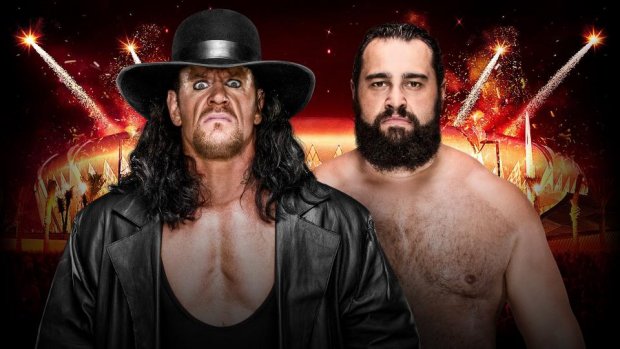 UNDERTAKER VS. RUSEV
Casket Match
Results: Undertaker finished Rusev off with a chokeslam and threw him into the casket. Aiden English ran in to help his friend, but was met with a chokeslam and Tombstone. Undertaker threw English in with Rusev and closed the lid with ease.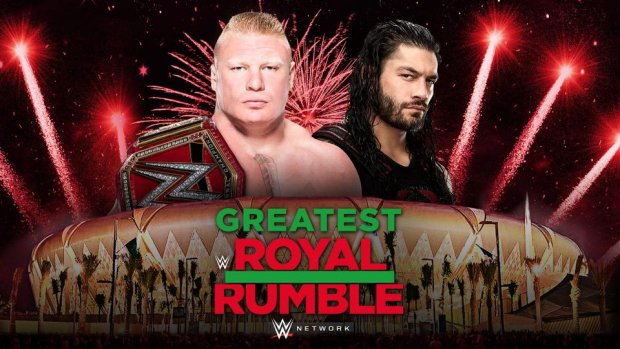 BROCK LESNAR (C) VS. ROMAN REIGNS
Steel Cage Match for the Universal Championship
Results: After a match full of finisher spam, Roman speared Brock through the cage. With both writhing on the floor, it was ruled that Brock technically escaped the cage first and retained the title.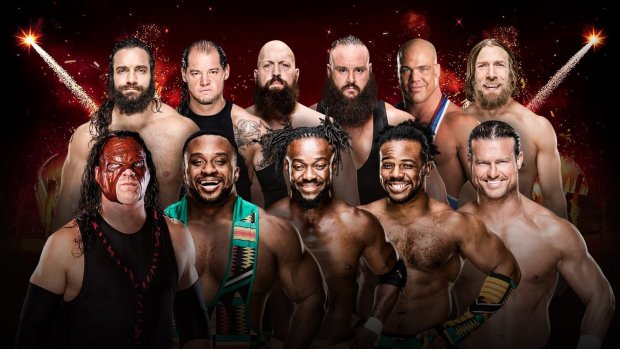 50-MAN ROYAL RUMBLE
Results: Big Cass eliminated Daniel Bryan. Bryan himself entered at #1 and broke the Rumble record by being in there for one hour and sixteen minutes. That left Cass in the ring against Braun Strowman, who was able to overpower Cass and eliminate him. Braun celebrated via a giant trophy and a special belt made for him. He also broke the record of most eliminations with 13, beating Roman Reigns' 12 from Royal Rumble 2014.
More importantly, Titus O'Neil entered at #39 and accidentally tripped so badly on his way to the ring that he slid under it. The next five minutes was the commentators completely losing their shit and being unable to call the match. That, and plenty of replays.
Order of entry:
i Kingston10. Tony Nese11. Dash Wilder12. Hornswoggle13. Primo Colon14. Xavier Woods15. Bo Dallas16. Kurt Angle17. Scott Dawson18. Goldust19. Konnor20. Elias21. Luke Gallows22. Rhyno23. Drew Gulak24. Tucker Knight25. Bobby Roode26. Fandango27. Chad Gable28. Rey Mysterio29. Mojo Rawley30. Tyler Breeze31. Big E32. Karl Anderson33. Apollo Crews34. Roderick Strong35. Randy Orton36. Heath Slater37. Babatunde38. Baron Corbin39. Titus O'Neil40. Dan Matha41. Braun Strowman42. Tye Dillinger43. Curt Hawkins44. Bobby Lashley45. The Great Khali46. Kevin Owens47. Shane McMahon48. Shelton Benjamin49. Big Cass50. Chris Jericho
Gavin Jasper hopes that Tony the Tiger wins the Greatest Royal Rumble in 2025. It would be GRR8! Follow Gavin on Twitter!