News
WWE Great Balls of Fire Results
Brock Lesnar took on Samoa Joe at the most questionably named PPV: WWE Great Balls of Fire. Here are the results.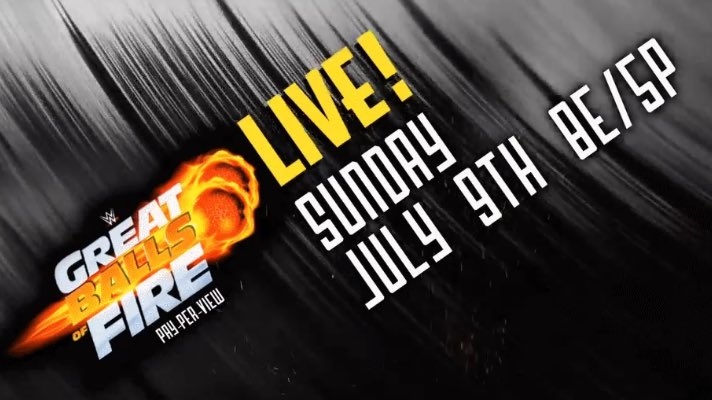 In a time when there are a million different WWE PPVs in one year, we're bound to get a show calling itself something as absurd as WWE Great Balls of Fire. As part of the Raw brand, Great Balls of Fire follows the events of Extreme Rules while being Raw's last PPV stop before August's SummerSlam.
This will be the first annual Great Balls of Fire. Will there be a second annual? Who's to say? But hey, if it didn't, it would have some interesting company.
WWE GREAT BALLS OF FIRE RESULTS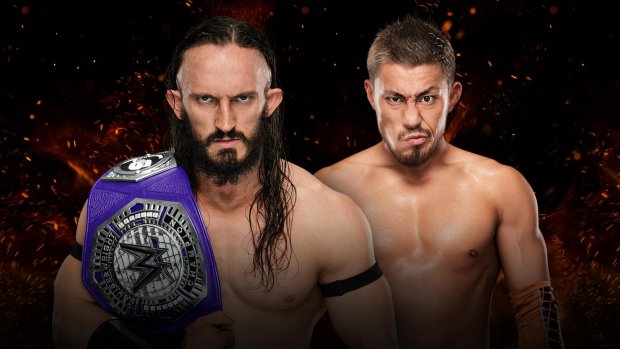 NEVILLE (C) VS. AKIRA TOZAWA
Cruiserweight Championship
Results: Tozawa went to the top rope and Neville caused him to screw up his balance and crotch himself into the ropes. Tozawa slowly got back to his feet, got kicked in the stomach, and was too weak from hurting his great balls of fire to kick out.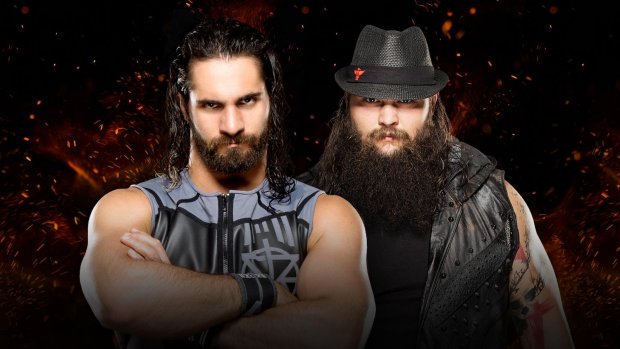 SETH ROLLINS VS. BRAY WYATT
Results: Rollins had the advantage until Wyatt poked him into the eye. That was enough of a distraction for Wyatt to hit Sister Abigail and get the pin.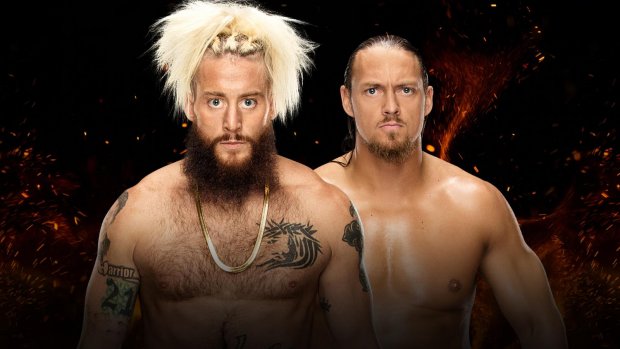 ENZO AMORE VS. BIG CASS
Results: Big Cass easily manhandled Enzo for most of the match, easily finishing him off with a running boot. Afterwards, Cass angrily watched him while walking backwards up the ramp as Enzo needed to be helped up by officials.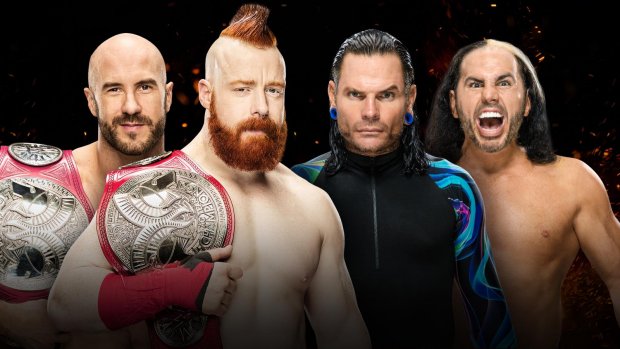 CESARO AND SHEAMUS (C) VS. THE HARDY BOYZ
30-Minute Iron Man match for the WWE Raw Tag Team Championship
Results: Within seconds, Sheamus caught Matt Hardy off-guard with a Brogue Kick. 1-0 Sheamus/Cesaro
About ten minutes later, Sheamus dropped Jeff Hardy with an assisted White Noise. 2-0 Sheamus/Cesaro
The Hardy Boyz were able to clear the ring of Sheamus and double-teamed Cesaro for a bit until finishing him off with Jeff's Twist of Fate. 2-1 Sheamus/Cesaro
With about 13 minutes left, Cesaro pulled Matt out of the ring and slammed him into the corner post. With Sheamus still legal in the ring, Matt got counted out. 3-1 Sheamus/Cesaro
After a long, long stretch of the champs dominating, the Hardys were able to trick Cesaro and get Jeff to hold down Cesaro with a unique pinning combination. 3-2 Sheamus/Cesaro
Matt was able to hit a Twist of Fate off the top on Sheamus and you better believe that's worth a pin. 3-3 tie
With a half a minute left, Jeff hit the Swanton onto Sheamus. Cesaro dragged him off and pinned the weakened Jeff. 4-3 Sheamus/Cesaro
Jeff chased Cesaro around the ring, caught up to him and nailed the Twist of Fate. But time ran out during the pin, ending the match with 4-3. The champs retain.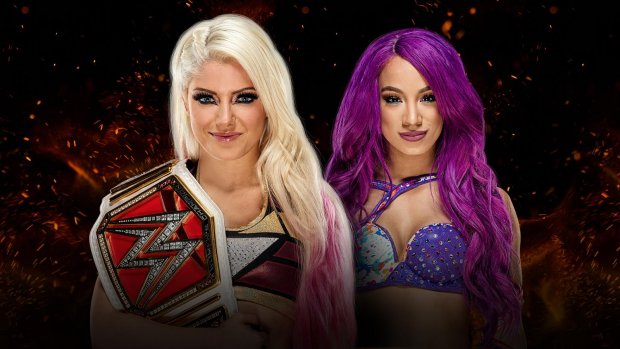 ALEXA BLISS (C) VS. SASHA BANKS
WWE Raw Women's Championship
Sasha caught Alexa with the Banks Statement, but Alexa was able to reach the ropes. She escaped the ring and rested on the outside until being counted out. Cheated out of the title, Sasha then jumped Alexa after the match and the two brawled. Sasha jumped off the announce table and hit Alexa with double knees.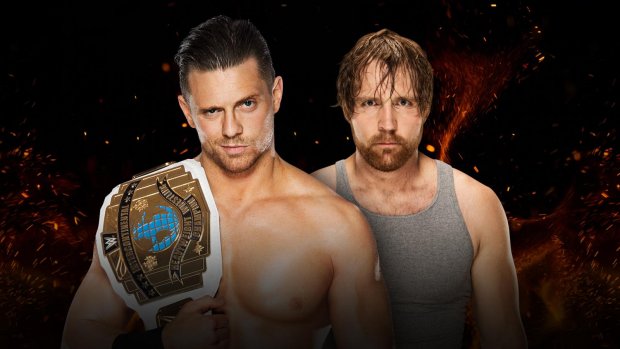 THE MIZ (C) VS. DEAN AMBROSE
Intercontinental Championship
Results: Ambrose nailed the Dirty Deeds, but Maryse put his foot on the rope. Curtis Axel and Bo Dallas interfered enough to get the better of Ambrose, allowing Miz to hit the Skull-Crushing Finale to retain.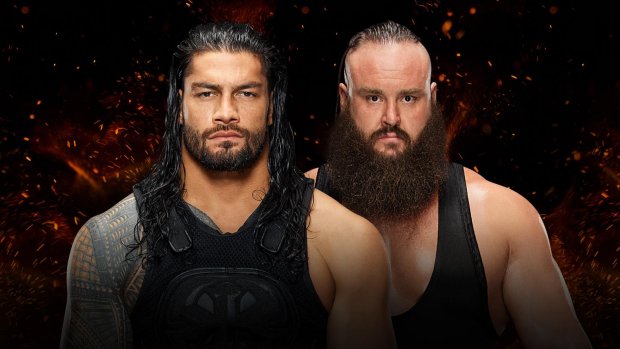 ROMAN REIGNS VS. BRAUN STROWMAN
Ambulance Match
Results: Braun was able to overpower Roman and close him into the ambulance. As Braun celebrated his win, Roman opened the door and speared Braun. Then he slammed him into the ambulance, took the wheel, drove it backstage, and backed it up into a wall at high-speed. Roman stumbled away while Kurt Angle and others ran over to free Braun.
HEATH SLATER VS. CURT HAWKINS
Results: The match just kind of happened, but they cut to backstage as the fire department came to free Braun. Braun escaped the broken ambulance, covered in blood. He crawled off, got to his feet, angrily looked at the EMTs and officials and told them to leave him alone before wandering off by himself. Slater/Hawkins was simply forgotten about.

BROCK LESNAR (C) VS. SAMOA JOE
WWE Universal Championship
Results: After an even battle, Joe had Brock in the Coquina Clutch. Brock powered out of it and turned it into the F5. Brock retained and walked up the ramp while Joe looked on in disappointment.
Gavin Jasper wants Lesnar and Joe to punch each other at the same time so hard that all the glass in a mile radius shatters. Follow Gavin on Twitter!