News
WWE Focuses on Reunions to Mixed Results
The Shield, Sami Zayn and Kevin Owens and Harper and Rowan are all back together ...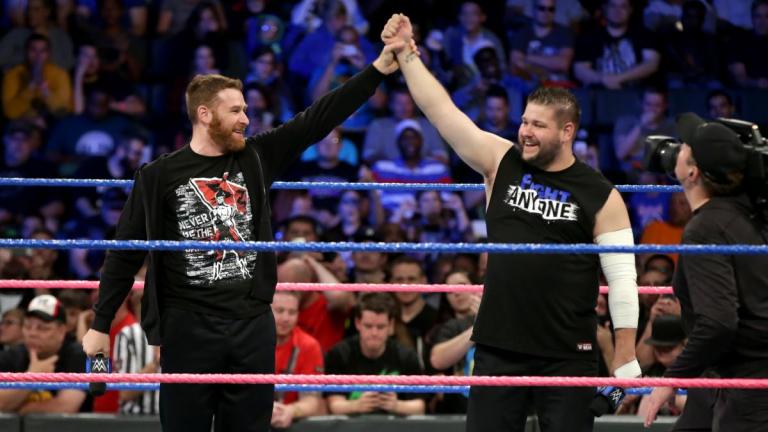 Reunions were the theme of the week on WWE television. First, The Shield returned on Monday's Raw and then on Tuesday's edition of SmackDown, we learned the reasons why Sami Zayn decided to reunite with his longtime friend, and bitter enemy, Kevin Owens. Also on SmackDown, the Bludgeon Brothers — otherwise known as Harper and Rowan — were featured in a vignette touting their upcoming return to the roster.
Overall, the reunions came off well. Harper and Rowan were probably the most forgettable, but once they make their live debut in front of an audience, they could change the face of a tag division that appears to be undergoing a shift, with the Usos apparently turning babyface in showing respect to New Day.
There is an issue that has to be taken care of with Zayn and Owens, and it's more Zayn than anything else. His music has got to go!
Sami Zayn aligned with a heel on Sunday night at Hell in a Cell. He showed his "true colors" and defended the man who tried to decapitate Vince McMahon. On SmackDown, when Owens brought out his "guardian angel" to explain his actions, Zayn danced and bopped to the ring to his theme music and some in the Michigan crowd sang along, because that's what they've become programmed to do.
The visual was awful. The music was way too upbeat for someone the fans are supposed to hate. Fans can't be excited to sing and dance with Zayn's music if, at the same time, the writers want the fans to dislike Zayn as a character. That music flies in the face of what they're trying to accomplish with Zayn.
Zayn either needs to adopt a new theme, or WWE could move in the direction of keeping the same song, but make it an annoyance for fans by using it as a tool for Zayn to gloat about his accomplishments while, in an over-the-top manner, dancing and celebrating his way to the ring.
However, considering he was engrained since his debut as a babyface, with the same music, to change the interpretation that the audience has of that song will be difficult.
Chad Gable & Shelton Benjamin won a Fatal Four Way to become No. 1 contenders to the SmackDown Tag Team Titles
This was a solid opener with some good spots, even though the expected team won. Gable and Benjamin should have some good matches with the Usos, and even if the Usos are turning babyface, I hope that they can show more intensity in this feud than New Day did in their roles opposite the Usos.
It might be hard to pull off at this stage, but I think Gable and Shelton as a heel team would work quite well.
Becky Lynch beat Carmella (w/ James Ellsworth)
This win helps get Becky back in the hunt for the Women's Title on SmackDown. But, the match had no build behind it so the finish felt a little flat. James Ellsworth in a dog collar at ringside was hilarious, and I'm well aware of the double-standard.
Randy Orton & Shinsuke Nakamura beat Rusev & Aiden English
The crowd was into the match and Nakamura getting the win, which was good. I think positioning Nakramura as Orton's partner is an attempt to make him feel like a big deal again, after he's been stuck in a mid-card feud for the World Title (weird, isn't it?) with Jinder Mahal.
Baron Corbin beat AJ Styles to retain the U.S. Title
If WWE was willing to put Corbin over clean on AJ, why not just do it at the pay-per-view this past Sunday? That felt a little strange. I'm glad to see WWE willing to bring Corbin to the next level, though.
Still, it seems odd that they out Tye Dillinger in the match on Sunday to make it a triple threat, essentially as a way to get Corbin the title and protect AJ from taking the clean loss. Then, two days later, they job AJ clean to Corbin on SmackDown.
You could argue more people see the SmackDown match, so perhaps it's a smart move. But the situation felt strange. Still, it's promising to see WWE willing to invest in someone who is still relatively new on the card. AJ can sustain the loss, given where he is.
Read the full Den of Geek NYCC Special Edition Magazine right here!