News
WWE Elimination Chamber 2019 Results and Matches
Six men entered a dangerous cage to do battle...over a belt made out of hemp. Wrestling is weird sometimes.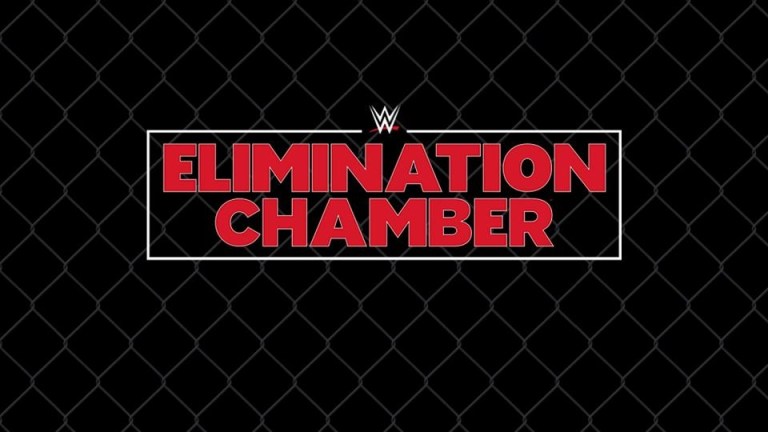 On the Road to WrestleMania, the peanut butter to Royal Rumble's jelly is Elimination Chamber. So before Fastlane and WrestleMania 35 hit us, we have to get through WWE Elimination Chamber 2019. While the Elimination Chamber match type has been around since 2002, the show itself started in 2010 as a renamed version of No Way Out. This one intends to be a special kind of installment due to introducing the women's tag team championship.
The Chamber match itself is based on four wrestlers (or tag teams) hanging out in special pods, surrounded by a cage. Two others battle it out and every few minutes, a new opponent will be released from one of the pods. Pins and submissions are in play, but otherwise, everything goes.
WWE ELIMINATION CHAMBER 2019 RESULTS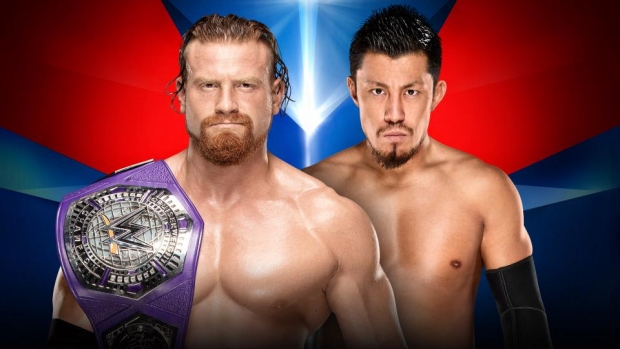 BUDDY MURPHY (C) VS. AKIRA TOZAWA
WWE Cruiserweight Championship
Results: Tozawa kept coming close and pressing the advantage until wrapping himself around Murphy for a submission attempt. Murphy was able to spin him off of him and into the Murphy's Law. Murphy retained.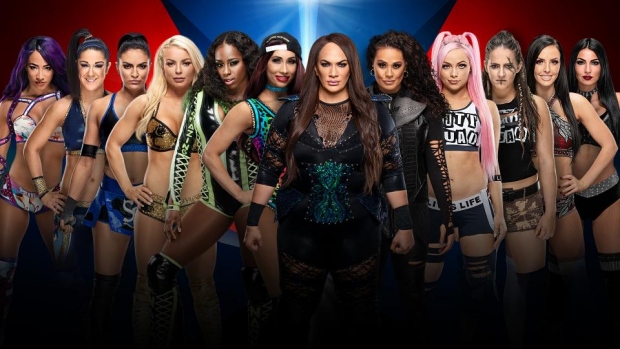 SASHA BANKS AND BAYLEY VS. SONYA DEVILLE AND MANDY ROSE VS. NAOMI AND CARMELLA VS. TAMINA AND NIA JAX VS. LIV MORGAN AND SARAH LOGAN VS. BILLIE KAY AND PEYTON ROYCE
Elimination Chamber for the WWE Women's Tag Team Championship
Results: Match begins with Sasha and Bayley in the ring against Mandy and Sonya. The third team to enter is the Riott Squad. As everyone's down and there's yet to be an elimination, the IIconics run in as the fourth team and unsuccessfully try for pins. After the IIconics dominated for several minutes, the team of Naomi and Carmella entered.
While Naomi started getting her revenge on Mandy Rose, the IIconics took her down with a double-roll-up. Naomi and Carmella are eliminated.
With everyone surrounding the IIconics, the buzzer went off and Tamina and Nia entered the fray. They laid waste to everyone, except the IIconics, who tried to hide in one of the pods. Tamina and Nia pried the pods open and pulled them out before crushing both with Samoan Drops. The IIconics are eliminated.
Nia Jax took down Liv Morgan with a Samoan Drop off the second rope and laid her out next to Sarah Logan. Tamina then splashed them both from the top rope. The Riott Squad is eliminated.
Nia ended up tumbling into one of the pods, shattering the glass. That left everyone else to team up on Tamina and finish her off with a quadruple pin. Tamina and Nia Jax are eliminated.
Bayley got driven spine-first into one of the support beams, making things two-on-one. Sasha moved out of the way and allowed Sonya to accidentally spear Mandy. From there, Sasha pulled off a variation of the Banks Statement using her leg instead of left arm/shoulder and made Sonya tap. Sasha Banks and Bayley, the Boss 'n' Hug Connection, are the tag champs!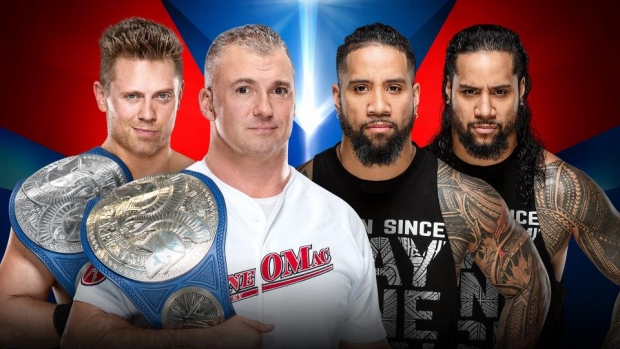 THE MIZ AND SHANE MCMAHON (C) VS. THE USOS
WWE SmackDown Tag Team Championship
Results: Shane dove off the top rope and through a table with Jey on it, effectively turning the match into Miz vs. Jimmy. Jimmy tried a splash off the top, only to meet Miz's knees. Miz turned it into a failed roll-up and followed it with the Skull-Crushing Finale. During the pin atempt, Jimmy twisted it into his own roll-up, catching Miz by surprise. The Usos are the new tag champs.
After the match, Shane looks exhausted and disheartened while Miz kept saying he's sorry. The two walked off with Shane's arm around Miz's shoulder.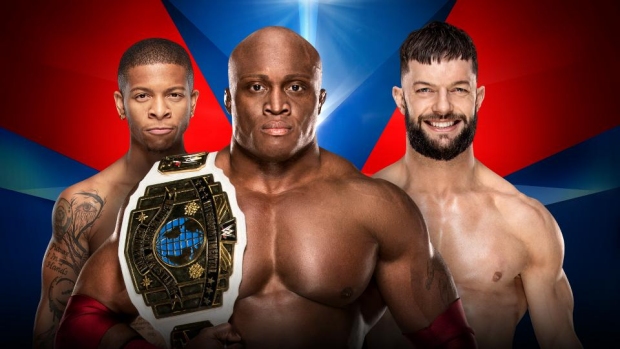 LIO RUSH AND BOBBY LASHLEY (C) VS. FINN BALOR
Handicap Match for the Intercontinental Championship
Results: Finn knocked both opponents out of the ring and then dove into them. With both of them stunned, Finn grabbed Lio Rush, threw him into the ring, gave him the Coup de Grace, pinned him, grabbed the belt, and high-tailed it before Lashley could react. After the match, a frustrated Lashley slammed down Lio and stormed off.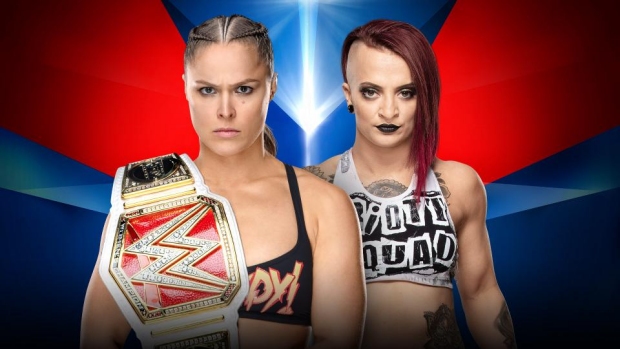 RONDA ROUSEY (C) VS. RUBY RIOTT
WWE Raw Women's Championship
Results: Ronda made Ruby tap out in an extremely short match. Afterwards, Ronda and Charlotte had a staredown in the ring, interrupted by Becky Lynch coming out in crutches. She hobbled into the ring and then mercilessly beat Charlotte down with a crutch. Ronda picked up the other crutch to protect herself. Becky offered Charlotte to Ronda, only to attack Ronda from behind with the crutch. Security arrived and Becky allowed them to escort her out.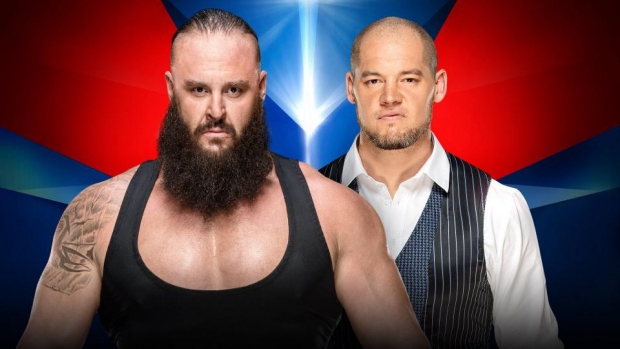 BRAUN STROWMAN VS. BARON CORBIN
No Disqualification
Results: Braun had things in hand and put Corbin through a table. Then Drew McIntyre and Bobby Lashley arrived and beat Braun down with chairs. The heel trio set up a table on top of another table, stood on some steel steps, and put Braun through the tables with a Shield Bomb. Corbin made the pin easily and the three proceeded to mock Braun's battlecry on the steps.

MUSTAFA ALI

KOFI KINGSTON VS. JEFF HARDY VS. DANIEL BRYAN (C) VS. AJ STYLES VS. RANDY ORTON VS. SAMOA JOE
Elimination Chamber for the WWE Championship
Results: Daniel Bryan and Samoa Joe start things off. After a few minutes, Kofi Kingston enters at #3. AJ Styles is #4.
Joe got Kofi in the Coquina Clutch, but Kofi sat down into a jawbreaker, causing Joe to release the hold in a stunned daze. This left him open for the Phenomenal Forearm and AJ got the pin. Samoa Joe is eliminated.
Shortly after, Jeff Hardy entered at #5. He ended up draping AJ over the top rope and Swanton'd onto him. After standing back up, he ate a flying knee from Bryan. Jeff Hardy is eliminated.
Randy Orton entered last. With AJ preparing for a Phenomenal Forearm against Kofi, Orton popped in and caught AJ with an RKO. AJ Styles is eliminated.
Shortly after, Kofi was able to escape an RKO attempt and catch Orton off-guard with Trouble in Paradise. Randy Orton is eliminated.
After a lengthy battle, Kofi missed a splash from the top of a pod. Bryan hit him with a second running knee and pinned him to retain. As Bryan left with Rowan, the rest of New Day ran out to help Kofi up and let him bask in the chants of, "THANK YOU, KOFI!"
further reading: WWE Elimination Chamber: Ranking All the Matches
Gavin Jasper writes for Den of Geek and still laughs at the Chamber match where the spotlight hit Triple H in such a way that he looked like a bad MS Paint of Santa Claus. Read more of his articles here and follow him on Twitter @Gavin4L