News
WWE Elimination Chamber 2018 Results
7 men battled it out through Satan's Structure in order to earn a shot at fighting Brock Lesnar. Who won?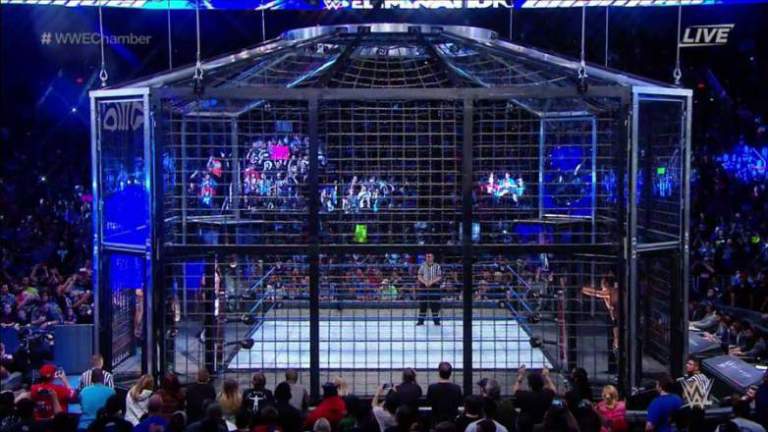 Royal Rumble is over with and we're on the road to WrestleMania! Each of the two brands gets their own stop on the way and for Raw, they get WWE Elimination Chamber 2018. The concept of the Elimination Chamber match started back in Survivor Series 2002, won by Shawn Michaels. Since then, it would be used sparingly, eventually being part of No Way Out until getting its own PPV back in 2010. After that, it became an annual event, albeit losing steam halfway through the decade to the point that the 2015 edition was just kind of thrown together. After the Brand Split happened, the show has returned, helping sculpt the card for WrestleMania.
This will be a special installment, as we'll be getting the first women's Elimination Chamber match.
We'll update this with the WWE Elimination Chamber 2018 results throughout the night!
WWE ELIMINATION CHAMBER 2018 RESULTS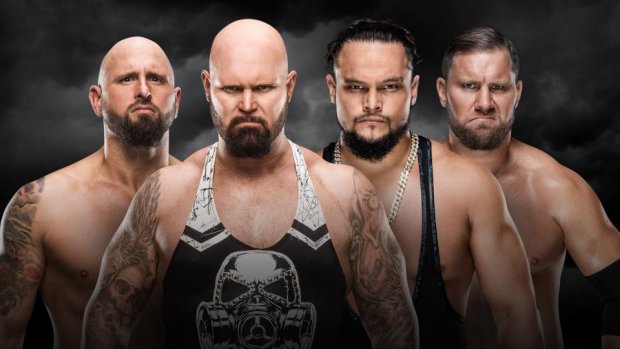 THE CLUB VS. THE MIZTOURAGE
Results: Gallows knocked Dallas off the apron with a superkick, then used another superkick to catch Axel off the ropes. Gallows and Anderson then finished Axel off with the Magic Killer to win. In a backstage interview, the Revival acted disgusted at the Club's strategies as a tag team.
ALEXA BLISS (C) VS. BAYLEY VS. SASHA BANKS VS. SONYA DEVILLE VS. MANDY ROSE VS. MICKIE JAMES
Elimination Chamber for the WWE Raw Women's Championship
Results: Match begain with Bayley vs. Sonya Deville. #3 was Mandy Rose, who helped Sonya beat down Bayley until Sasha Banks entered at #4. Bayley held back Sonya while Sasha made Mandy Rose tap to the Banks Statement. Then Mickie James entered at #5. Mickie jumped off the top of a pod, landed on Sonya, and pinned her. Bayley then attacked Mickie and defeated her with the Belly-to-Bayley. Alexa Bliss entered last, but with Sasha and Bayley working together against her. Sasha turned on Bayley and shoved her off the top of a pod. As time passed, Bayley seemed to have Sasha where she wanted her with a Belly-to-Bayley, but Alexa grabbed Bayley and rolled her up. That left Alexa vs. Sasha and although Sasha caught her with the Banks Statement, it was outside of the ring and didn't count. Sasha tried to climb up to a pod, but Alexa attacked her and finished her off with a DDT off the top rope.
Alexa retained. After the match, she cut an emotional promo as the crowd chanted, "YOU DESERVE IT!" She said her victory was for every little girl in the audience. She cryingly talked about accomplishing dreams and then changed her tuned and said nobody in this crowd would ever reach their dreams. She went over how she beat the odds and proved to be the one true goddess in WWE.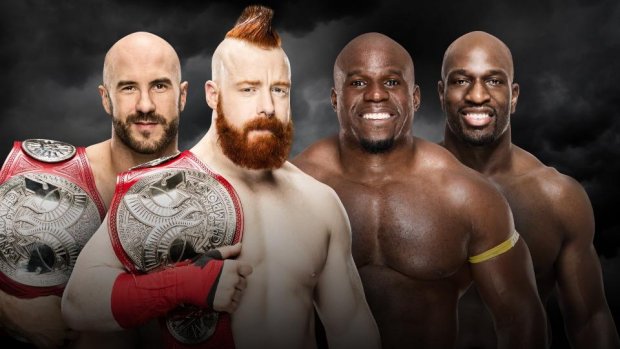 THE BAR (C) VS. TITUS WORLDWIDE
WWE Raw Tag Team Championship
Results: Cesaro chop blocked Apollo's leg. Sheamus hit the White Noise on Apollo while Cesaro bounced off the second rope and did an assist. The champs retained.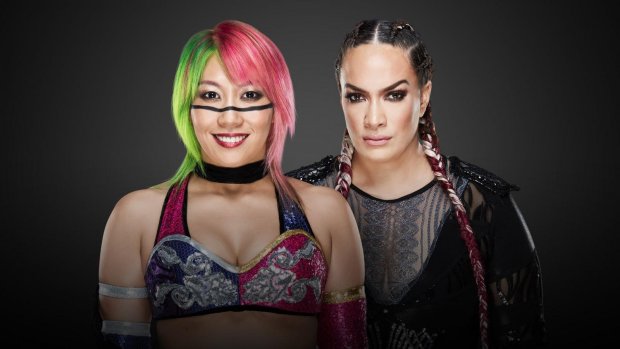 ASUKA VS. NIA JAX
If Nia Jax wins, she will be added to the WrestleMania WWE Raw Women's Championship match
Results: Nia overpowered Asuka's attempt at an armbar and screamed at her, "I'M GOING TO WRESTLEMANIA!" She went for a powerbomb, but Asuka reversed it into a roll-up pin. After the match, Nia attacked Asuka and tackled her through the barricade n the outside.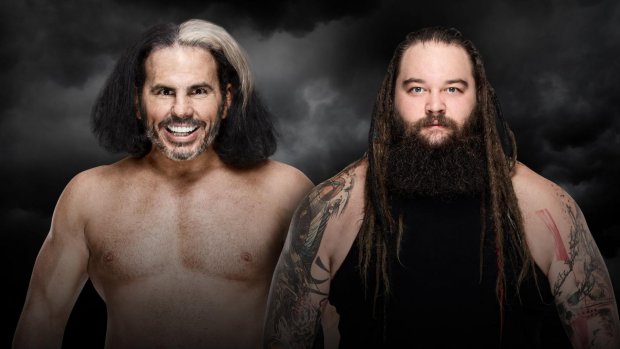 WOKEN MATT HARDY VS. BRAY WYATT
Results: Matt escaped Sister Abigail and caught Wyatt with the Twist of Fate for the pin. Afterwards, Wyatt stood outside the ring, looking incredibly annoyed.
RONDA ROUSEY CONTRACT SIGNING
Triple H, Stephanie McMahon, and Kurt Angle were in the ring to welcome Ronda to the ring. Ronda's initial promo was cringeworthy and mumbled, but otherwise, Triple H and Stephanie talked up her accomplishments and how she'd get a match at WrestleMania. Before Ronda could sign, Angle talked up how Triple H and Stephanie badmouthed her a bunch over their WrestleMania 31 incident and hoped to control her. Triple H then led Angle out of the ring. Triple H tried to break up a staredown between Ronda and Stephanie, but Ronda slammed Triple H through a table instead. Stephanie slapped Ronda, leading to an angry stare and a chant from the crowd of, "YOU FUCKED UP!" Stephanie ran off in fear while Ronda signed the contract.

THE MIZ VS. SETH ROLLINS VS. ROMAN REIGNS VS. JOHN CENA VS. BRAUN STROWMAN VS. ELIAS VS. FINN BALOR
Elimination Chamber for a shot at the Universal Championship at WrestleMania
Results: In progress
Miz, Rollins, and Balor started it off. Cena came in at #4, Roman at #5, and Braun at #6. Braun completely dominated the ring, culminating in powerslamming and pinning the Miz. Elias was #7 and refused to enter. The other four teamed up on Braun, but despite hitting a Shield Bomb and hitting all their finishers, they couldn't get the job done. Elias tried to lift Braun on his shoulders, but that failed, so Braun crushed him with a running powerslam and pinned him. With another attempt to team-up on Braun, Braun caught Cena off the top rope and turned it into a running powerslam to eliminate him. Balor hit the Coup de Grace on Roman, but before he could go for the pin, Braun grabbed him and took him out with a running powerslam. Roman and Rollins teamed up on Braun, but a Curb Stomp was reversed into a powerslam, eliminating Rollins. Roman finally defeated Braun with two spears in a row.
Roman Reigns vs. Brock Lesnar at WrestleMania confirmed. After the match, Braun hit multiple running powerslams on Roman to the cheers of the crowd.
Check back for more on WWE Elimination Chamber 2018!
Gavin Jasper wants to see Braun Strowman walk into his pod and cause the entire cage to move with him. Follow Gavin on Twitter!