News
WWE Delivers Dream Match With John Cena and Shinsuke Nakamura
Nakamura beat WWE's top guy, and will wrestle for the title at SummerSlam ...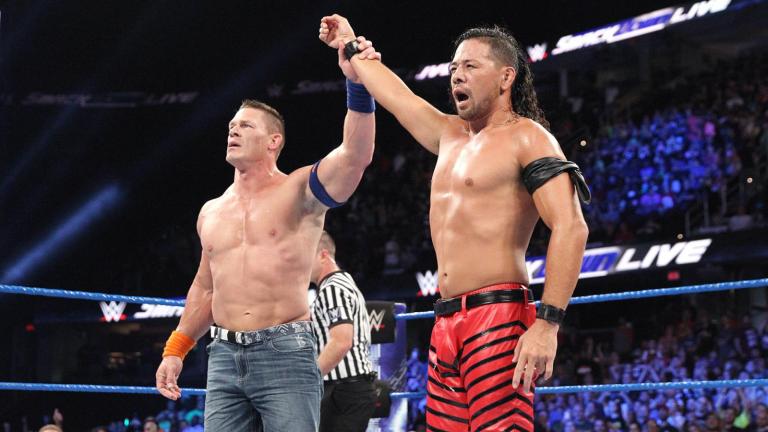 Welcome to the big show, Shinsuke Nakamura.
On Tuesday's edition of SmackDown Live, Nakamura picked up the biggest win of his WWE career (and maybe the biggest win of his career, period) when he defeated John Cena to become the No. 1 contender for Jinder Mahal's WWE Title at the upcoming SummerSlam pay-per-view later this month.
We'll get to Nakamura-Mahal in a later review. There's plenty of time to analyze what could be great, but what could also be a mind-numbingly painful to watch.
Nakamura was stuck in neutral ahead of this match with Cena. He had been embroiled in a never-ending feud with Dolph Ziggler that dated back to April. After that, he had a series of matches with Baron Corbin that were tolerable, at best, and their pay-per-view match at Battelground last month was downright bad.
So Nakamura needed something big. I thought he needed AJ Styles, but WWE is probably saving that match for the big stage at WrestleMania.
Cena-Nakamura was a dream match. There's no question about it. The match itself was good, in the time it was given, but when you consider that they only went a little more than 10 minutes, and there was a commercial break in between, we only saw about 6-8 minutes of Cena-Nakamura action. That could have been by design, with WWE knowing it wants to return to this match at some point in the future. But, it still made this "dream match" feel somewhat anticlimactic. It didn't feel like the big, epic showdown that I think a lot of people were expecting when the match was announced last week.
There was also one very scary moment near the end of the match, when Nakamura hit Cena with a suplex, and he took the landing on the back of his neck and head. Cena was talking to the referee immediately afterwards and was playing with his fingers in the ring. It was a scary bump.
But in ultimate John Cena fashion, he showed class in the end. You could see Nakamura mouth, "I'm sorry" to Cena, before giving him a small bow in the ring. Cena said he didn't need to be sorry, and raised his hand as the show went off the air.
People will continue to boo Cena, but you can't argue that all he does is put over the guys he's working with. Cena does business. He did business with CM Punk, Daniel Bryan, AJ Styles, Kevin Owens, Nakamura, and a host of others.
Who is he holding down, again, exactly?
AJ Styles beat Kevin Owens to retain the U.S. Title
There was more controversy, with Owens getting his shoulder up but the referee not seeing it. That set up a backstage segment later in the show where Shane McMahon and Daniel Bryan gave Owens a rematch at SummerSlam, only Shane will be the guest referee for the match.
This was a very similar finish to their Battleground match, which was interesting. But I liked the execution to transition this to SummerSlam.
Aiden English beat Sami Zayn
This match literally lasted less than one minute. Zayn got rolled up quickly as JBL told the audience that sometimes, you just get caught. Zayn looked to be in disbelief when Mike Kanellis and Maria came to the stage to gloat that Zayn lost.
This match did Zayn no favors. I think the idea was to put sympathy on him, with Mike and Maria rubbing in his loss after the match. But, losing the way he did, he probably deserved to be mocked. That was bad.
Becky Lynch & Naomi beat Natalya & Carmella
This match, like most of what WWE has done with the women lately, felt like it had no consequences whatsoever. The big matches for the women are good and they're booked with good creative around them. But then you have matches like this, where it feels like they were just trying to check off a box on the checklist and include that they used the women on the show. There just wasn't much happening here.
Rusev beat Chad Gable
Given the time restraints on Cena-Nakamura, I thought this match was the best one of the night from a technical standpoint. Gable is great in his role and Rusev looked good with the win.
After the match, Randy Orton came down and confronted Rusev, who said no one in WWE could beat him. Rusev-Orton seems likely for SummerSlam.
Shinsuke Nakamura beat John Cena
Is Nakamura ready for the WWE Title? The way he has been booked, probably not. But who are we kidding? Is Jinder Mahal ready for the WWE Title? No, and he's been carrying the damn thing for the last two months.
Read and download the full Den of Geek Special Edition magazine here!