News
WWE Crown Jewel Date, Card, Matches, News, Predictions, Rumors
Shawn Michaels comes out of retirement as WWE makes another trip to Saudi Arabia for WWE Crown Jewel. Here's what we know.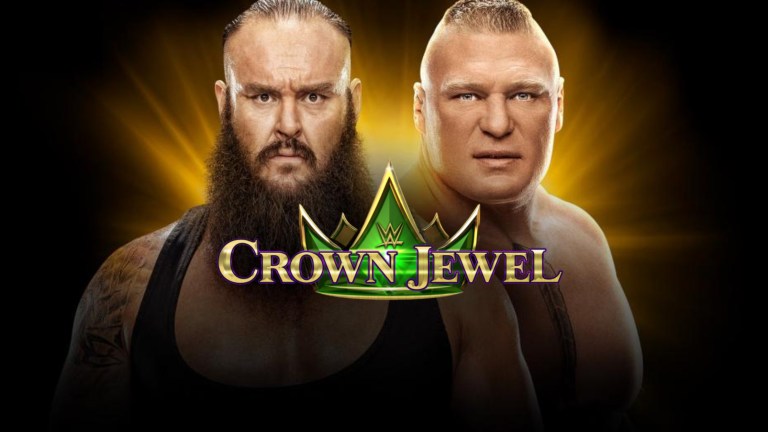 Months back, Saudi Arabia gave Vince McMahon a crapload of money to start doing WWE PPVs in their country. They started with Greatest Royal Rumble, which was a rather bizarre endeavor that was little more than a high-profile house show in a country that wouldn't allow women to wrestle. The show featured a front row that barely paid attention and weird examples of demands from rich wrestling fans who didn't know better, such as how they wanted Yokozuna to show up despite him being dead for years. Instead, a random sumo guy was in the Rumble match for about a minute and was never heard from again.
So anyway, they're going back. This time it's called Crown Jewel and the money must be really good, considering they've convinced Shawn Michaels to step out of retirement. Oh, and because they're willing to go to Saudi Arabia when the country is under fire for a government-sponsored murder of a journalist.
WWE CROWN JEWEL DATE
When is WWE Crown Jewel? The show will take place on November 2 at the King Saud University Stadium in Riyadh, Saudi Arabia. Of course, due to the controversy of doing a show there due to current events, WWE's not outright mentioning where it's taking place in the lead-up anymore.
It will air 12pm ET.
WWE CROWN JEWEL MATCHES
BRAUN STROWMAN VS. BROCK LESNAR
Universal Championship
It took years, but Roman Reigns was finally able to defeat Brock Lesnar for the Universal Championship. Then again, part of it came from Brock being distracted. Braun Strowman insisted he was going to cash in his Money in the Bank briefcase against the winner, so Brock roughed him up and tossed the briefcase across the arena. That left him open for a spear.
The lengthy Roman/Braun feud led to a Hell in a Cell match where the two laid each other out while their allies brawled amongst each other. Eventually, Brock appeared, tore into the cage and F5'd both competitors to the point that it was deemed a no-contest. After that, Brock's rematch has been announced as a triple threat.
Much of the focus was on Roman and Braun due to their factions feuding against each other. Even then, Braun has suddenly become more focused on battling Drew McIntyre. Things turned topsy-turvy when Roman sadly announced that he would be stepping away from WWE due to a return of leukemia. Now it's down to Braun and Brock to fight over a vacated championship.
Will we see them finally pull the trigger on the popular new star or will we get another chunk of time with a champion who never shows up?
On the go-home Raw, Braun casually beat up Baron Corbin and opened himself up for Brock to down him with a single F5.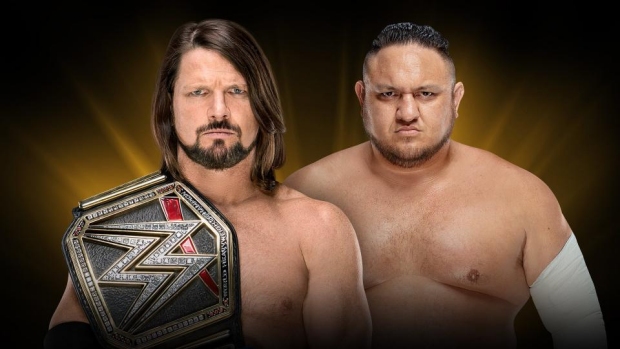 AJ STYLES (C) VS. SAMOA JOE
WWE Championship
At Super Show-Down, AJ Styles decisively defeated challenger Samoa Joe. Meanwhile, in a match for the #1 contendership, Daniel Bryan defeated the Miz with a roll-up within a couple minutes. With the title match made official, Miz had the two on Miz TV to help butter up their potential hatred towards each other. While the two got verbally heated, they still saw through Miz's plan and made fun of him until Miz snapped, ran them down, and declared himself the next #1 contender.
There was a whole thing where the two kept getting shoved into matches against the Usos where AJ and Bryan kept accidentally-on-purpose hitting each other, but the real story was behind the scenes. Bryan took huge exception to Crown Jewel taking place in Saudi Arabia and refused to take part in it. Instead, he and AJ had their match to open up the go-home SmackDown. AJ won cleanly by making Bryan tap to the Calf Crusher.
After the match, Samoa Joe showed up and choked both of them out. AJ demanded yet another match against Joe and here we are.
THE BAR (C) VS. THE NEW DAY
WWE SmackDown Tag Team Championship
These two teams have been at it for years. It was even the Bar who ended New Day's record-breaking streak as tag champs. After failing the last couple times, the Bar decided to even the odds by getting the Big Show to step in and lay out Kofi Kingston, even if he wasn't in the match. The Bar took advantage of the confusion and won the titles. With Big Show in their corner, they finally might have the New Day's number.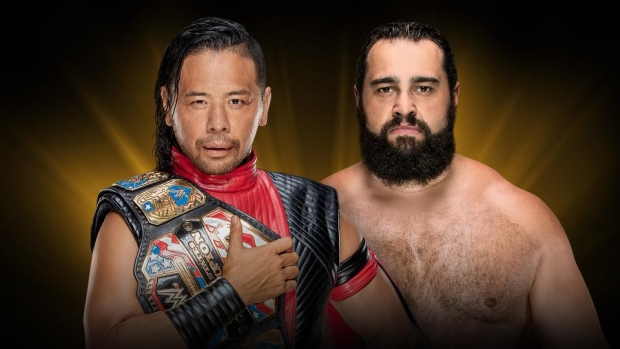 SHINSUKE NAKAMURA (C) VS. RUSEV
United States Championship
This one's for the Kickoff Show and there's really no story to it. Nakamura's been doing a big pile of nothing as US Champion and Rusev is maybe finished with beating up Aiden English for their break-up feud. Should be a nice match, at least.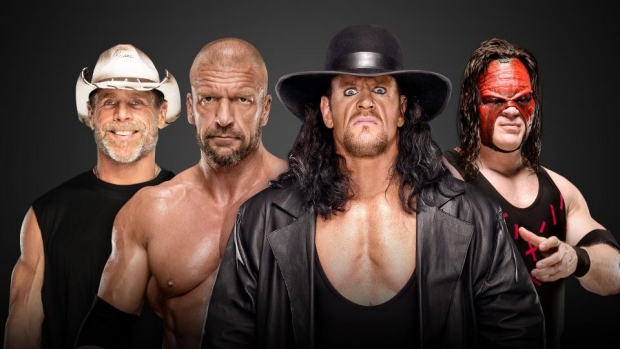 D-GENERATION X VS. THE BROTHERS OF DESTRUCTION
At Super Show-Down, Triple H and the Undertaker had a singles match for no real reason. Triple H had Shawn Michaels in his corner while Undertaker had Kane. In the end, Triple H won through a good amount of cheating. After the match, all four men posted together until Undertaker and Kane beat down Triple H and Michaels. Now Triple H and Michaels are angry because…they got what they deserved?
Michaels is angry enough to come out of retirement after 8 years as D-X are looking for revenge. After that comes the many, many promos because there's not much else you can do when Kane is the closest thing you have to a regular in that match. Michaels did blindside Undertaker with a superkick at one point, only to be SHOCKED when he later sat up from it.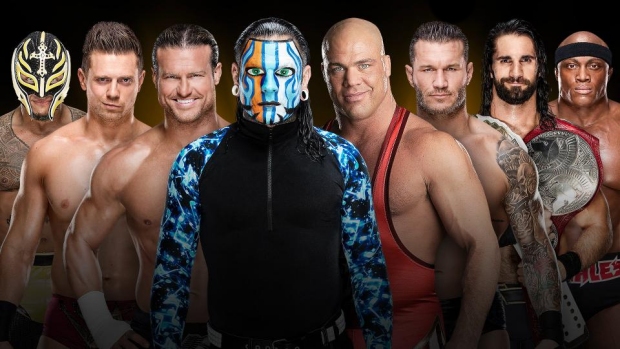 WWE WORLD CUP
A one-night, eight-man tournament will take place for nothing more than bragging rights. Essentially, it's King of the Ring without the hokey king gimmick attached to it. We begin with four representatives from Raw and four representatives from SmackDown. John Cena was announced as a representative of Raw while Kurt Angle earned his way by donning a mask and winning a battle royal full of no-names that Baron Corbin set up to allow himself easy entry. Seth Rollins defeated Drew McIntyre to earn his spot, but due to some Shield in-fighting, Dean Ambrose lost to Dolph Ziggler.
On SmackDown, Jeff Hardy earned his way in against Samoa Joe due to referee stoppage. Later that night, Randy Orton defeated Big Show. Miz rolled up Rusev in an extremely quick qualifier due to Aiden English's interference. Finally, Rey Mysterio made his return and defeated Shinsuke Nakamura to make it a full eight.
BUT! Word got out that John Cena (who hasn't even been on TV to acknowledge this tournament) had no intention of going to Saudi Arabia. Instead, they wrote him out by having Baron Corbin reward Bobby Lashley with Cena's spot for beating up Finn Balor. There you go!
The opening round matches will be Seth Rollins vs. Bobby Lashley, Kurt Angle vs. Dolph Ziggler, Jeff Hardy vs. The Miz, and Rey Mysterio vs. Randy Orton. The finals will be Raw vs. SmackDown and Shane McMahon has made it known that if SmackDown loses, that finalist will be fired.
WWE CROWN JEWEL RUMORS AND UNANNOUNCED MATCHES
Well, expect Drew McIntyre to show up and do something since they went through the trouble of flying him out there. Oh, and Hulk Hogan's supposed to be involved too because of course he is. Probably no extra matches because there's already like twelve scheduled.
Check back for more news on WWE Crown Jewel!
Gavin Jasper writes for Den of Geek and finds it depressing to see D-Generation X members trying to do their act in their 50s. Read more of his articles here and follow him on Twitter @Gavin4L
Read and download the Den of Geek NYCC 2018 Special Edition Magazine right here!