News
WWE Battleground Defined SmackDown As a "B" Brand
The main events of the last two PPVs showcase a big difference between Raw and SmackDown ...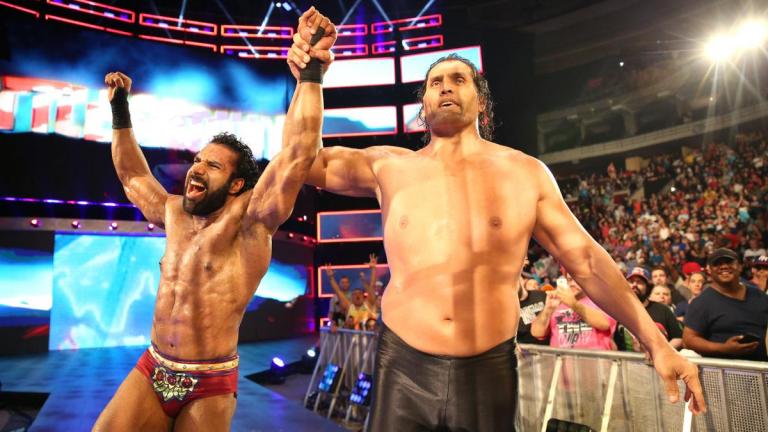 WWE Battleground may have been doomed to be average, at best, before the show even hit the airwaves on WWE Network.
Since the latest inception of the brand split began last year, SmackDown has been made to feel, all too often, like a "B" show. The same criticism was heaved WWE's way during the initial roster split in the early-2000s.
If you look at the main events of the company's last two pay-per-views, it's very clear which brand is on top and which brand is lagging behind.
At Great Balls of Fire two weeks ago, Roman Reigns and Braun Strowman delivered a solid semi-main event with the result leading to a shocking attack from Reigns. The match was a little more than 16 minutes. The main event saw Brock Lesnar beat Samoa Joe after seven high-octane minutes in the ring.
Battleground's semi-main event was a walking borefest between a lumbering John Cena and a slow-footed Rusev in a brawl that never seemed to end. The main event was a torturous 28 minutes of a match that was handcuffed by the convoluted nature of the Punjabi Prison.
Great Balls of Fire's two main events combined to be five minutes shorter than the Punjabi Prison match.
SmackDown should take a lesson from Raw, and note that less is sometimes more.
Overall, there wasn't much to recommend on this show. The opening tag team match was excellent, but after those 20 minutes, there was more than two hours of a show that will prove to be more forgettable than memorable.
New Day beat The Usos to win the SmackDown Tag Team Titles
This was by far the match of the night, and the title change was a nice surprise, The selling was great (Kofi on the powerbomb) and it was nonstop excitement. The match pulled the audience in right away.
I'm OK with kickouts to big moves, even finishes. You don't see "finishing" moves in MMA. If someone hasn't been worked over enough, a finisher shouldn't finish a match. Abolish finishers, and guys should have 2-3 signature moves that they typically use to end matches.
All that said, there is still no depth in the division. They'll continue to feud, almost because they have to.
Who is next for either of these teams? Breezango? Mojo and Ryder? The Acsension? When this feud is done – and I think they go to at least SummerSlam with a rematch – they might need to take two singles guys who have little going on and team them up, because there isn't much for either of these teams to feud with.
JBL said these are the two best tag teams of the last 10 years. Great! But there shouldn't be such a large gap.
Shinsuke Nakamura beat Baron Corbin via DQ
My favorite part of this match was Shinsuke's eye roll to begin the match.
Any frenzy the tag match built with the crowd was quickly extinguished in this match and there was even one spot you could see/hear Corbin trying to call a spot.
It's been the same story the last three months, but it's not positioning Shinsuke well that he is dominated by Corbin for 10+ minutes with bear hugs.
WWE usually jobs out the MITB winner for months after they win the briefcase. Apparently that M.O. has changed, which isn't a bad thing, but I'm concerned that they want to protect Corbin more than Nakamura. Clearly they still see something with Shinsuke, but there appears to be a disconnect there.
Corbin's post-match attack helped a little with the finish. But hoping Corbin-Shinsuke finishes on SD. Shinsuke needs AJ Styles desperately to help get his WWE run on track. Not sure he can wait until WrestleMania for it.
Natalya beat Charlotte, Becky Lynch, Lana and Tamina in a 5-way Elimination match to become the No. 1 contender for the SmackDown Women's Title
JBL said "sports entertainment ring prior to the math starting. Ugh.
I'm a fan of Natalya getting the win. She has been left out of the whole diva revolution deal, despite really being the first butt-kicking wrestler in the division.
The match itself was somewhat boring until it was down to Natalya and Charlotte, but they needed to get some of those other pieces out of the way.
If they stick with a straight 1-on-1 with Naomi and Natalya, I think it will be good at SummerSlam. Charlotte and Naomi I think might try to do too much. Natalya will have a solid match with Naomi and it will be good. The build will be good too.
Kevin Owens beat AJ Styles to win the U.S. Title
Was it supposed to be a double pin? That's really the only thing I can think of there. If not, it makes AJ look foolish not getting his shoulders up despite being in control of a submission hold. They did not show a replay of the pin, which I thought was odd.
Or, were they getting the title off of styles to set himself up for something else? Nakamura?
John Cena beat Rusev in a Flag match
Woof! This match went on for way too long. There were multiple times where logic was just thrown out the window. That's part of the problem with the flag match in 2017, with a sophisticated audience. Why didn't Rusev or Cena throw the other person's flag into the crowd? Why did Rusev put the flag holder back on the pedestal after he hit Cena, instead of throwing it away?
Hopefully this ends the feud. Just get it over with. Not sure it's helping either guy.
Sami Zayn beat Mike Kanellis
Hello, 50-50 booking!
Zayn took the loss on Tuesday, so naturally he gets the win here.
Sami wins so few singles matches, this did no favors for Kanellis. Match probably didn't need to happen if you didn't want to give Kanellis the win. All this did was define Kanellis as nothing more than a midcard act, which maybe they were going for.
Jinder Mahal beat Randy Orton in a Punjabi Prison match to retain the WWE Title
The Great Khali is back, baby! Khali came down at the end of the match to cost Orton, choking him out as Mahal climbed over the cage.
The problem with this finish is that it should lead to another Orton-Mahal match. It's the feud that never ends, and logically, Orton was screwed again and should get another title opportunity.
I don't think he will – and I hope he doesn't – but WWE will have to explain why he doesn't deserve one, given the circumstances.
Meanwhile, WWE has no confidence in Mahal despite having him carry the title. He needed help from both Singh brothers and Khali to win this match. That's not enstilling a lot of confidence in the champion, even if he is a heel.