News
WrestleMania: Kevin Owens and Chris Jericho Continue To Complement Each Other
After almost a year of being "best friends," Kevin Owens and Chris Jericho are about to feud heading to WrestleMania ...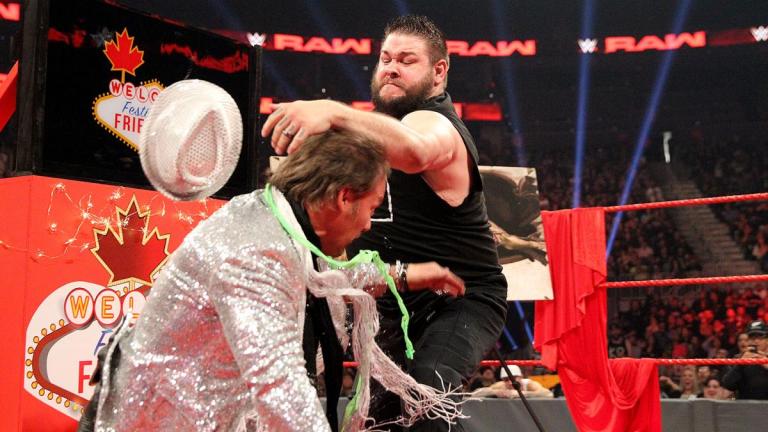 The friendship between Kevin Owens and Chris Jericho has been such a great throwback, and after Owens turned on his "best friend" on this week's episode of Raw,it almost definitely will set up a match betwen the two at WrestleMania.
If you haven't yet, check out the recent episode of Jericho's podcast, Talk is Jericho, where he had Owens as a guest. The show was actually recorded live, in Toronto, the day of Survivor Seriesthis past fall. It was really interesting insight into the relationship between Owens and Jericho, and how the podcast host and ring veteran has helped mentor Owens, who is almost 15 years his junior. 
In a lot of ways, Owens early run as a heel on Rawhas imitated Jericho's first run with WWE in the late-90s. I see a lot of similarities in their promo style and direction as arrogant heel characters. Owens was strong as soon as he debuted, but his run with Jericho by his side has elevated him solidly into the main event picture, where I think he'll remain. I'm expecting Owens and Jericho to not only have a very good WrestleMania match this coming April, but this will probably be a series of matches that could take them well into April or May. 
In wrestling today, so many things are rushed, but the Owens-Jericho relationship was built really well and they didn't give in to what I'm guessing was internal pressure, breaking up the pair too early. They teased the tension over and over, but they kept them together. That was key, and it made the turn by Owens really stand out.
As much as Owens was helped by Jericho, I think Jericho was helped by Owens as well. After last year's feud with A.J. Styles, Jericho felt like he was spinning his wheels a little bit. For whatever reason, it seems like Vince McMahon is reluctant to give Jericho big programs at the very top of the card, instead giving him the program that's just one or two slots below. But Jericho, even at 46 years old, looks like he's in his 30s and from an in-ring standpoint, easily holds his own against the best in the company.
Hopefully, this pairing now continues with the twist of them being opponents, and it continues to not only elevate Owens, but reinvigorate Jericho. 
1. Roman Reigns beat Luke Gallows & Karl Anderson via DQ
I'll be honest with you, I'm not entirely sure why Reigns beat the Raw Tag Team Champions, even by disqualification. The match here just didn't make sense, either. I'm not sure what Gallows and Anderson are doing concerned with Reigns or Stephanie McMahon after the show's opening promo segment. Unless they re-boot "The Authority" with Anderson and Gallows involved there, the matchmaking here left a little to be desired. Also, despite that it was a DQ finish, I'm not a fan of beating your tag champions in a handicap match.
2. Kofi Kingston beat Bo Dallas
Nothing more than a squash match with some comedy. New Day is an entertaining act, but since losing the championship, they are spinning their wheels. They were the hottest tag-team act on the show for more than a year, and it's amazing how quickly WWE has cooled them off. 
3. Jack Gallagher beat Noam Dar
Really good match despite the short length. Gallagher and Dar continue to be two of the stronger characters that they've been able to book out of the cruiserweight division. I like the idea of them building that division around Neville, but Dar and Gallagher should continue to get more focus. Gallagher is really starting to win me over after I wasn't a big fan of his character in its first few weeks.
4. Braun Strowman beat Mark Henry
This was a quality win for Strowman and the post-match angle where Reigns challenged him made both guys look strong. I liked that Reigns came down to challenge Strowman and, presumably, made the save for Henry. At the same time, Strowman got the upper hand after Reigns failed to take out Strowman with two Superman punches and then Reigns fell victim to a power slam. The angle was really well done building into the Fastlanepay-per-view.
5. Sami Zayn beat Rusev
Very impressive win for Zayn, the ultimate underdog. I don't think WWE gives Zayn this type of win unless they are building up him up for something. The question, then, becomes what? Zayn is the perfect candidate to help get Samoa Joe over as a monster heel. Joe is a badass and Zayn is the most sympathetic babyface they have on the roster then it comes to selling. If Zayn can sell Joe the same way he sold a beating from Braun Strowman, that could go a long way in setting up Joe for some big matches as a monster heel. It's about establishing Samoa Joe as a legitimate butt-kicker, and Zayn is the perfect guy for the role. Giving him a win over Rusev could be the first step in setting up that match, as they build him up a bit before letting Joe knock him down.
6. Akira Tozawa beat Ariya Daivari
This match felt too short. The cruiserweight match earlier in the show was also only about three minutes. You have three hours of television on a weekly basis, and the cruiserweights have their own show on WWE Network. I would rather them condense their portion of Rawinto one match, and allow Tozawa and Daivari to get a longer showcase match on 205 Live.
7. Cesaro beat Enzo Amore
Thorough win for Cesaro, who was clearly booked as the stronger wrestler. Enzo is solid on the mic, but they make him look like such a hapless jobber when Cass isn't involved in the match.
8. Bayley beat Charlotte to win the Raw Women's Championship
Not to cast shade on an otherwise great moment for Bayley, but this felt like it was too soon for her to win the title. The Bayley character is so over that it made for a really nice feel-good moment to close the show, but this is a payoff that should happen at WrestleManiaafter a worthy build to the title change. I'm happy for Bayley, but everything about the title win felt muted compared to what it could have been had they waited until WrestleManiafor this title change. There, not only does Bayley win the championship, but she breaks Charlotte's pay-per-view streak. That was the bigger moment.